Robin Hood Bingo is one of the newest online gambling websites on the Internet and it has already established a solid player base. Launched in 2012, Robin Hood Bingo has made an excellent job of adapting the experience of playing bingo at a physical location to an online activity. Regularly visited by thousands of players, Robin Hood Bingo is set apart from the competition with its vibrant website design, good selection of bingo and other games, as well as, a variety of promotional offers that users can benefit from.
In fact, the topic of this article is a highly worthwhile offer that should interest any dedicated bingo player. The No Deposit Free Bingo promotion is one of the best offers that you will find at any bingo website and Robin Hood Bingo is entirely responsible for it. It gives you the opportunity to play multiple days of free bingo for only a small deposit and the best part is that you need not spend a penny from that deposit. Let's have a look at this promotion.
Full Bonus Terms and Conditions
The Free Bingo promotion allows all newly registered players to access ''The Biggie" room for 3 consecutive days completely for free. As soon as you open the account, you will be given the opportunity to play in this room with 6 tickets over the course of the next three days. After that time has passed, you will also be able to play for free at other bingo rooms for 2 days when you deposit certain amounts. There are four bingo rooms in total associated with this promotions and they are as follows:
The Biggie – after the initial 3 days, a deposit of £10 will grant you free access for 2 days; has a jackpot of £50;
The Grand – a minimum deposit of £20 will give you free access for 2 days; has a jackpot of £100;
The Ultra– a minimum deposit of £30 will give you free access for 2 days; has a jackpot of £250;
The Deluxe – a minimum deposit of £50 will give you free access for 2 days; has a jackpot of £500.
As with the no deposit access, players can use up to 6 tickets per room over the course of 2 days. Moreover, unlocking a larger room will also give you access to smaller ones. For example, depositing £50 to access The Deluxe, will also allow you to play in the other three rooms. You can use up tickets in any of the bingo rooms – if you deposit allows for that – and potentially win up to £900 across the board.
Winnings from all rooms will be credited as bonus funds. As such, they will be subject to a wagering requirement of 3 times before you are allowed to withdraw them. You can meet this wagering requirement by purchasing bingo tickets. Bonus funds last for 90 days before they are removed from your balance if you have not met the wagering requirement. If you wish to withdraw your balance before you have met a wagering requirement associated with a bonus, you will lose the whole sum of the bonus and any winnings resulting from it.
Robin Hood Bingo has stated that this is an ongoing promotion, as of the time of this writing, and there are currently no plans for changing how it works. If there is a different promotion in the works, it will be reflected in the description of the offer.
Overall, the Robin Hood Free Bingo offer is one of the best that you can get your hands on and we highly recommend that you do. Not only do you get 3 free days of bingo simply for registering, but for a small deposit, you can earn an extra two days. Moreover, there is no limit as to how much you can benefit from this promotion. You do not even have to spend the money that you deposit and can simply cash in if you do not feel that it is worth your time. As far as Bingo bonuses go, this is one of the better ones out there and it has so far, worked out well for everyone involved.
Related Bonuses
Naughty Bingo £15 No Deposit Bonus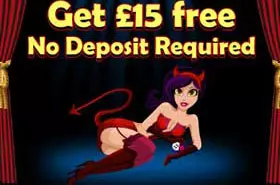 Initially based on Play'n'Go software, Naughty Bingo has moved over to Cozy Games and now, it offers an exte...
Read more