Fancy Bingo is an attractive bingo site that offers a variety of slots, table games and of course, a decent number of bingo games including but not restricted to 90-ball bingo, 75-ball bingo, instants etc.
Fancy Bingo is accessible via mobile devices as well and it offers generous bonuses to newcomers and existing players. If you prefer to play it safe and make a deposit only if you are happy with the available games, Fancy Bingo gives you the chance to explore and make an evaluation of the features by granting you £5 free upon registration.
No Deposit Bonus Requirements
Fancy Bingo values its new players and provides them with a chance to enjoy the available games without spending a penny from their balance. Upon setting up your account, you qualify for £5 free provided that you meet the requirements below.
The registration process itself is neither complicated nor time consuming. You will be prompted to enter basic personal details but you have to be informed that you will have to enter your credit/ debit card details. If you wish so, you can complete the registration without filling up your card number but in this case you do not qualify for the bonus. Another detail worthy of mentioning is that no funds are to be deducted from your bank balance unless you authorize Fancy Bingo to do so.
Fancy Bingo releases promotional offers with the intention of enhancing players' bingo experience but it reserves the right to terminate the promotion or modify the terms and conditions without informing the users in advance. Although you don't have to make a deposit in order to receive the £5, you do need to create a valid account and enter the correct information.
According to the general terms and conditions, you need to meet certain wagering requirements in order to be allowed to cash out your bonus(es) but the £5 free bonus in question is not withdrawable. You can use it to purchase bingo tickets and make full judgement of the site before making your first deposit.
You are allowed to take advantage of the promotional offers provided that you are a non-professional who uses the Fancy Bingo services for personal entertainment. The constant use of the bingo rooms will be regarded as a professional use. You are not allowed to play more than 120 free games per week. Every game that goes beyond the aforementioned limit, makes Fancy Bingo consider you a professional player.
Related Bonuses
Costa Bingo £5 No Deposit Bonus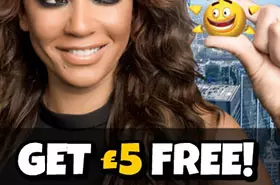 Costa Bingo is undoubtedly one of the bingo websites that enjoy a massive following from real fans of the game. Gambling...
Read more