Ladbrokes is a UK-based online gambling platform with a license, issued by the British Gambling Association, where you can enjoy bingo and bingo-based variations in the comfort of your own living room. No matter whether you are a beginner or a seasoned player, you will most probably find a game, suitable for your taste from Ladbroke's lavish gaming catalog. For all bingo mavens there is a wide range of exclusive features they can take advantage of, like the chat option, the social app or the special giveaways of free bingo tickets.
Your convenience is a priority to Ladbrokes. All unexperienced bingo players out there may be pleased to hear that there is some additional information on the rules of bingo as a whole, as well as details about playing bingo online. And, of course, while taking your time, you will have multiple chances to benefit from all the bonuses the website offers. One of them is for bingo players, in particular, turning every Friday into an exciting event – Fri-YAY.
Full Bonus Terms and Conditions
The Fri-YAY is a special bonus for all bingo players on Ladbrokes. You can take advantage of it only on this very day of the week. This bonus cannot be combined with any other bonuses and promotions the website has prepared for you. Claiming it is as simple as 1-2-3.
To begin with, it is available every Friday from 5 pm to 8 pm (UK time). Only real-money players, residents of the countries which can participate in the games on the website can benefit from it. It is necessary that they are aged 18 or above.
In order to activate the bonus, you have to opt into the Fri-YAY Loyalty Point bonus before having spent any money. You can do this by typing FRIYAY in capital letters without leaving any spaces in the Bingo Lobby.
If you want to qualify for the bonus, you have to spend at least ₤/€10 or SEK100 in total on buying bingo tickets during the period of the promotion. The good news here is that there is no maximum number of tickets you can purchase per game.
After you have had some fun while playing bingo and reached the ₤10 minimum, 300 Loyalty Points are automatically sent to your Loyalty Points Balance. This number is fixed and you cannot get any more or fewer than it.
This is an instant process, so, in case you cannot see these points in your balance right after spending the amount of money that is required, you should contact a representative of the customer support team.
Keep in mind, however, that the points from the bonus will not be counted directly towards raising your loyalty level. The ones for the purpose of this are won by purchasing bingo tickets and playing bingo or slots. Instead, you can convert the ones from Fri-YAY into some extra funds. Depending on your loyalty level, these sums vary. The minimum number of points that can be turned into cash is 75. Also, bear in mind that you can redeem cash in multiples of 75 only (for instance, 150, 225, 300 and so on).
The levels and the rewards for 300 points are as follows:
The Garden – ₤1
The Hall – ₤1
The Cocktail Lounge – ₤1.50
The Dining Room – ₤2.50
The Ballroom – ₤3.76
The Penthouse – ₤5
In case you have less than 300 points, the rewards are different for the first 3 loyalty levels. You get the type of points which you accumulate for a loyalty level upgrade. For 150 points these are as follows:
The Garden – 50p
The Hall – 50p
The Cocktail Lounge – 75p
What is so great about this website is the fact that it does not charge you any fees for both deposits and withdrawals. The maximum payout for bingo games on Ladbrokes is ₤250,000.
However, pay attention to the payment method you have chosen for the purpose of cashout, as some of them allow transactions with smaller amounts than you could possibly win. For example, the maximum withdrawal for Visa and Mastercard is ₤5,000 daily and in case you have had your big hit, you may have to cash out the earned money via a few separate transfers.
Unfortunately, you may also encounter a short pending period for some payment methods – for instance, transfers through debit cards take up to 3 working days.
To sum it all up, Fri-YAY is a great bonus feature for all fans of bingo games. You get the chance to collect funds or upgrade your loyalty level while having loads of fun.
Related Bonuses
Polo Bingo Diamond Club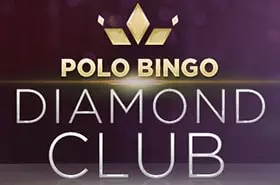 Polo Bingo is an online gambling platform where you can take advantage of a wide variety of opportunities to test your l...
Read more