Costa Bingo is a part of Brigend Limited which is one of the leading companies that power UK bingo websites. If you are determined to replace the bingo halls with their virtual alternatives, then opening an account at Costa Bingo will allow you to enjoy a top-notch online bingo experience. This way, you will be able to play 90 Ball Bingo, 75 Ball Bingo, 52-5 Ball Bingo and many other bingo games that award wonderful prizes. In addition to the bingo diversity at Costa Bingo, interactive players will also have the chance to enjoy some gripping and rewarding slot variations. If you want to improve your chances of landing good payouts, you will be able to take advantage of numerous promotional deals. This way you can enjoy bingo games with a much better value.
Full Bonus Terms and Conditions
Once you have funded your gaming balance at Costa Bingo, you can enjoy amazing offers which will allow you to revel in bingo games with great value. You have to be of legal age (18+) in order to be able to register at Costa Bingo and use these two promotional offers combined in one. You will be able to enjoy up to 40 free tickets which can be used on the exclusive bingo games on the website. All that you need to do is make a deposit of at least £10. Having in mind that Costa Bingo has more than 100 games to offer, you will be overwhelmed with chances of sweeping amazing wins. In order to find the games you can use your free tickets on, just head to the bingo lobby and click on the 'Exclusive' tab.
One of the biggest perks of this promotional offer is the fact that players will also have access to the exclusive Reload Freebie game. It offers a daily prize pool of £500. Every time you top up your gaming balance, you will be granted a 24-hour access to this exclusive bingo room and will have the chance to win the jackpot. The tickets for the Reload Freebie game are free and every hour between 11:00 am and midnight (UK time) there is a jackpot ranging from £25 to £50.
After you have made the minimum deposit, your free tickets will be instantly credited to your bingo account. You will have 7 days to use your tickets on the exclusive games of Costa Bingo. If after the expiration time, there are still some unused free tickets, they will be declared void. The numbers of free tickets that you can enjoy thanks to this offer, as well as the games you can use them on, depend on your Costa Bingo level. Players who belong to the Blue level will receive 6 free tickets for the Choo Choo Ticket Room after making a deposit. The following level consists of Bronze players who will enjoy 12 free tickets for the Choo Choo Ticket Room. If you are advanced-level players whose status is Silver, you will be awarded 10 free tickets for the Choo Choo Ticket Room and 10 free tickets for the Golden Ticket Room. Gold players will enjoy the same benefits as the Silver ones plus additional 10 free tickets on the Just the Ticket Room. If you are a Platinum player, you would enjoy the biggest number of free tickets, as you will receive the same number as Gold players do but you will have extra 10 free tickets on the Ticket to Ride Room.
As it was mentioned earlier, the minimum deposit that players must make in order to take advantage of this offer is £10. Making a bigger deposit, however, will not grant them a higher number of tickets. The Choo Choo Ticket bingo variant is a 5-line game which offers a daily fixed £10 jackpot. Just the Ticket is a 75-24 ball bingo variation. It also has a daily fixed jackpot of £10 and pays for 1TG and 2TG. Golden Ticket is a 90 ball bingo game which has a fixed £10 jackpot and is played every day. Lastly, Ticket to Ride is a 75-24 ball bingo game which has a fixed £10 jackpot and it also pays for 1TG and 2TG. If there is more than one winner, the jackpot prizes are divided between those who have won. The minimum amount of winnings that you will be allowed to cash out is £5.
The exclusive Reload Freebie game that you will be able to play every time you make a deposit is a 90-ball bingo game which is played every hour between 11:00 am and 00:00 every day. If you play at 11:00, 20:00, 21:00, 22:00, 23:00 and midnight you will have the chance to win a £50 jackpot. The rest of the games played on every hour offer a £25 jackpot. The maximum number of tickets you can purchase is 6 per game. The prize pool of £50 is divided into £25 for Full House(FH), £15 for 2 Lines (2L) and £10 for 1 Line (1L). The £25 jackpot is paid as follows: £12.50 FH, £7.50 2L and £5 1L. If there is more than one winner, the prize is shared between the lucky players. The winnings are immediately transferred to players' accounts and the cashout minimum they can request is £5. Both the Free Bingo Tickets and the Exclusive Bingo Access cannot be combined with other promotions of Costa Bingo.
Related Bonuses
Bingo Stars Daily Promotional Hour Bingo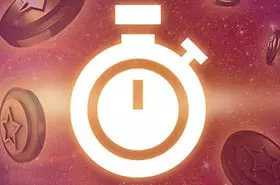 Established in the summer of 2013, Bingo Stars is a gambling website where players can engage in a variety of slots and ...
Read more