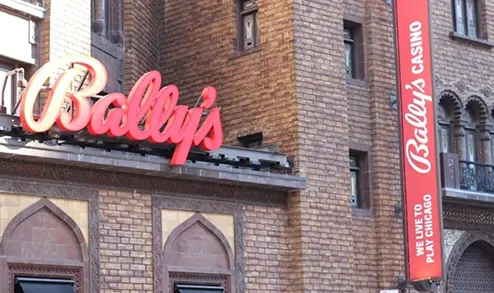 This Thursday, the Illinois Gaming Board unanimously authorized Bally's Casino to operate at its temporary site at Medinah Temple until September 2026 and gave the business an operating license for its permanent facility which is to be constructed at the former Chicago Tribune Publishing Center.
Located on 600 N. Wabash Ave., at the historic Medinah Temple, Bally's Casino currently offers approximately 800 slots and over 50 table games, along with dining and cafe facilities. The temporary casino was launched last month, on September 9, and managed to attract 145,000 visitors since then. According to data from the Illinois Gaming Board, the facility has generated nearly $6.7 million in adjusted gross receipts in its first three weeks of operation ($695,000 in city tax revenue).
The gambling tax revenue from the operator's temporary and permanent sites will be directed toward the state's under-financed police and firefighter pension funds. According to city officials, the tax gambling revenue from the temporary site in 2024 is expected to reach $35 million, whereas the estimations for the permanent location stand at nearly $200 million.
The board extended Bally's permit to operate from the temporary location for 12 months beyond the standard two-year maximum. According to state statute, the gambling regulatory authority limits the operation of temporary facilities to two years, with an option to extend this deadline by 12 months.
The extension was necessary as the operator would not be able to assume control over its permanent site in the city's River West neighborhood before July 2024. This is when the Tribune Publishing is expected to vacate the site. However, the business had already begun working with an architect, general contractor, and city officials to ensure hassle-free construction works at the former 505,000-square-foot industrial property.
The Illinois Gaming Board Grants Bally's with Four-Year Chicago Operating License
The Illinois Gaming Board shared Bally's optimism as regards its future business prospects. In addition to extending the gambling service provider's rights to operate from the temporary location for 12 months, the board also granted it with a four-year license for gambling operations in Chicago through October 2027.
Mark Wong, General Manager of Bally's Chicago, told the Illinois Gaming Board he felt optimistic that by the new September 9, 2026 deadline, at least the casino portion of the $1.74 billion complex would be completed. He added that the business managed to finalize the necessary renovations at Medinah Temple within just months of receiving the preliminary permit. Wong also reassured that despite the project's large scale, he was confident Bally's would meet the deadline.
The $1.74 billion grand casino complex will include 3,400 slot machines and 174 table games. Besides gambling equipment, it will offer a 500-room hotel, an exhibition center, and 11 restaurants, among other facilities.