OnlyFans is reportedly bringing in extra millions to celebrities and influencers who are willing to share some spicy content with their followers. An increasing number of actors, singers, and professional athletes are turning to OnlyFans where even more controversial posts wouldn't get their accounts suspended. Recently, a research publisher Statista reported that U.S. model and TV personality Blac Chyna was OnlyFans' top earner in 2021, making $20 million a month. While this is probably just a rough estimate, social media exploded with reactions to this shocking number and inspired the team at BonusInsider to analyze the monthly earnings of the top celebrities who joined the platform.
So far in 2022, former Baywatch stars Carmen Electra and Donna D'Errico, as well as Charlie Sheen's daughter Sami and his ex-wife, Denise Richards, have joined the website. In late November, British professional boxer Derek Chisora announced he had launched his OnlyFans account and promised "delicious content". Other celebrities who recently created OnlyFans accounts are Mötley Crüe's drummer and Pamela Anderson's ex, Tommy Lee, English TV personality Katie Price, Brazilian model and professional volleyball player Key Alves, and former UFC fighter, wrestler and model Paige VanZant.
The list continues on and on, and while some celebs are joining the platform in a bid to restore their former glory, others are monetizing their current fame and fandom. According to our estimations, the potential profits of Denise Richards, Paige VanZant, Tommy Lee, Key Alves, and Katie Price are more than $2 million per month. Below are the most popular celebrities who joined OnlyFans in 2022 with an estimation of their monthly revenue.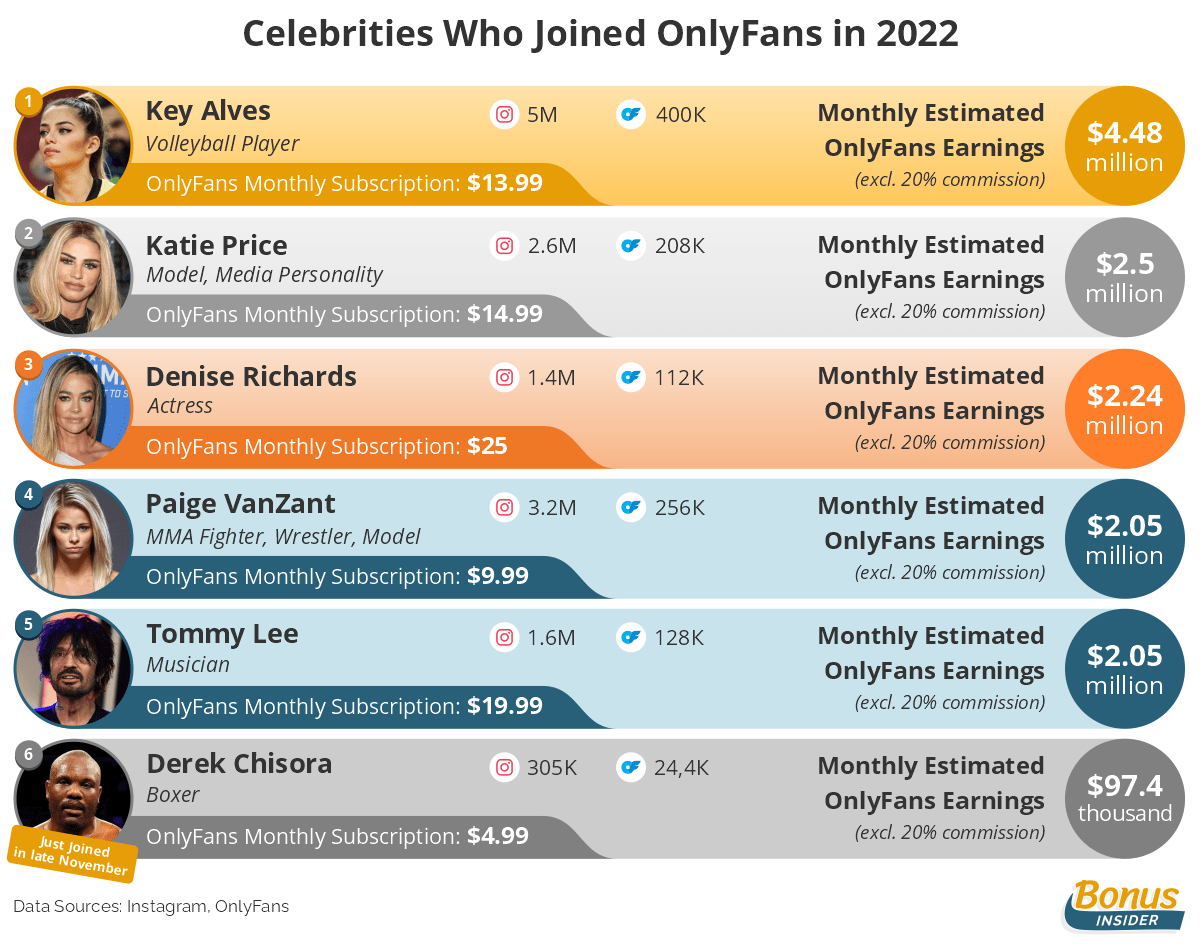 We also compiled a list of Top 30 Celebrities on OnlyFans. Our team has picked some of the most popular individuals from industries such as movies and TV, music, sport, and social media. Some of the stars on the ranking are former private cam models or adult movie actresses who have become even more famous on social media. OnlyFans creators that offer a subscription free of charge such as Bella Thorne, Carmen Electra, and Donna D'Errico have not been listed since we can't calculate earnings based on tips and pay-per-view content. Neither are included successful creators without an Instagram presence – all for the same reason.

1. Bhad Bhabie
Rapper Bhad Bhabie, who became famous after her appearance on Dr.Phil back in 2016, is one of the youngest and most successful creators on OnlyFans. She launched her page only a week after her 18th birthday, claiming to have earned $1 million within the first six hours. Currently, she has more than 130 photos and videos to choose from on the page, along with over 170 posts, all hidden behind a paywall, of course. With her strong 16.3-million following on Instagram and an OnlyFans subscription rate of $23.99, Bhad Bhabie has the potential to make up to $25 million in monthly profits from the R-rated website.
2. Mia Khalifa
Mia Khalifa's second spot in our ranking should not come as a surprise considering her career choice – she shot to fame as an adult movie star, sparkling controversy in Lebanon where she is originally from. After retiring from the industry, she continued to be active on social media, amassing millions of followers on Instagram, YouTube, and Twitch. And now she's cashing in on her popularity with her OnlyFans page where she posts daily content that is spicey, yet not explicit.
3. Blac Chyna
Model, socialite, and famous TV personality Blac Chyna was said to be the top OnlyFans earner last year, with an estimated monthly revenue reaching $20 million. However, according to more recent media reports, she claimed she had earned $1 million on the platform in the documents filed during her court battle against the Kardashians. Her income in 2020, 2019, and 2018 was $2 million, the documents revealed. This obvious dissonance between reality and what's reported by the media suggests that celebrities' earnings from OnlyFans may not be as large as we imagine. Since most creators hide the number of paid subscribers they have on the platform, it is practically impossible to accurately calculate their revenue. So, according to our estimates, the maximum profit Blac Chyna could be making on OnlyFans in 2022 is a little over $21 million.
Celebrities Who Could Be Making Millions If They Joined OnlyFans
Dozens of social media personalities, athletes, and reality TV stars have already signed up for OnlyFans, making good money as a side hustle. Many more are said to be considering it since OnlyFans is no longer seen strictly as a platform for explicit content. Some creators use the website to promote their music, art, or craft through exclusive releases, paid tutorials, etc. So, we've decided to round up some interesting or controversial celebs who have been known to be more open-minded (at least in terms of nudity) and see how much they could earn if they were to join OnlyFans right now.
We also included a few names that have been previously associated with the platform such as Cardi B. The rapper signed up with OnlyFans in 2020 and according to media reports, she made nearly $10 million a month last year. She then deleted her page so we've calculated how much she could earn if she resumes her activity on the platform. It turns out that Cardi B could be the most successful star with an OnlyFans profile, cashing in on her huge fan base that includes 139 million Instagram followers.
For this ranking, we took the number of celebrities' Instagram followers in combination with the average OnlyFans subscription rate of $7.20 (as of September 2022). The calculation for the maximum possible revenue from the platform is based on the estimate of 8% of their followers subscribing.

The Methodology Behind Our Research
We looked at the top celebrity creators on OnlyFans and calculated how much they could earn based on their Instagram followers and the monthly subscription fee for their OnlyFans accounts. But first, let's see how the website works – there are three ways to generate revenue on OnlyFans:
monthly subscription (min. $4.99, max. $49.99; some accounts are free to view for registered users)
pay-per-view fee (max. $50)
one-off tips via private message (max. $100)
The website takes a 20% commission on all payments received by creators. The platform's calculator allows you to see how much you can earn by choosing a subscription fee and entering the number of followers you have. The calculation is based on an estimate of between 1% and 5% of your followers subscribing. For our estimate, we took an even higher percentage for those who have subscribed (8%) considering the creators are popular influencers, models, and TV personalities.
BonusInsider is a leading website where you can find find expert reviews of casino bonuses, betting bonuses, casino deposit options and casino mobile apps.