It seems that Crazy Tooth Studio is attempting to distinguish itself from all the other iGaming software providers with each online slot it launches. It often takes a well-exploited casino game theme and somehow manages to weave it into the reels in such a way that you wonder where you actually ended up. This approach often causes ratings at both extremes, but at the same time, it definitely makes the studio a recognizable brand.
Today we present to you Rhino Rilla Rex™, a high-volatility online slot with 3,125 ways to win and several bonus extras that are sure to catch your eye. Read on to find out more about this quirky dinosaur-inspired casino game and decide if it is your cup of tea.
The Rhino Rilla Rex™ Theme, Graphics, and Sounds
Once you enter the jungle within the Rhino Rilla Rex™ slot, you will hear sounds you never thought ever existed. They are produced by futuristic-looking beasts and other creatures that live in a dark and distant location. Instead of the cheerful little monkeys we are used to seeing in other jungle-like online casino games, here there are rampaged gorillas in the company of hybrid dinosaurs and menacing rhinos.
When one of the premium symbols (beasts) appears on the reels, the corresponding roar is heard, and the spins themselves sound like rocks falling. Exploring the Rhino Rilla Rex™ slot is definitely a bizarre experience, a feeling that persists in terms of payouts and bonuses too, so let's move on.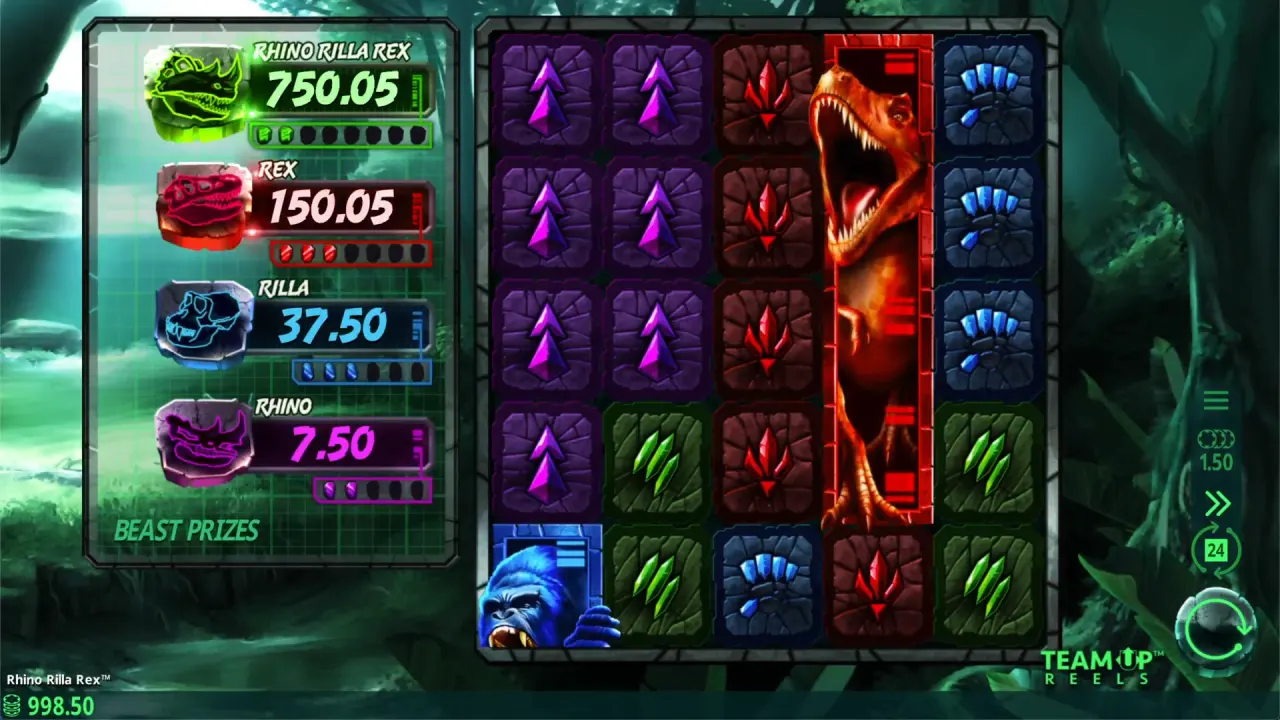 The Rhino Rilla Rex™ Symbols and Payouts
While some aspects of the slot may be shrouded in complexity, winning combinations are not one of them. All you have to do is land between 3 and 5 identical symbols on adjacent reels, regardless of the precise row. The game's mathematical model shows that casino players have as many as 3,125 ways to hit a paying combo. In case two or more such icon series show up, only the highest one will result in a payout.
A specific part of calculating the prizes is that way wins and credit awards are multiplied by the stake multiplier of the respective game round. In turn, that multiplier is equal to the number of credits you have chosen to play with divided by 0.25. Do not worry if this sounds overly complicated. The slot software automatically recalculates the size of the potential win after each bet change, so you do not have to do anything.
And now, a few words about the symbols that you will meet on the reels. Given the slot's name, it is not surprising that the three premium icons are Rhino, Gorilla, and Rex. Each of them pays 0.08x your stake no matter if you land 3, 4, or 5 symbols which is rather awkward. The same is the approach related to the other four symbols – purple, blue, red, and green prints of the three beasts. Their payout is even more paltry, just 0.04x the amount wagered.
There is also a wild symbol that is a colorful and therefore easily recognizable icon. It can appear on reels 1 and 5 only and substitute for any paying symbol if this would help the player to hit a winning combination.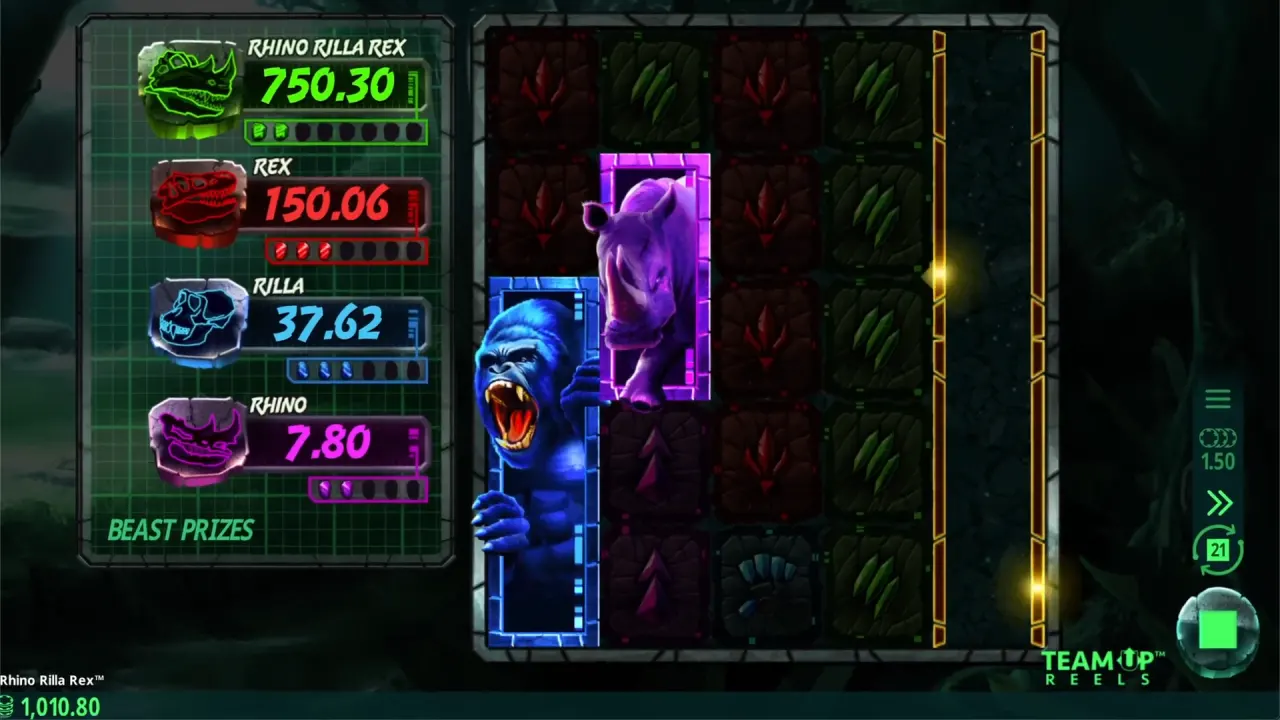 The Rhino Rilla Rex™ Bonus Mechanics
Like the other elements of this slot, its bonus mechanics are also highly specific and different from what is typically available on the market. First, there is the Team-Up Feature that is activated once 3 or more premium symbols land fully in view (Full Stack Feature Symbols). Once this happens, the corresponding pieces combine and a hybrid creature comes to life on the grid. It sets a multiplier value and then a new game grid is formed. The new reels encompass credit prizes, multipliers, and tokens. Gambling enthusiasts have one spin only and pocket the sum of all cash prizes displayed, multiplied by one of the x2, x3, x4, or x5 multipliers if one or more of them appear.
We continue with the Team Up Bonus Spins feature which, judging by the name, is somewhat similar to the previous one. The free spins are triggered when a minimum of three beast symbols land fully in view, with at least one of them surrounded by a golden 'bonus' frame. These special symbols, as before, generate a new game board. Cash prizes and multipliers, as well as extra spins, may appear on the reels. There is no upper limit on the number of re-spins within one Team Up Bonus Spins game mode.
When you load the game on your preferred device, you will see a separate field with four progressive Beast Prizes. A meter with a different number of slots is located beneath each prize, and whenever a premium animal symbol lands fully in view, the value of its respective prize increases. Each token obtained through the Team Up feature or Team Up Bonus Spins fills one of the mentioned slots. The seed value for 5 purple, 6 blue, 7 red, and 8 green full slots is 5x, 25x, 100x, and 500x, respectively. The maximum you can benefit from is 5,000 times your bet multiplier.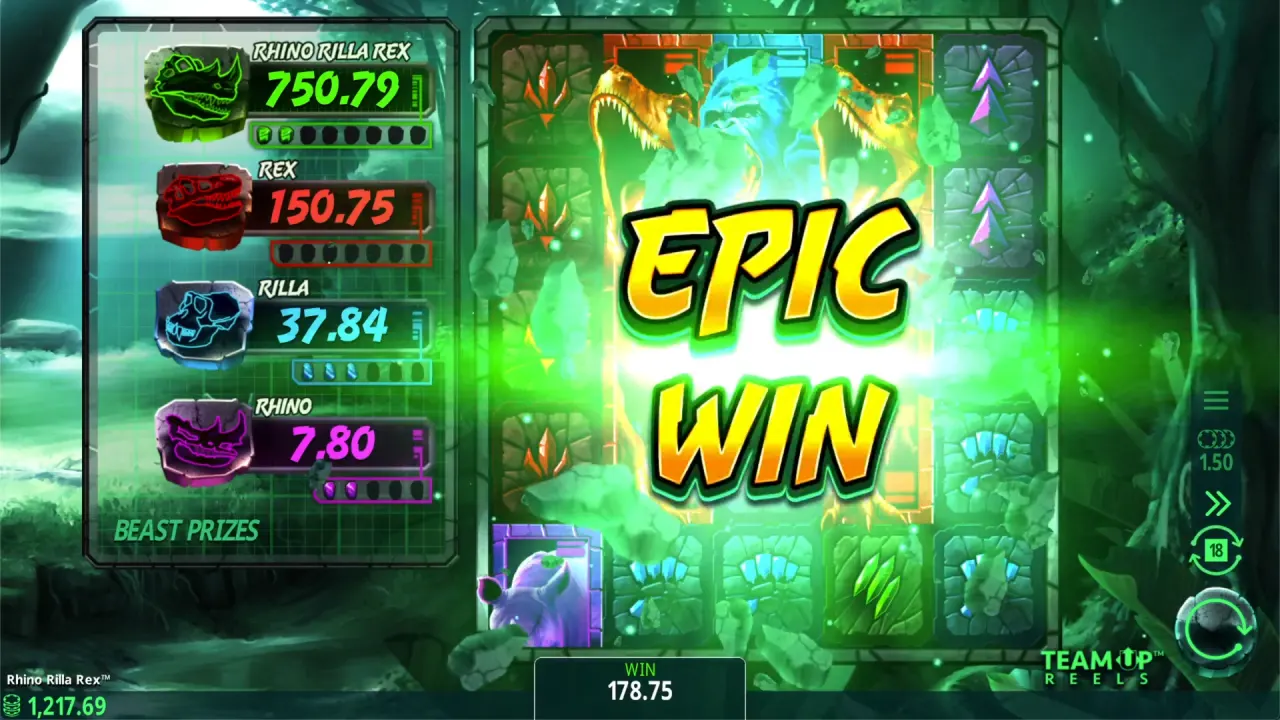 Closing Thoughts
The Rhino Rilla Rex™ slot has Crazy Tooth's distinct brand of entertainment emblazoned all over it, with some good and some not that inspiring aspects. Even though it is not surprising to see low symbol values in a Crazy Tooth game, this one certainly stands out. This is somewhat offset by the fact that there are a total of 3,125 ways to win, ie. you can hope for relatively frequent, albeit low, profits. Furthermore, if you can boast of having a high level of patience, you may have the chance to collect some pretty good amounts from the Beast Prizes feature.