If you are ready to try something new, you should give Golden Hook a go. This unusual game is brought to casino enthusiasts thanks to Crazy Tooth Studio, which is in collaboration with the iGaming juggernaut Microgaming. Instead of offering the same old way of landing wins on spinning slot reels, Golden Hook allows you to catch your wins yourself.
If you are into fishing, you will especially like this game as it allows players to throw their hook and fish for major fish catches. Playing Golden Hook may take some time to get used to but one thing is for sure – players can have plenty of fun while fishing for their prizes. With an RTP of 96.75%, Golden Hook even surpasses the average return that most video slots are offering. What is more, with medium volatility, this game offers smaller but quite regular payouts.
Golden Hook Theme, Graphics, and Sounds
While many software studios have started creating fish table games, Golden Hook offers a different fishing experience. The game will allow you to play from the point of view of a fisherman on a boat, looking out for the next big catch. Instead of a typical spin button, you will have a red button which will help you throw the fishing rod and try to catch a fish that will bring you a generous payout.
A happy tune will make your fishing adventures more enjoyable, with big catches always being accompanied by fun sound effects. The animations used in the game will help you enjoy a great time, with a different fish bringing you a great prize when luck is on your side. Whenever you catch a fish, it will jump out of the water in slow motion, displaying even the type of fish you have caught.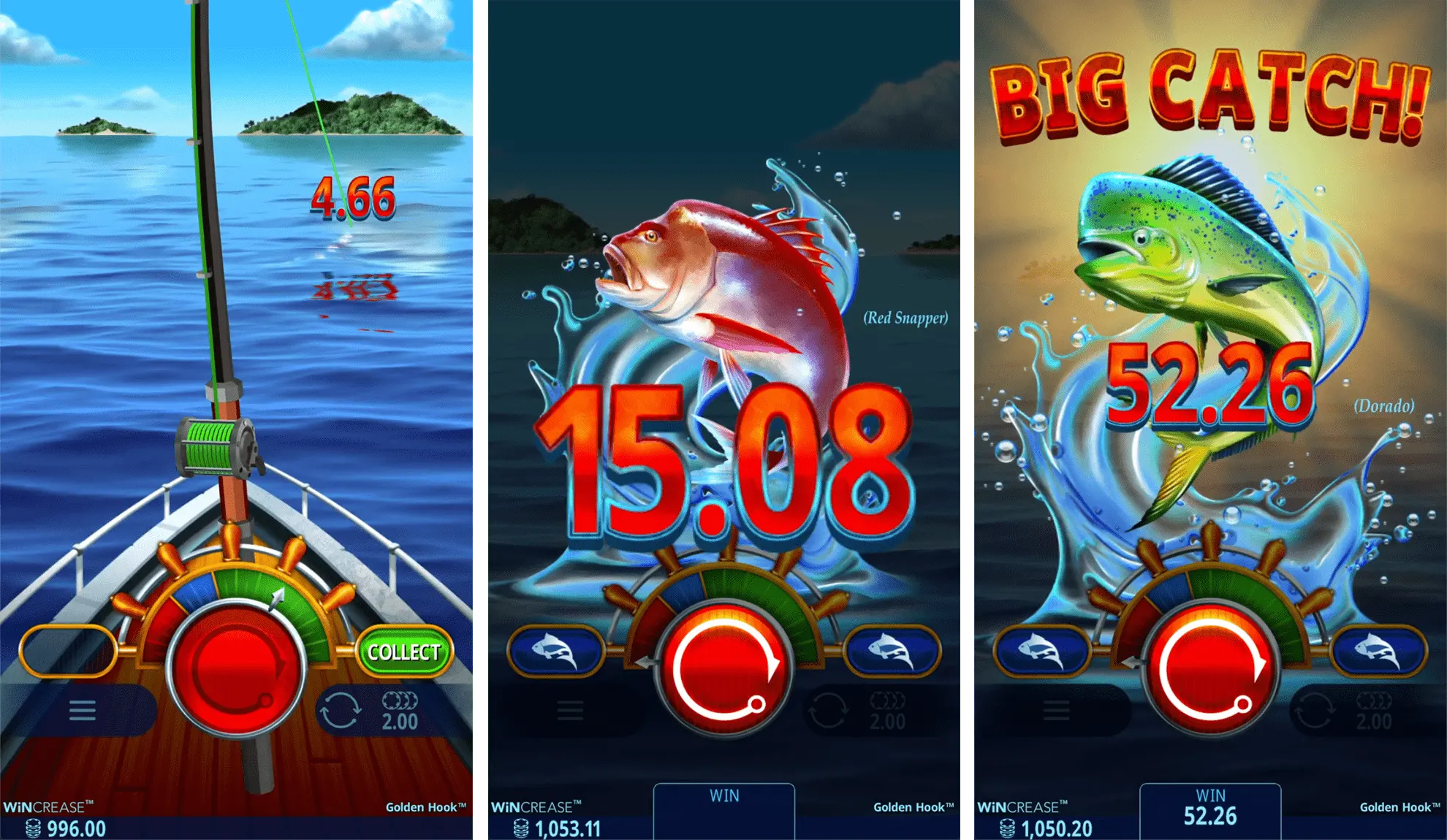 Golden Hook Symbols and Payouts
When it comes to the way Golden Hook is awarding payouts, there are several specifics about the wins of the game. Unlike slots where you will have different paylines where symbols align in winning formations, Golden Hook does not feature any lines or ways to land symbols in winning combinations.
The first step of playing Golden Hook is to choose your bet size and press the red button that will throw the fishing rod into the water. Once you press the button, you should keep pressing it to potentially increase the credits you will win. The longer you hold, the bigger the win may become, giving you the chance to land a major payout. That said, holding the button pressed for too long may also cause the line to break, leaving you with no prize. Each gaming round finishes when a catch is awarded, the player chooses to collect it before the line breaks, or when the catch is lost before the player collects the prize.
While each catch may present a different type of fish, the size of your win is not specifically connected to certain kinds of fish. If players decide to bet 2 credits per spin, the initial credit that a catch may offer will range between 1 and 15 credits and it is up to chance how much the credit will increase before you decide to collect the win or before the line breaks. That said, there is one special fish to be on the lookout for and that is the golden Bonus Fish. If you catch that fish, the bonus feature of Golden Hook will be triggered.
Golden Hook Bonus Mechanics
Golden Hook is a fun casino game that will offer a brand new way to stack up wins. When you first cast your line, you might get an initial credit between 1 and 15, guaranteeing you a catch. If you keep pressing the button which will keep the fishing rod in the water, the credit may have an increase of between 5% and 7303%.
While holding the button pressed for longer may significantly increase the potential payout of the catch, players must be careful and press the collect button before the line breaks. Every catch has a random point of breaking the line, with often the longer press causing a loss of the catch. It is possible that the credit might be simply awarded if you press the spin button long enough.
One of the special functions of Golden Hook is Multiplier Feature, which can be triggered randomly after any catch. It will display various multipliers, with the highest possible multiplier that can be won capped at 10x your collected amount. Once you decide to collect your win or it is awarded to you, the multiplier that will be applied will be randomly chosen and will be applied to the win amount.
Another special feature that may be triggered on any spin is the Bonus Game of Golden Hook. Whenever you cast your line, a golden fish may jump from the water and trigger the feature if it gets on the hook. When the Bonus Game is activated, you will see multiple fish carrying random credit awards. Meanwhile, big crabs will carry 2x win multipliers that can be added to the win. Whenever a fish is caught by the hook on the screen, the credits it carries will be collected and added to your wins.
On the screen, you will see a meter that will show you how long you have until the Bonus Game finishes. Once the time is over and the last fish or 2x multiplier is caught, the feature is concluded.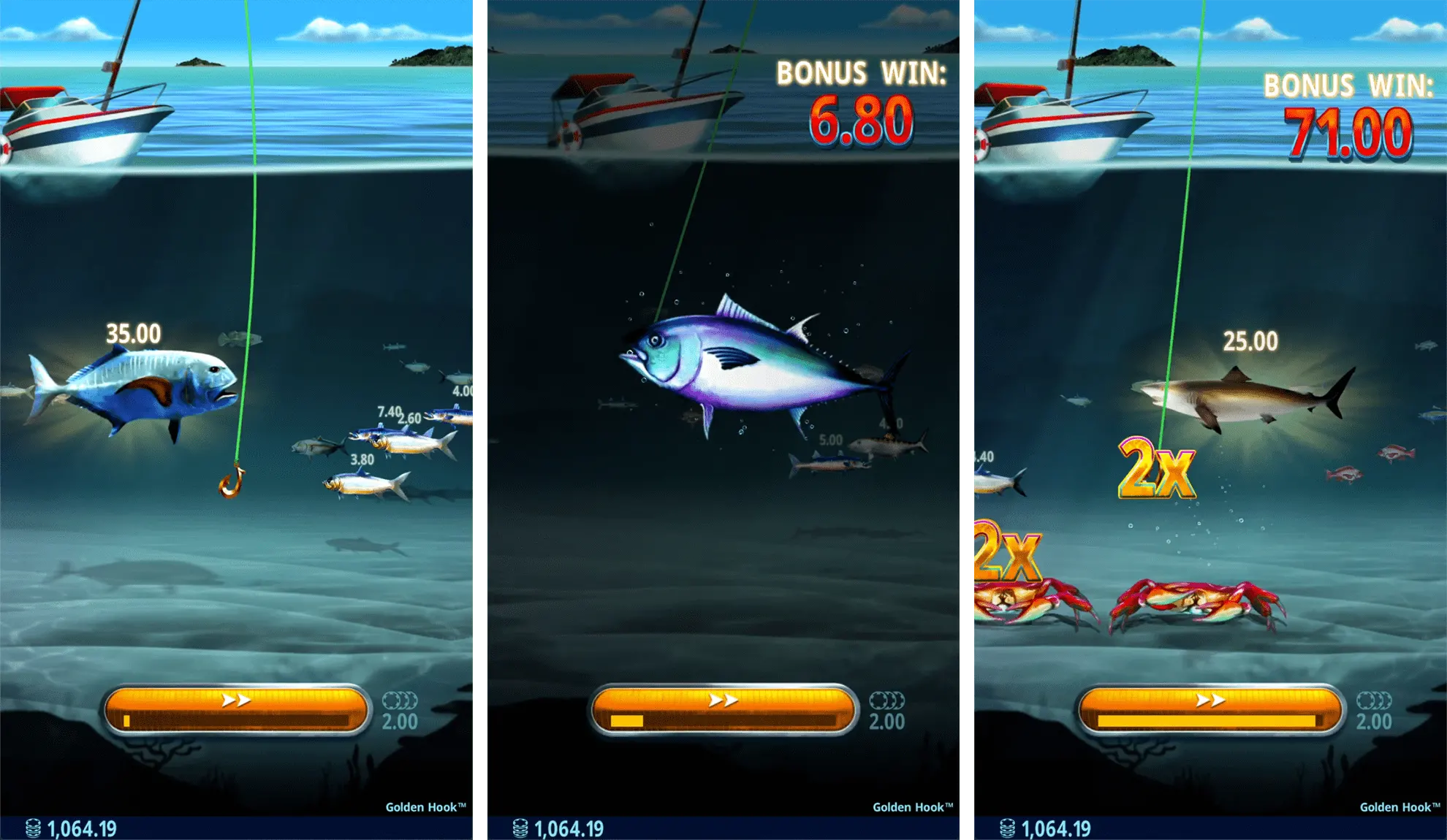 Closing Thoughts
Crazy Tooth Studio offer casino enthusiasts a brand new way to test their luck and win generous payout during a fishing adventure. Thanks to Golden Hook, players can cast their line into the unknown treasures the water is hiding. With plenty of fish in the water, players who are willing to take some risks may easily enjoy a big catch.
Not only is the base game of Golden Hook generous with pretty regular small payouts, but the golden Bonus Fish can unlock plenty of extra payouts. What is more, random multipliers can increase your big catch by up to 10 times.