The charm of fruit-themed slots is undeniable. Fruits are considered by many to be some of the most iconic symbols in the iGaming sphere due to their long history of being featured in slot machines, and they remain popular to this day. It should come as no surprise, then, that Platipus Gaming has once again honoured the fruit slots of old with its newest title, Fruit Boost.
This colourful slot has an RTP of 95.69%, and its plethora of features will easily keep gaming enthusiasts entertained for plenty of gaming sessions. The bonus mechanics in question are the Frozen Blocks mechanic, the Power Up feature, and the Fruit Boost bonus.
Fruit Boost Theme, Graphics, and Sounds
As one might guess from its name, this is a slot that is centred around fruits. Each tasty symbol has been illustrated with the utmost attention to detail, resulting in a very appetising layout all in all. During gameplay, certain symbols will be targeted by the Fruit Boost Feature and be turned into Superfruits. This increases the size of the icons, making it even easier to appreciate the artwork of each symbol. We were also pleased to see that the fruits become animated whenever a player scores a win.
As for the user interface, it is fairly clean and simple to use, as we have come to expect from Platipus Gaming, and you are also free to swap the orientation between portrait and landscape whenever you play on mobile.
Despite its modern interface, the slot does have a vintage atmosphere thanks to its focus on fruits. Furthermore, the background music features beats typical of tunes belonging to the later decades of the 20th century.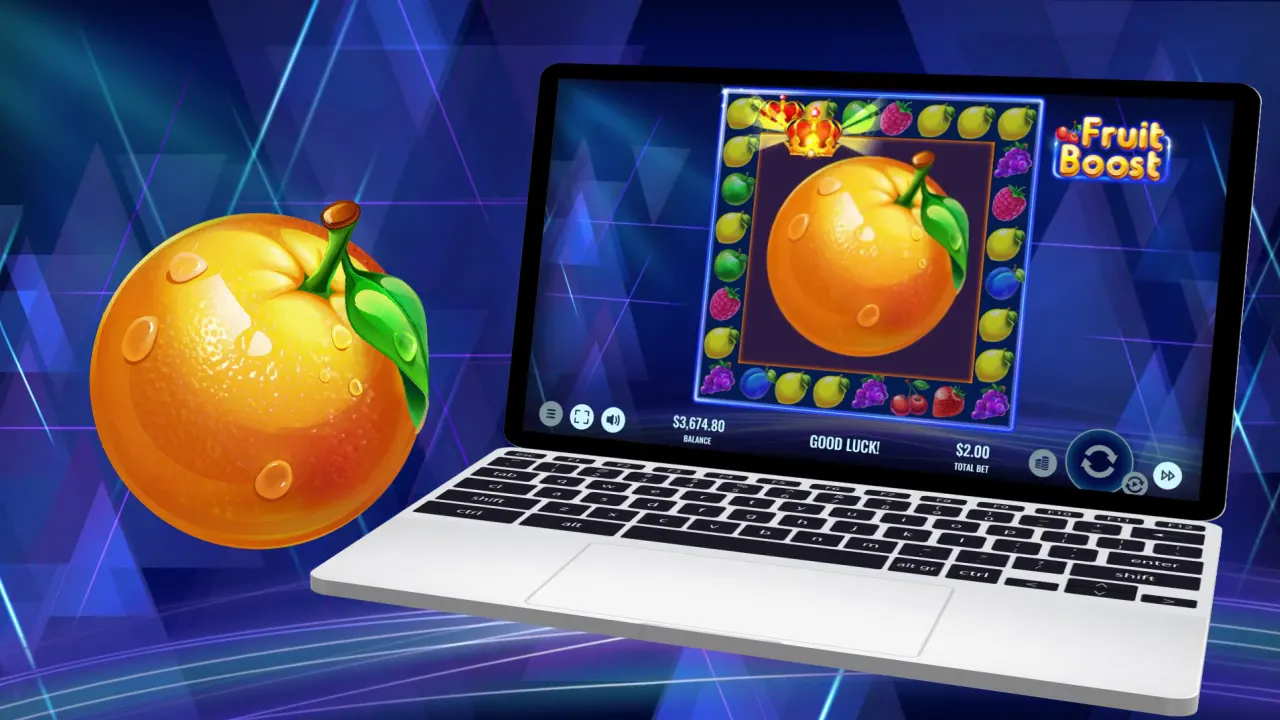 Fruit Boost Symbols and Payouts
Fruit Boost's layout features 8 reels and 8 rows, and in order to score a win, at least 5 copies of the same icon must form a winning block by being adjacent to one another. The largest potential combination comprises 64 symbols.
Almost the entirety of Fruit Boost's selection of symbols involves artwork depicting various fruits, and the symbols with the lowest payouts are the Grapes, Cherry, Berry, and Strawberry. If you land a 5-copy win with any of these symbols, the payout is 1x your bet.
The Plum and the Apple symbols are more generous, and scoring a 5-icon win will net you your bet x2 and x3, respectively. The Orange is the symbol that follows, and you will receive your bet x4 if you see 5 copies of this symbol in a winning block. The final fruit icon is the Lemon, and it has a payout of x5. This is not the last symbol with a payout, however, as we may also see the Star on the reels. This symbol will net you the juiciest of wins, seeing as a 5-copy win grants you your wager x20, while a win of 64 Star icons results in the player winning their bet x15,000.
Besides the regular fruits and the Star, there is also the Crown, which stands out quite a lot, and it has the role of Fruit Boost's Upgrade Symbol. The Crown replaces the symbols of a random winning combination with an icon that has a higher payout.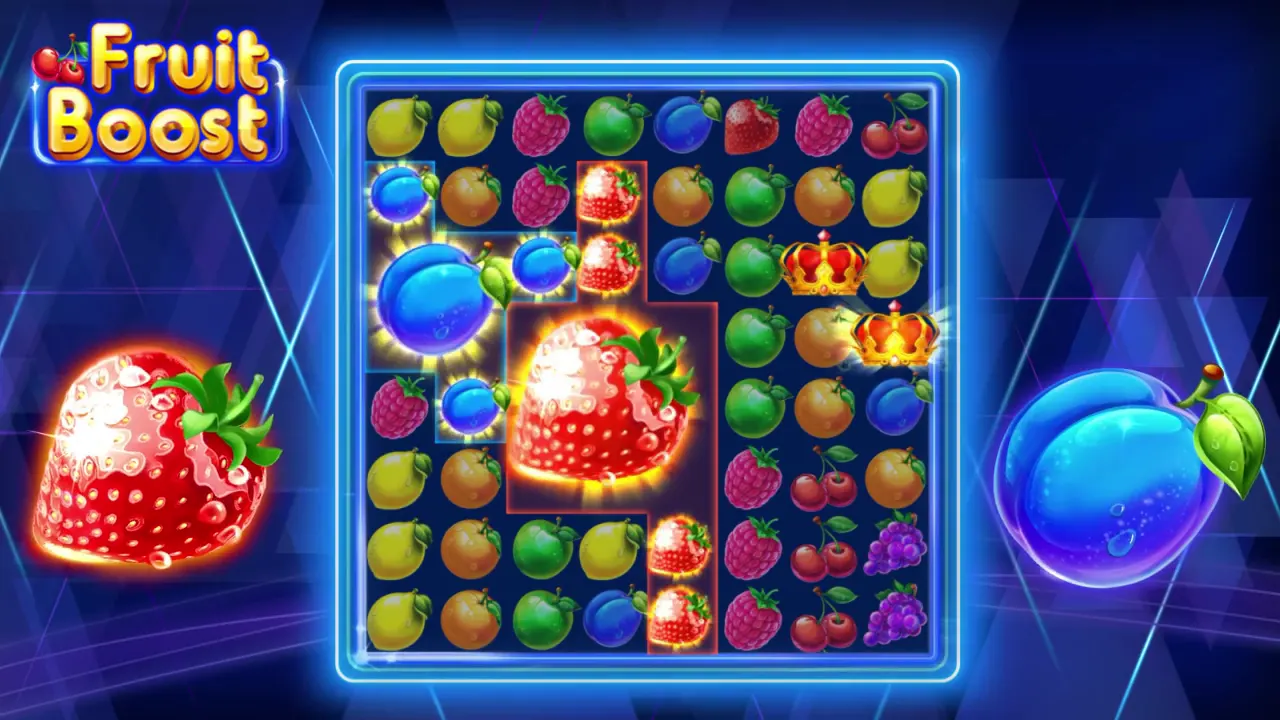 Fruit Boost Bonus Mechanics
Platipus Gaming has cooked up a slot that is full to the brim with extra goodies for players to enjoy. Each of them makes for a wonderful addition to the traditional gameplay, and they also reward players with additional winnings.
The first extra mechanic is dubbed Frozen Blocks. Whenever you luck out on a win, the fruits will remain on the reels in that same exact position, and you can quickly rack up even more winnings by continuing to play. The icons will remain frozen until no new symbols are added to the winning block.
Next we have the Power Up feature we mentioned earlier. This bonus is triggered by the Upgrade Symbol, the Crown, and it will replace a random symbol that has formed a win. Keep in mind that this can only happen to the fruit symbols. The Star cannot be upgraded because it is already this slot's most lucrative icon. In addition, each Power Up can upgrade a single winning symbol, but one winning icon can be improved by multiple Crowns.
The final bonus feature of this slot is Fruit Boost. This feature is triggered whenever you get a win that has a block in a 2×2, 3×3, or 6×6 square formation, and it turns the symbols from the winning square into a single Superfruit. Do keep in mind, however, that this can only happen for winning combinations that were not formed by the Frozen Blocks feature or the Power Up mechanic.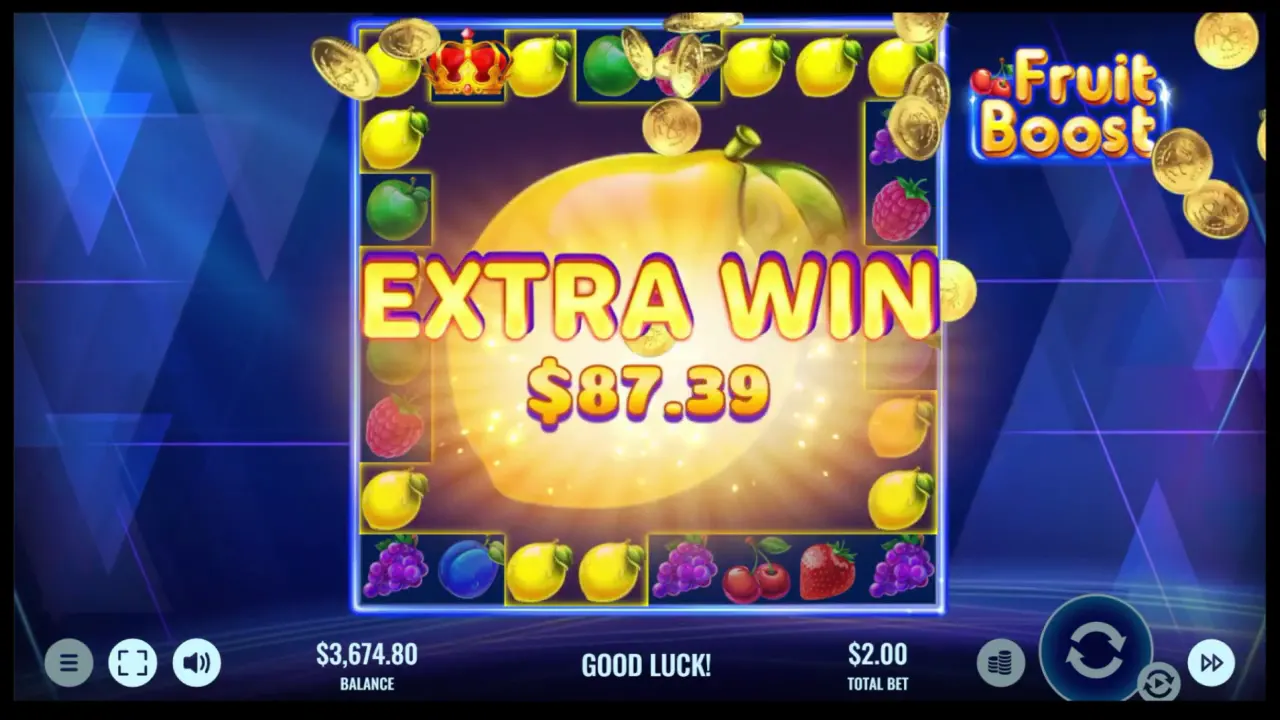 Closing Thoughts
There is a lot to like about Fruit Boost, and those unfamiliar with block layout slots will find the gaming experience to be quite refreshing. Moreover, players who need to gamble while they are out and about will also be able to access Fruit Boost, thanks to the fact that the technology behind Fruit Boost is HTML5. This framework language is incredibly versatile, and it ensures that Fruit Boost is playable on a plethora of desktop and mobile browsers. In addition, this also means that lovers of games of chance will be able to enjoy everything Fruit Boost has to offer regardless of whether their smartphone runs Android or iOS.