Football:2022 is an excellent game to enjoy whenever one is craving for silly and fun gambling sessions. The game has 10 fixed paylines, and its house edge is 3.94%. This makes the title relatively player-friendly, as that is slightly below the average house edge of the typical online video slot.
The animations featured in this slot are fluid, but you are free to change the quality of the graphics if a lower setting fits your device better. The game offers a good number of customisation options all in all, including but not limited to the ability to change the volume of the sound effects, the option to enable the reality check feature, and adjusting autoplay so that it fits your needs best.
Football:2022 Theme, Graphics, and Sounds
As one might be able to tell from its name and thumbnail, Football: 2022 is a slot all about the thrill of football. While playing Football:2022, casino enthusiasts can easily immerse themselves in the spirit of the sport thanks to the fact that they can hear the spectators cheering for their favourite teams in the background. The reels' movement is accompanied by clapping, and you will also hear the crowd chanting and whistling on occasion, which enhances the ambience further.
Although the only tunes you can hear during the base game are short pieces of music that play whenever you score a win, there is a longer soundtrack during the Penalty Bonus Game. It has a fast tempo and can fire up any football fan.
The artwork of Football:2022 is also great and quite fun to observe, because it has an art style one would typically see on cartoon-focused TV channels. The symbols themselves are illustrated with humorous and exaggerated expressions, giving the slot's layout an all in all playful look.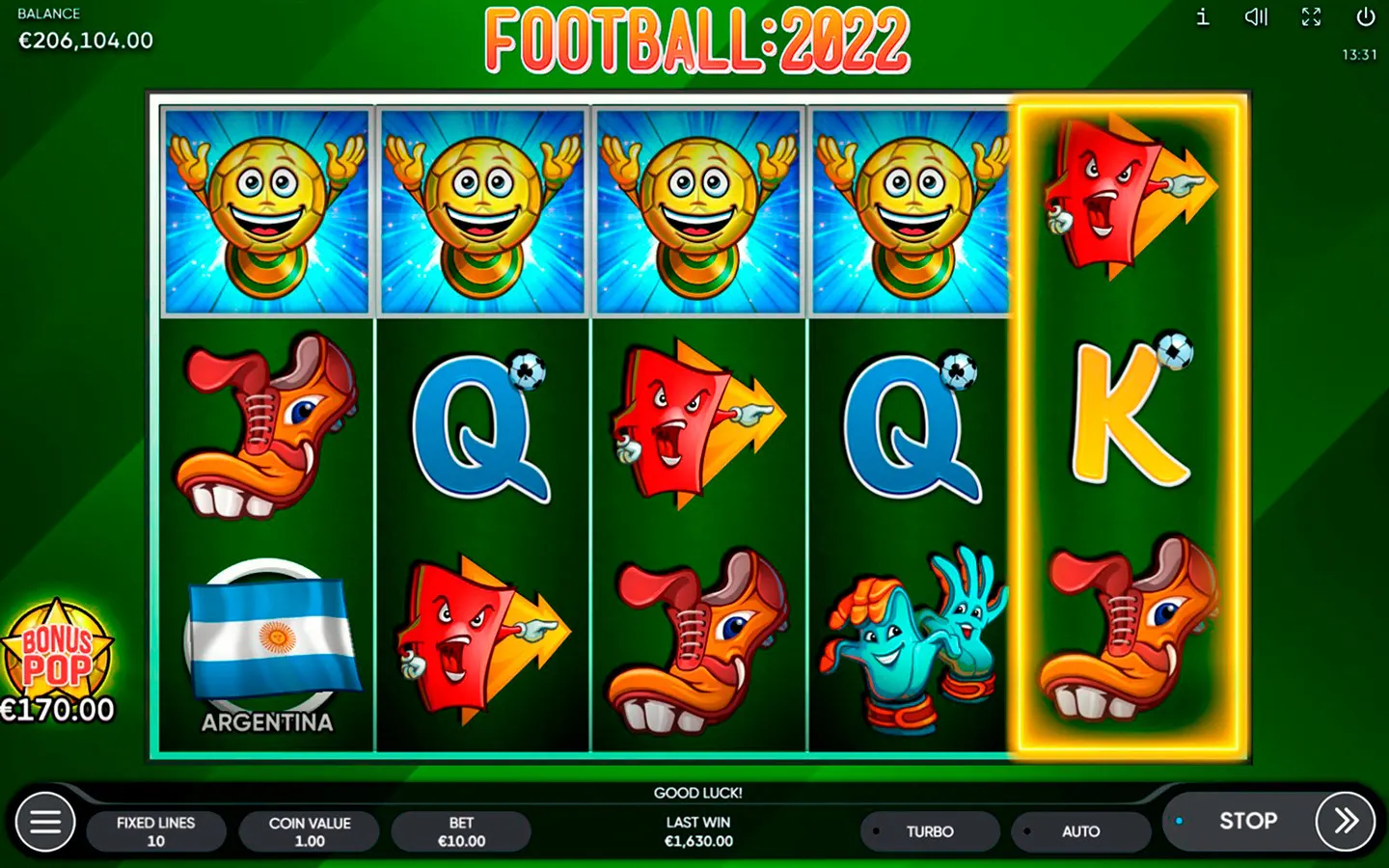 Football:2022 Symbols and Payouts
In order for a series of symbols to form a winning combination, between 3 and 5 icons need to land on adjacent reels, and the string of symbols must start from the leftmost reel. Do keep in mind, however, that the three highest-paying symbols have a payout even for 2-copy combinations.
When it comes to the style of the icons, Football:2022's symbols are, for the most part, themed after football games. The developers at Endorphina, however, have not neglected to also give the slot the signature card suit icons casino enthusiasts have come to know and love. To start off, we will focus on these particular symbols, and players who manage to get 5 copies of the Jacks on a payline will net an x120 bet per line payout. Next, we have the king and the Queen, both of which have a payout of x150 bet per line. The final symbol that illustrates a playing card is the Ace, and lucking out on a 5-copy win rewards players with x160 bet per line.
The symbols that follow are the Red Card and the Yellow Card, both of which reward players with x180 bet per line for 5-of-the-same. A payout of x200 bet per line is what you will receive if you get five Stopwatch icons on a payline, while 5 copies of the Goalkeeper Gloves grant players a payout of x240 bet per line. Next, we have the somewhat smug football boot, and its payout is x250 bet per line.
A unique feature of Football:2022 is the fact that the Red and Yellow cards can each form a scatter win featuring 5 copies of the same icon, and each combination grants x400 and x200 bet per, respectively. These series of symbols pay out even if they do not actually land on a payline.
The last icon is the golden Football Trophy. Its payout of x600 bet per line is certainly impressive, and this icon is also Football:2022's Wild.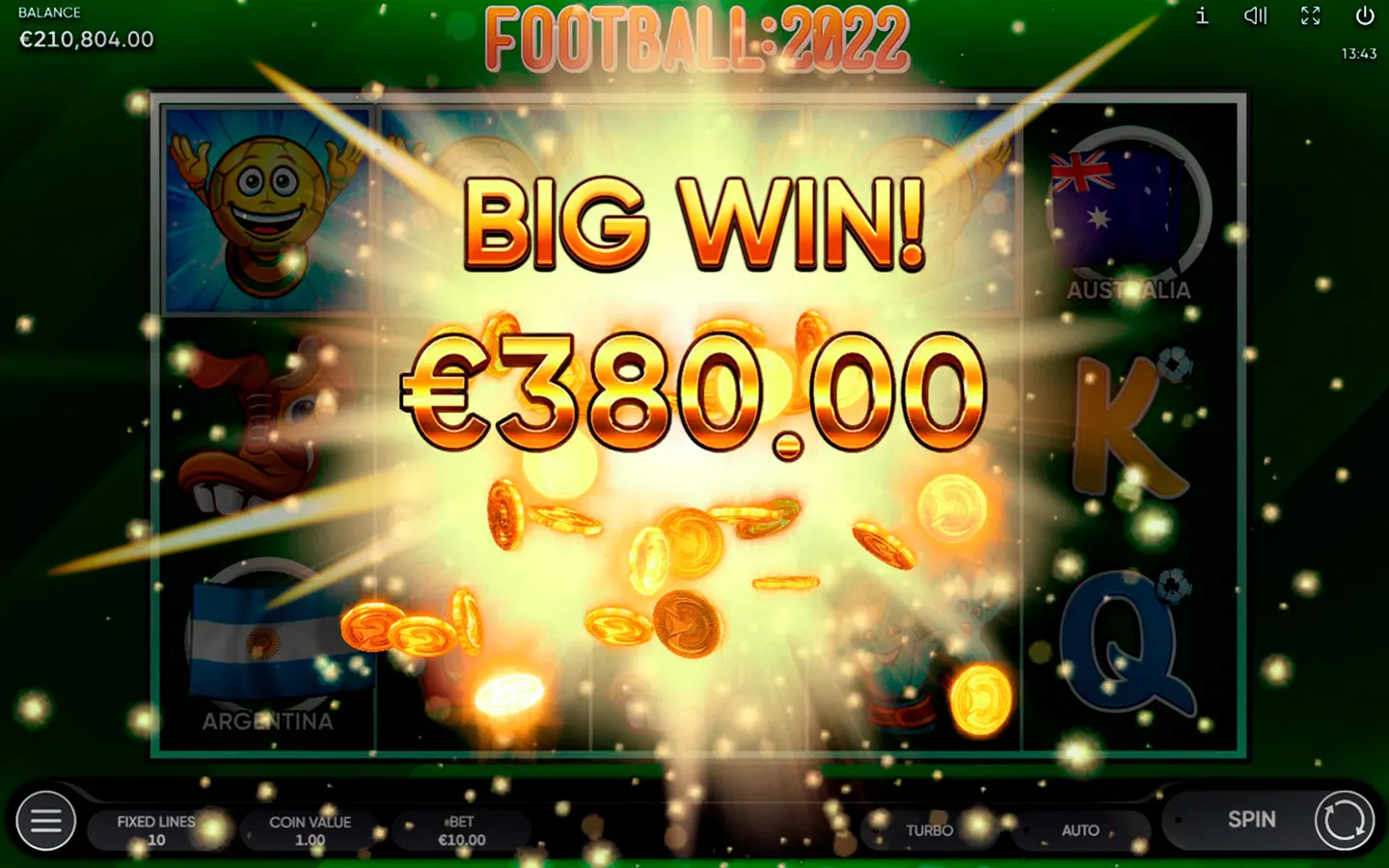 Football:2022 Bonus Mechanics
Football:2022 has a fascinating Penalty mini-game that you can access whenever two scatter symbols land on the first and fifth reels. The scatters are two randomly chosen flags, each belonging to 1 of 32 countries, and the flag you see on reel one is your own team. As for the symbol that can be seen on the fifth reel, that simply represents the computer you are going up against.
The game loop of this Penalty Bonus features two rounds. During the first one, you are the player attempting to score a goal, and you can choose between 4 spots to kick the ball into. If your opponent's goalkeeper fails to save, you score a point. If they do prevent you from scoring, however, you win nothing. As for the second round, here you play the role of the goalkeeper, and you need to choose a corner to protect. Once again, there are two possible outcomes. If you concede, that is your loss, but if you save the goal, your rivals do not win a point, and you are rewarded with additional winnings. Each Penalty Game lasts 5 rounds unless the fifth round ends in a draw. In such situations, the game continues until either team scores a goal. You will not receive any winnings if you lose the penalty game, that is, end the game with less points than the rival team. If you do secure enough points, however, all winnings are combined and granted to you at the end of this bonus mode.
If this sounds very exciting and you do not wish to wait and access this game mode by sheer luck, you may choose to take advantage of Football:2022's Bonus Pop Buy feature. This way, you can purchase the mini-game whenever you wish.
Finally, players should keep in mind that Football:2022 also features a progressive mystery jackpot. So long as your bet is within the required range and you are playing with real money, you will participate and have a chance at winning. Each winner is chosen at random.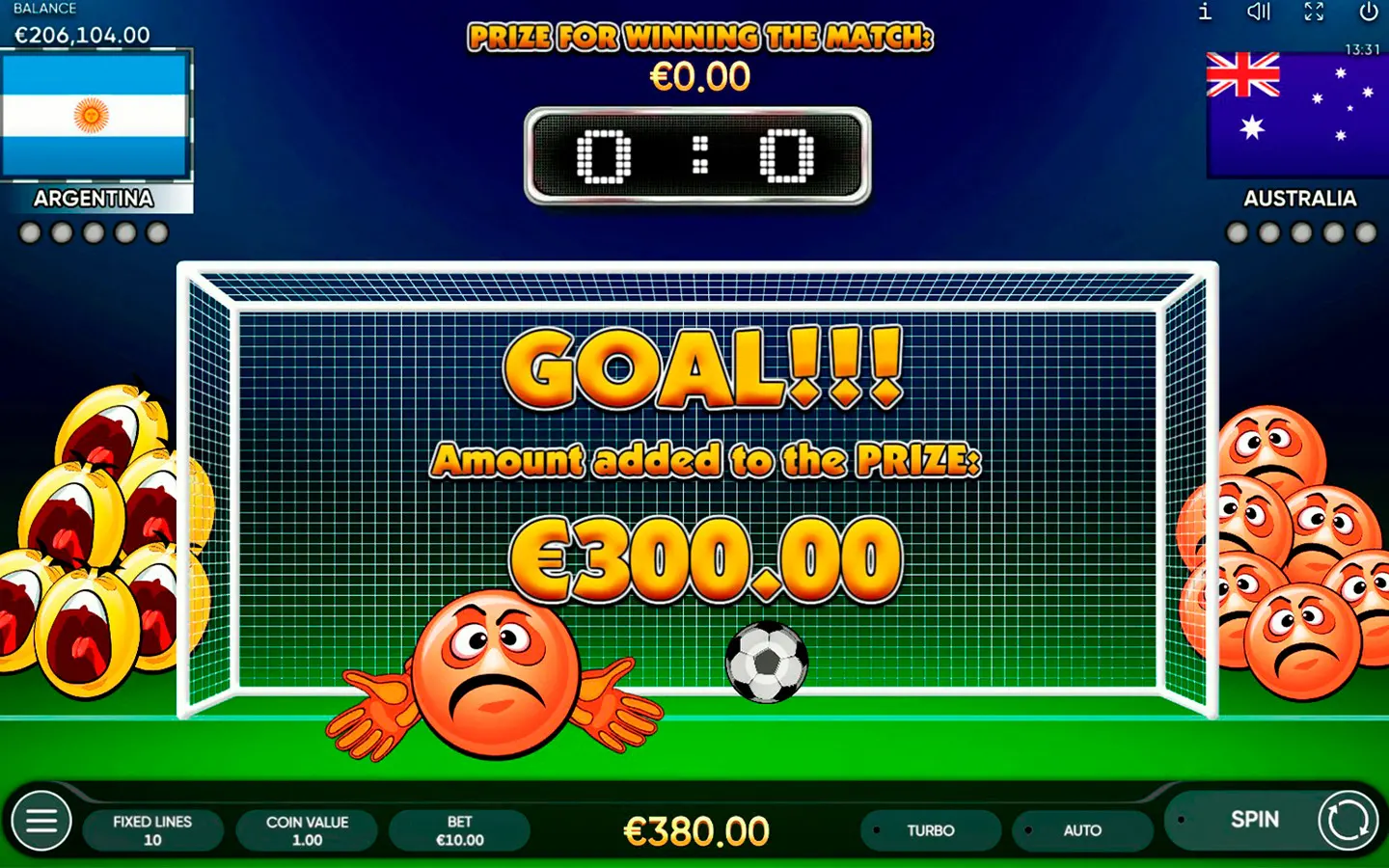 Closing Thoughts
Endorphina has succeeded in creating yet another fun and exciting slot game. Gaming devotees will be especially pleased with Football:2022's bonus Penalty Game, which is perfect for slot enthusiasts who also happen to be fans of football.
The title can be played in a variety of locations across the world, as evident from the plethora of languages available in the options menu. English, Turkish, Korean, Japanese, and Greek are among the languages on offer, and this list is certainly not exhaustive. Moreover, Football:2022 is versatile when it comes to the platforms it can run on as well, as users who have Microsoft, iOS, Android, and Linux devices can all enjoy the game at its best.