As classic fruit machines will always remain a favorite casino game to many slot fans, gaming providers strive to offer rather entertaining and generous variations of this casino classic. Synot Games has also added 81 Vegas Multifruits to its portfolio as a way to cater to the taste of fans of fruit machines.
Spread across four reels, the slot has a total of 81 ways to award a payout. To make the whole experience even more fruitful, the game has a Wild that can also add several multipliers to your regular wins. Being a slot with medium volatility means that decent wins are somewhat regular, making 81 Vegas Multifruits a great slot option for a large number of players.
7 & Hot Fruits Theme, Graphics, and Sounds
As already mentioned, 81 Vegas Multifruits is inspired by old-school fruit machines that are a must-have in most major land-based casinos. That means that your standard fruit symbols will also be present on the spinning reels of this slot. Of course, we will also have BAR icons and lucky 7s all over the reels of 81 Vegas Multifruits, further contributing to the classic style of the game.
Even the background music used in the slot will bring nostalgia as it does remind us of old-school jams we could hear in casinos back in the day. Every time a reel settles in its position, you can hear a thumping sound. Every time you land a win, however, you will be congratulated with fun tunes. While reminiscent of old-school fruit machines, 81 Vegas Multifruits still makes sure to offer a modern twist to one's gaming experience, with graphics and animations moving as smoothly as butter.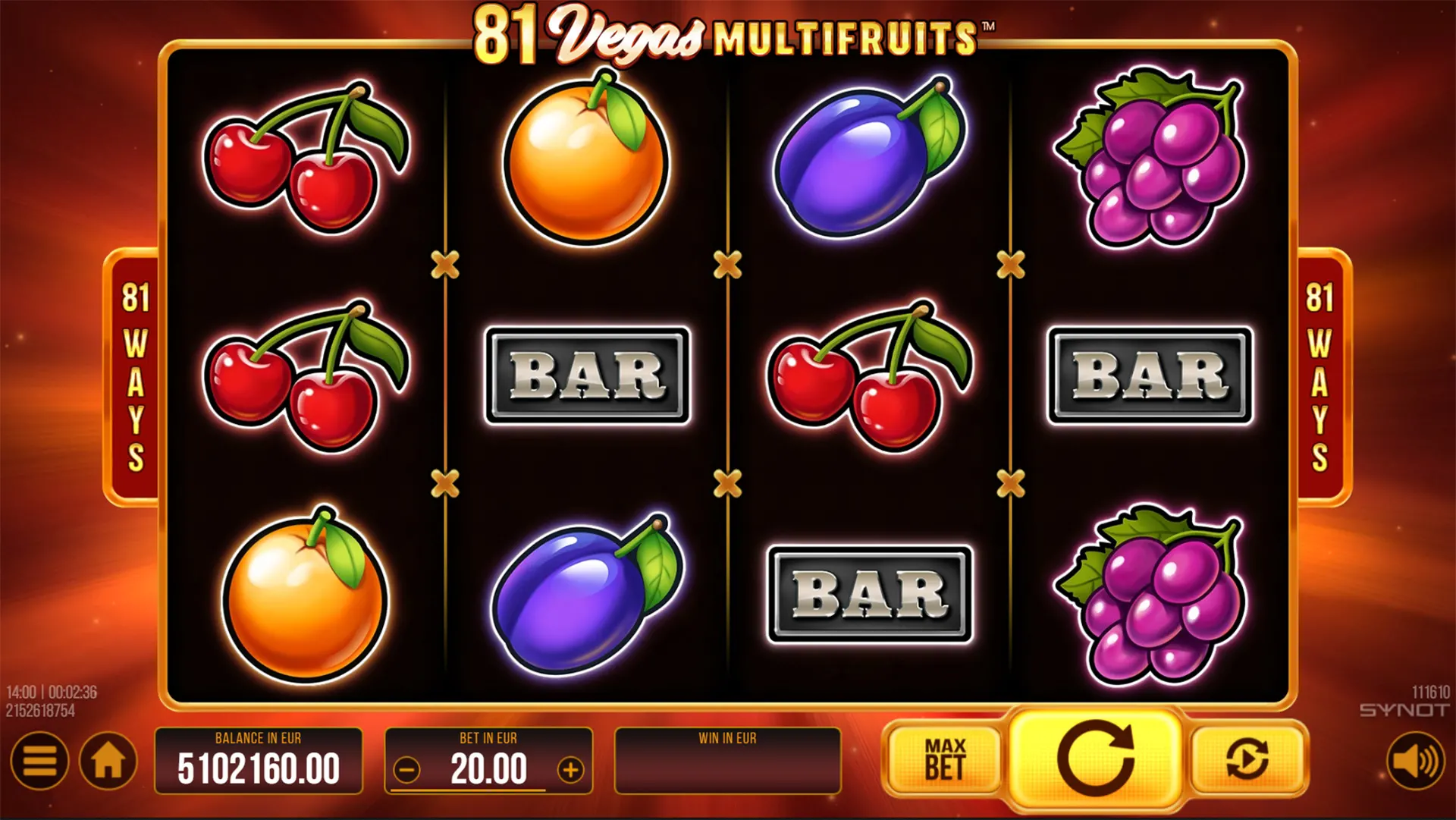 7 & Hot Fruits Symbols and Payouts
To enjoy a payout while playing 81 Vegas Multifruits, you must see identical symbols align on at least three adjacent reels of the slot. What is more, winnings are always paid only from left to right, which means that a winning combination must always start from the far left reel of 81 Vegas Multifruits. There are a total of 81 ways that you can win while playing this four-reel slot, making the game a very generous slot variation.
The lowest payouts in this slot are paid on a combination of three or four BAR symbols, which will pay 1x or 2x your total bet respectively. The low-paying fruits of the game, which include cherries, lemons, oranges, and plums, will offer slightly better payouts of 1x and 4x your original stake when they are matched three and four times on the reels of the slot.
Of course, you will also have high-paying icons, which include grapes and watermelons. When grape icons land on three adjacent reels, the payout that players will enjoy will amount to 4x their original bets. Meanwhile, matching four grape symbols will grant a win of 40x the original stake of players. When you see three watermelon icons in a winning configuration, you can expect a payout of 6x your total bet, while a watermelon icon on each reel of the slot will pay 60x the base bet.
The highest-paying icon of 81 Vegas Multifruits is the red 7, which can pay 16x your bet for three-of-a-kind and 160x your original stake when it lands on all four reels of the slot.
In addition to regular paying symbols, the game is also incorporating a Wild, which can significantly boost your chances for bigger wins. The Wild can substitute for other symbols of the slot and will also carry a 2x multiplier that is applied to your Wild wins.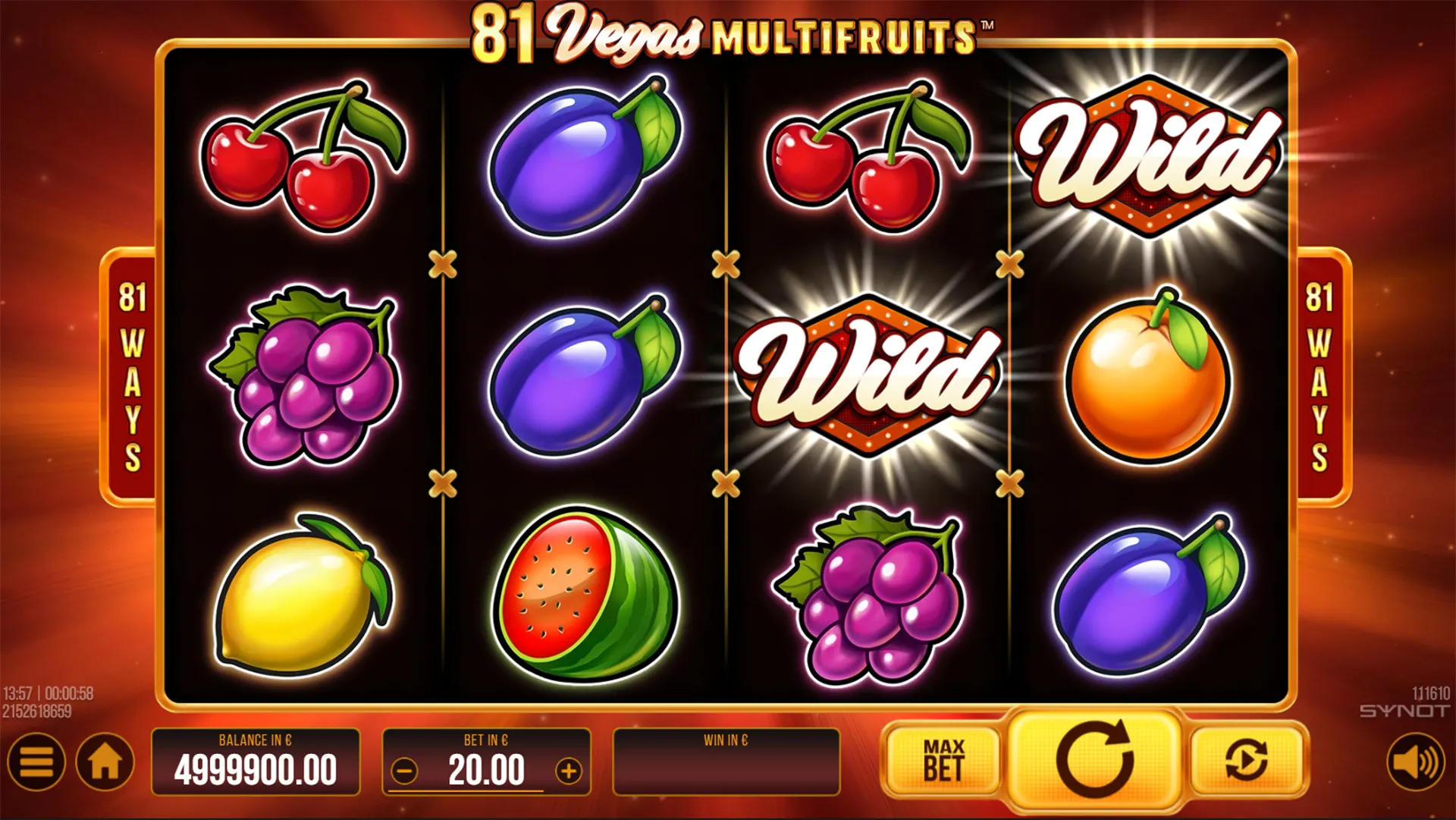 7 & Hot Fruits Bonus Mechanics
While 81 Vegas Multifruits is an overall classic slot, that does not mean that Synot Games has not added a few special features to the game. Most of the bonus functions of the slot are related to the Wild symbol, which can replace any other symbol of the game. That way, a winning combination can be easily made, ensuring players extra payouts.
While the Wild can complete winning formations, it will also carry a 2x multiplier that will be applied to the win that was formed thanks to the Wild. However, the Wild has another special function, which will combine the multipliers of Wilds when two or three Wilds are part of a winning formation. Having a win with two Wilds will apply a 4x multiplier to the payout. Add a third Wild to a winning pattern and you will have an 8x multiplier on your win.
Even without a 2x Wild, players will still have the chance to double the amount of their wins when they play 81 Vegas Multifruits. Every time you land a win, you can choose to either collect it or gamble its amount and make it double. This option will be activated next to the spin button after every win, launching a new game on the screen if you opt to wager your win.
The Gamble Feature will show a playing card facing downwards, with the goal being to predict the color of the card. A correct guess will double your profit and will allow you to either collect it or continue to wager the amount. Provided that every guess is correct, you can continue to gamble your win up to 10 times. However, a wrong guess at any point of the Gamble Feature will cost you the entire win you have wagered. To minimize any potential wins, you will be given the option to wager only half the amount of your win and lose or double only a portion of your base-game win.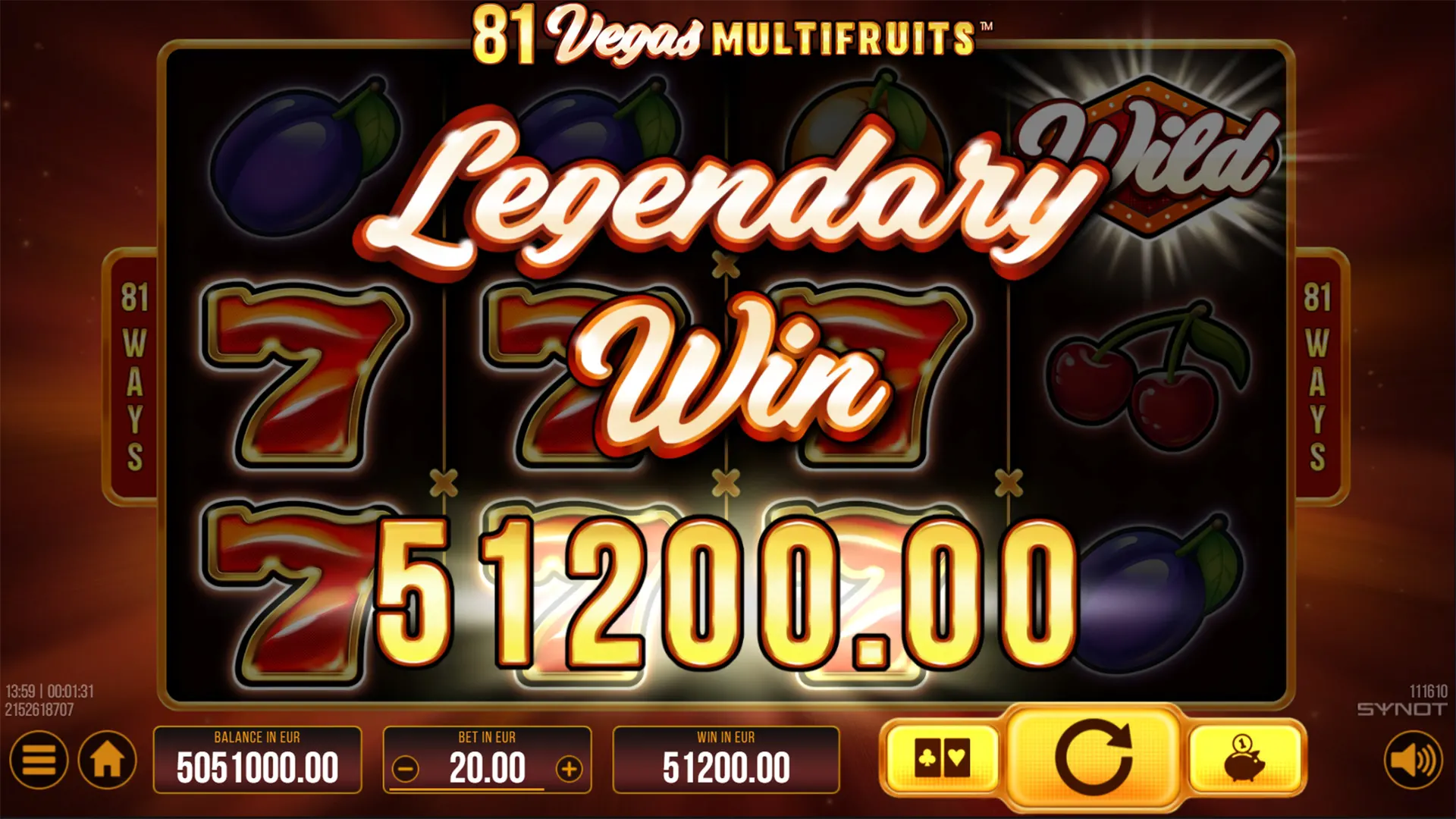 Closing Thoughts
Synot Games offers a great take on the classic fruit machine with its slot 81 Vegas Multifruits. With juicy fruits, players have 81 opportunities to land a win on each spin. Add the multiplier Wilds to the game and you will have a wonderful spinning experience with this slot.
Those who enjoy making riskier decisions will also have the chance to double their wins thanks to the Gamble Feature of the game. Being a slot with medium volatility means that 81 Vegas Mukltifruits might offer slightly lower payouts, however, the wins may be quite frequent.