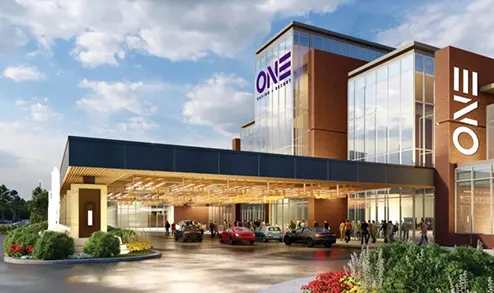 This Monday, Richmond City Council members approved a $562-million One Casino + Resort casino project after the proposal was rejected by voters in November 2021. Now, the odds for the casino project improve as more Richmonders have realized that the casino resort would have a positive effect on the city's economy. Thus, many casino supporters are optimistic that the One Casino + Resort project will be back on the ballot.
In May this year, the City Council introduced an ordinance that could allow for a second referendum on the controversial One Casino + Resort project. Richmond City Councilwoman Reva Trammell explained that some Richmonders opposed the proposal because they were afraid of the negative effects of gambling and that the gambling venue would lead to increased crime levels in the area. Trammell added that the reason for this wrong perception was "misinformation" and "miscommunication".
In a citywide referendum held in November 2021, 51% of Richmond residents voted against the construction of a casino resort in the city's South Side, while 49% supported the idea, claiming that the gambling venue would create jobs, attract tourists, and boost the local economy.
At the meeting, which was held yesterday, many Richmonders spoke in favor of the casino resort, highlighting the economic benefits of having a casino in the city. Richmond resident Cynthia Hinds said the casino resort would bring financial stability to the city. But before the casino project is placed on the local ballot, scheduled to take place this November, it must be approved by Virginia Lottery and Richmond Circuit Court.
What Economic Benefits the Casino Resort Will Produce?
One Casino + Resort will occupy 90,000 square feet and offer a casino and hotel. The gaming area will host 1,800 slot machines, 100 gaming tables, and a sportsbook. The hotel will have 150 guest rooms and apartments.
If the casino resort receives approval from the council and Richmond residents, the city will receive a one-time upfront payment of $25 million. A study revealed that the resort would generate approximately $29.7 million in general fund revenue and create 1,300 jobs. Earlier this month, Leonard Sledge, the city's economic development director, announced that the casino resort is expected to open doors in 2026 if Richmonders vote in favor of the project this November.
A contender for the unused casino license allocated to Richmond is the nearby city of Petersburg. The city has joined forces with the Baltimore-based Cordish Companies for the establishment of a $1.4-billion casino, hotel, and entertainment complex. The massive project would pump up to $10 billion into Central Virginia's economy.
The situation heated up quickly after it became clear that Richmond considers holding a second vote. Concerned about the possibility of competing with another gambling establishment in the area, Petersburg and the Cordish Companies have announced they will abandon their casino plans if Richmonders are allowed to vote again.