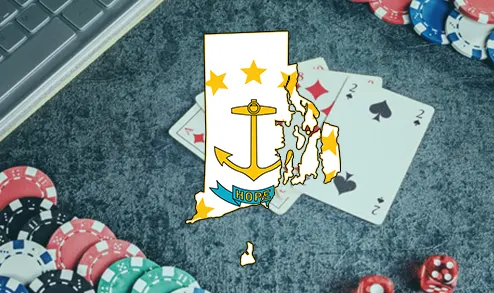 On June 20, Rhode Island's Governor Dan McKee signed Senate Bill 948B into law, legalizing online gambling in the state. The event, however, was not commemorated by some ceremony as in North Carolina. The most likely reason for this is that the state's gambling market is subject to a monopoly held by Bally's. The state's contract with Bally's and IGT is to expire in 2043, and if not extended, other operators will be allowed to enter Rhode Island's market.
Under the new law, people must be at least 21 years old and located within Rhode Island's borders to gamble online. The legislation also allows the Rhode Island Lottery Commission to work with other state regulators, providing Rhode Islanders with the opportunity to play their favorite games online even outside state borders.
The bill also states that a 50% tax will be imposed on iGaming revenue, which is quite steep compared to other states and the 18% tax land-based gambling venues pay. Senate President Dominick J. Ruggerio, the sponsor of the bill, explained that the legislation would boost the state economy and protect gamblers' interests who prefer to play table games and slots at the casino from the comfort of their homes. Besides, the legislation will help Rhode Island to stay competitive with its neighboring states. Online slots and table games in Rhode Island will launch on March 1.
How the Online Gambling Industry Will Be Regulated in Rhode Island?
The bill stipulates that Rhode Islanders can play table games managed by live dealers and streamed via a simulcast, meaning bets are actually placed in a casino. The legislation also grants Bally's exclusive rights to offer online gambling services in the state via its brick-and-mortar casinos – Twin River and Twin River-Tiverton. Under the bill, revenue generated from table games will be taxed at 15.5%, while revenue from slots will be subject to a 61% tax.
This April, Ruggerio filed the online gambling bill, which quickly earned traction among legislators. In a statement, Bally's confirmed that it had a hand in writing the legislation. Last Thursday, the Senate passed the legislation, sending it to Gov. McKee's desk. The governor had six days to sign or veto the bill. If he did not act on the legislative measure within this timeframe, it would automatically become law on the next day. However, he decided to sign the legislation on the sixth day, just several hours before the deadline.
Gambling is a significant source of revenue for the state, ranking third in terms of generating income. Bally's forecasts that iGaming will generate $130 in additional revenue for the state. To enhance player protection, Bally's has agreed to provide more resources to raise awareness among young people about the potential harm gambling may cause.