888poker is among the most popular online poker platforms on the Internet and for good reason. It is available to players from all over the world and some countries even get special localized versions. 888poker has a strong presence in Italy and seeks to cater specifically to that market. This means that Italian players have access to an exclusive version of 888poker and with it, come other excellent benefits. Those who decide to come on board will be given the opportunity to claim a great Welcome Bonus and to earn something extra for their trouble.
Full Bonus Terms and Conditions
If you have made up your mind about joining 888poker, you are certainly in for a treat. As soon as you open an account, not only will you be eligible for the generous no deposit bonus but you will also get to benefit from the Welcome Offer, as well.
The 888poker Welcome Bonus is available on your first deposit to your poker balance. It involves a 100% match of your transaction up to €1,500. Once you make your payment, you will receive an email. In it, you will find a link to the bonus. When you click it, you will be taken back to your 888poker account and the bonus will be credited to your balance.
Other Bonus Rules
The Welcome Bonus is quite interesting as far as promotions are concerned, seeing as how you do not have immediate access to the full bonus amount. Instead, 888poker will release parts of the bonus when you meet certain milestones.
The bonus is unlocked whenever you place a certain amount of bets and in increments of €10 at a time. To unlock the bonus you will need to earn Bonus points, specifically, 13.5 Bonus Points for every €1.00 of the bonus. Therefore, to receive for each €10 increment you will need to acquire 135 Bonus Points.
Bonus Points are earned by playing poker at the website. When playing poker cash, you will get 2.7 Bonus Points for every €1.00 that you contribute to the overall rake. For example, you have wagered €25 and the total pot amount is €100, which amounts to a 25% contribution. If the taken rake is €4.00, you will be responsible for 25% of that or €1.00. In this scenario, you will earn 2.7 Bonus Points.
You will have 90 days to fully unlock the entire bonus. If the 90 days have passed and you still have bonus funds to play for, these will be lost.
Related Bonuses
SNAI €1,050 Poker Welcome Bonus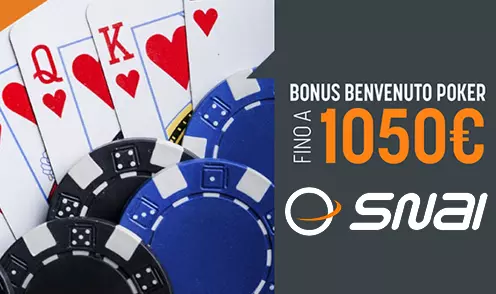 If you are actively searching for a gaming platform that caters to the needs of bingo, poker, sports betting, and casino...
Read more