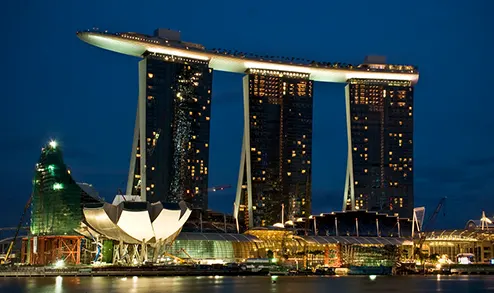 A 45-year-old Malaysian man called Chai Hee Keong, believed to be part of a syndicate, has been charged for allegedly using a device to record the cards being dealt during baccarat games at Marina Bay Sands Casino. The man was arrested in Malaysia on June 8 this year thanks to the assistance of the Royal Malaysia Police.
Before the police put the handcuffs on Chai, the State Courts in Singapore issued a warrant for his arrest. After Chai was detained, the suspect was immediately transferred to the Singapore Police Force for further questioning and processing. Chai is believed to be linked to a previous investigation into a similar case, which commenced on December 24 by the Criminal Investigation Department's Casino Crime Investigation branch.
In February this year, a 35-year-old Malaysian man was arrested as part of the probe. Casino chips of over SGD750k, a mobile phone, and cash were confiscated by law enforcement authorities. On December 26, 2022, Hung Jung-Hao, a 27-year-old Taiwanese man was also accused of participating in the syndicate.
How the Illegal Card-Filming Ring was Operating?
Court documents reveal that the syndicate in question consists of nine people, with Chai being among them. Other people involved in the ring are Wang Yu, Hung Yu-Wen, Hung Jung-Hao, Chou Yu-Lun, and Tan Kian Yi. Three others are still unknown. Chai allegedly used a device to record cards dealt during a baccarat game, transferring the information to the members of a chat group called "15/12Work in Singapore Chat Group(9)".
On June 9, Chai was charged with participating in an illegal syndicate and violating the Casino Control Act 2006, under which everyone caught using devices to record cards being dealt during a casino game will face up to seven years of prison time, an SGD150k fine, or both.
Hung Jung-Hao was accused of using a mobile phone to record the value and suits of the cards being dealt in the course of a baccarat game. He was caught sending the recordings to the members of the chat between 1:49 am and 1:52 am on December 23.
Hung's lawyers said their client should be released on bail because the remand period may be longer than the sentence he would get. Prosecution lawyers argued that since Hung is a foreigner, the law allows for longer remand, while the judge agreed he poses a flight risk.
The Singapore Police Force announced that it will continue to work towards eradicating casino crime and busting everyone engaged in the conspiracy. Under Singapore's gambling law, card counting is not illegal as long as players do not use any devices to beat the game.