People on plant-based diets for ethical, health-related, or some other reasons are marking World Vegan Day on 1 November. This day, which commemorates the beginning of the Vegan Society in the UK and the coining of the word vegan, is a great opportunity to promote the vegan lifestyle around the world. And it is also giving everyone – vegan or not, the perfect excuse to celebrate with a delicious plant-based meal at one of the best vegan restaurants in the country.
We have seen many vegan restaurants pop up all over the United Kingdom lately and to pick the best ones out of thousands we at BonusInsider had to come up with a methodology that was fair and unbiased. What we decided on was to pull Google user reviews data for vegan restaurants in all UK cities and rank them by their rating and reviews count. When looking at the data our team concluded that veganism is still growing strong, with many new restaurants, cafes, and eateries focusing their menus exclusively on plant-based mouthwatering vegan meals, rich in flavours and healthy ingredients. Below are the 10 highest-rated vegan restaurants in the UK, based on Google review data: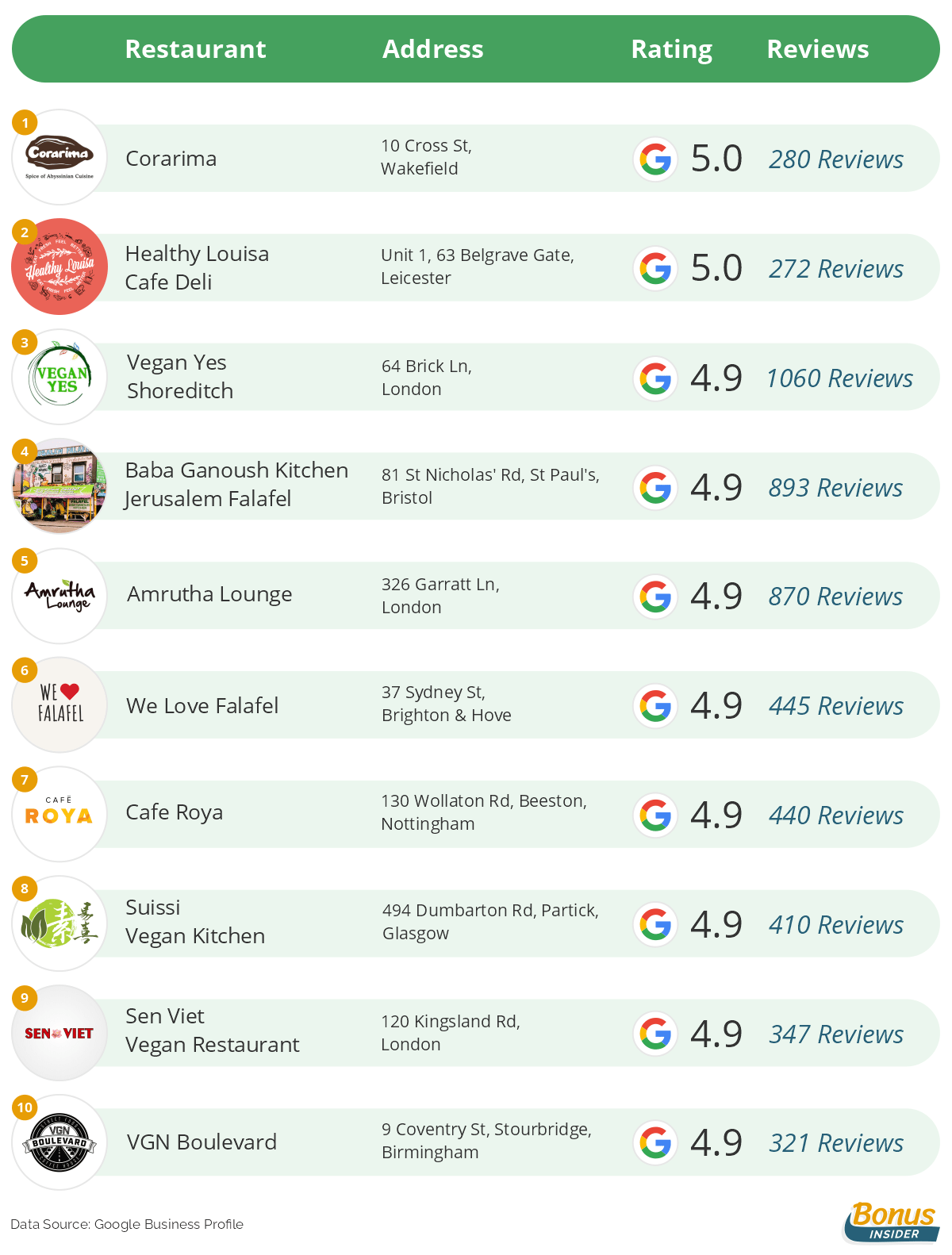 Methodology
To select the most recommended restaurants for plant-based dining, BonusInsider utilised the Google Places API, searching for the "vegan" keyword and filtering for the "restaurant" place type in all UK cities. The resulting list included 3028 locations, so we took only those rated 4.9 or higher with more than 200 reviews. Then we ranked by star rating and number of reviews to identify the highest-rated restaurants, serving vegan dishes in the United Kingdom.
The Highest-Rated Vegan Restaurants in the United Kingdom

1. Corarima, Wakefield
Corarima is a small, yet modern restaurant for gluten-free, vegan and vegetarian food in Wakefield, a city only 13 km south of Leeds. It offers authentic Abyssinian cuisine, prepared by Ethiopian and Eritrean chefs who use their own berbere spice mix, containing many Ethiopian spices such as corarima, garlic, ginger, basil, rue, ajwain, nigella, fenugreek, and chilli peppers.

2. Healthy Louisa Cafe Deli, Leicester
Healthy Louisa Cafe Deli is a vegan outlet with a contemporary dining area and it serves breakfast, lunch and refreshments in central Leicester. The menu includes a wide variety of healthy, plant-based smoothies, rice and porridge bowls, pancakes, and toast. There is also a great selection of teas and right now, you can try the Pumpkin Seasonal Menu, which is free of refined sugar and artificial flavouring syrups.

3. Vegan Yes Shoreditch, London
Vegan Yes Shoreditch in the East End's district of Shoreditch is one of the most interesting restaurants on this list. It serves a unique Italian and Korean fusion vegan cuisine inspired by Chef Mauro's Italian heritage and his wife's Korean culture. Believing that the healthy ingredients benefit body, mind, and soul, the owners promise that their meals do contain no heated oils, no refined sugars, and no preservatives. Instead, the plant-based menu includes probiotics and plenty of raw options.

4. Baba Ganoush Kitchen – Jerusalem Falafel, Bristol
This is a fun, colourful little restaurant in Bristol for healthy and vegan Middle Eastern cuisine. Customers can order falafels on the go or enjoy the eclectic atmosphere in the seating area while munching on tasty Lebanese bread wraps or some Jerusalem and Beirut specialties such as dolmados, Baba Ganoush, hummus, or mousaka.
5. Amrutha Lounge, London
This is a small, cosy restaurant in Wandsworth that prepares "vegan soul food" inspired by Asia, Europe, and the Middle East. All meals are plant-based and to prepare them, Amrutha Lounge works with local suppliers and small businesses in order to source fresh and truly organic ingredients.

6. We Love Falafel, Brighton
We Love Falafel is a vegan and vegetarian falafel shop in North Laine, Brighton's bohemian and cultural quarter. It has outdoor seating where customers are served creative homemade falafels, freshly prepared on-site. Apart from the all-vegetarian menu, the eatery also caters specifically to vegans and has gluten-free options.

7. Cafe Roya, Nottingham
Located in Beeston, just 3 miles south-west of Nottingham city centre, Cafe Roya is a beautiful, independent restaurant for modern vegan and vegetarian cuisine. Its menu consists of elevated, mostly plant-based dishes inspired by Europe and Asia, and a great selection of organic wines and beers. The list of cocktails also stands out as they are always made fresh to order with premium organic and vegan-friendly spirits.

8. Suissi Vegan Kitchen, Glasgow
Suissi Vegan Kitchen is a family-owned restaurant in Glasgow's West End that offers vegan Asian cuisine. Its chef, Mama Lim, who is originally from Malaysia, prepares various traditional meals from her home country but also takes inspiration from all over Asia. The amazing home-style cooking is paired with the owners' dedication to using only fresh, natural ingredients. Unlike many Asian restaurants, Suissi does not approve of white sugar, MSG or any artificial enhancers, and is against the excessive use of salt.

9. Sen Viet Vegan Restaurant, London
As one of the most recommended Vietnamese restaurants in London, Sen Viet is a wonderful option for anyone who craves delicious and full of flavour plant-based food. It offers a 100% vegan menu, consisting of vegan pho, spring rolls, bánh xèo, the popular Vietnamese crispy savoury pancakes, and many more.

10. VGN Boulevard, Birmingham
VGN Boulevard is an independent "plant-based junk food" restaurant offering fully vegan burgers, loaded fries, hot dogs, and dairy-free milkshakes. It is located in Stourbridge in the West Midlands, some 13 miles from Birmingham. This stylish eatery has everything you'd want from a regular fast-food restaurant – various burgers, deep-fried fillets, onion rings, tater tots, chocolate fudge cake, and many more, but it's all vegan.