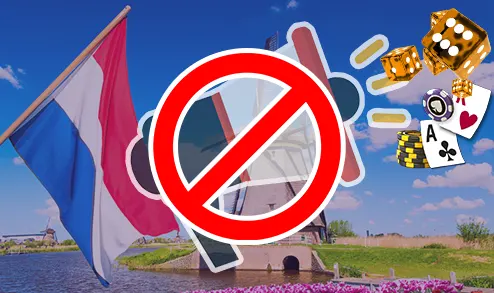 After postponing the implementation of a gambling advertising ban several times, the rule prohibiting most forms of gambling commercials finally became effective on July 1. Under the new rules, radio and television commercials, as well as gambling adverts in public spaces, such as billboards, bus stations, cafes, and inside gaming venues, are prohibited. The ban also extends to print adverts.
From July 1 of next year, gambling companies will be prohibited from sponsoring TV events and programs, while gambling sponsorships in sports must end by July 2025. The new rules also come with specific restrictions regarding affiliate advertising. While the country has introduced a ban on untargeted gambling advertising, such commercials are allowed within on-demand streaming services, social media, or via email.
The Dutch gambling regulator has explained that the objective of the regulations is to reduce the number of people below the age of 24 who see such adverts by 95%. However, it is still unclear who and how exactly would ensure operators and advertisers abide by the new rules. The country's gambling watchdog, Kansspelautoriteit (KSA), announced it would issue guidance for operators regarding the new advertising standards.
The authority expressed hopes that licensed operators would take matters into their own hands and ensure they comply with the gambling advertising ban. The Dutch regulator, however, did not forget to remind operators to observe the law. This April, KSA Chairman René Jansen explained that self-regulation is important to prevent excessive gambling advertising, but relying entirely on businesses to ensure they comply with the new advertising standards may not be a successful approach.
Industry Self-Regulation May Prove More Efficient Than Fines, According to Dutch Minister for Legal Protections
The country's gambling watchdog has previously announced that it would be wary when enforcing the new advertising measures. The decision to leave matters into the operators' hands made many anti-gambling politicians ask the minister for legal protections, Franc Weerwind, whether self-regulation is a smart move. The minister explained that this might turn out to be more effective than imposing hefty fines. KSA has confirmed that it oversees how the new advertising rules are implemented.
Only a few months after the Netherlands opened its gambling market to foreign casino operators, the Dutch online gambling trade associations VNLOK and NOGA introduced self-regulation guidelines, also known as the Advertising Code for Online Games of Chance.
Under the country's advertising code, gambling commercials could last a maximum of 30 seconds. Besides, the maximum number of gambling adverts during a given advertising session is three. Moreover, operators must not include messages encouraging irresponsible gambling, must inform players about responsible gambling practices, and limit the range of sign-up bonuses on offer.
The Netherlands was expected to introduce a gambling advertising ban as of January 1 this year. But the decision to implement the prohibition was postponed several times because some provisions of the legislation had to be clarified. A curious fact is that the country rolled out its plans to ban gambling adverts shortly after Belgium announced that it would ban gambling advertising on July 1.