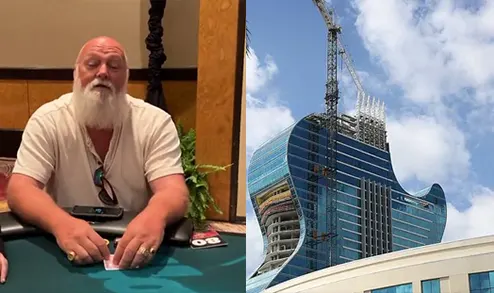 During the weekend, a man from Florida entered and won a women's poker tournament, which took place at the Seminole Hard Rock Hotel & Casino in Florida. The 70-year-old man pocketed over $5k for emerging victorious in the ladies-only poker event. The incident sparked a debate over male inclusion in female sporting events. While some people take the issue of a man playing in a tournament for ladies in a lighthearted manner, others consider it a violation.
The Motives Behind the Man's Appearance at a Women's Event
This weekend, Dave Hughes from Florida appeared at a ladies-only poker tournament and secured a prize of $5,555 for his victory in the $250 buy-in Ladies No-limit Hold'em (Re-Entry) event. Of all 83 contenders for the big prize, 82 were women, and the last one was David Hughes. The Las Vegas Review-Journal reported that in the end, Hughes had to pit wits against Dayanna Ciabaton, defeating her heads-up.
Hughes' presence stirred up the hornets' nest. In a post on Twitter, professional poker player Ebony Kenney said that she offers a $300 bounty on him. Several others in the poker community matched Kenney's bounty, which eventually exceeded $2,000 but remained unclaimed.
But not only Kenney criticized the appearance of Hughes at the women's poker event. British professional Charlie Carrel commented that Hughes' presence at the event is funny because everyone can identify themselves as a woman and gain access to spaces reserved for ladies.
Poker Hall of Famer Linda Johnson said via the media agency Poker News that she likes women's poker tournaments, and the presence of men in such events spoils the entire idea. She explained that she would not appear at a men's poker event as she would not qualify for it. Johnson also said that Dave Hughes was probably looking for attention, and that is why he appeared at the women's poker tournament.
Why Men Appear at Women's Sporting Events?
According to anti-discrimination laws, Florida casinos are not allowed to prohibit men from appearing at women's events. Nevada casinos abide by the same law. But to prevent men from entering the World Series of Poker's Ladies event, which is a $10,000 buy-in tournament, women get a 90% discount.
This is not the first time a man appeared at a women's poker event and won the top prize. In 2009, Abraham Korotki, a former WSOP Circuit event champion won the $300 buy-in Ladies No-limit Hold'em event at the Borgata Poker Open in Atlantic City. In 2007, former baseball player Jose Canseco made headlines when he and five other men wanted to enter a ladies' poker event, which was held at the Commerce Casino in California.