Even if you take part in sports betting and casino games from time to time, you must have heard of William Hill. The latter is considered a leading bookmaker mainly serving UK based players, but its services are also available throughout Europe, the US and Australia. It was established back in 1930s and since then, it is constantly expanding the products and services it provides players with. For the time being, William Hill offers sports betting, casino games, scratchcards, bingo and poker. In case you are about to establish a casino account with one of the most reputable brands worldwide, you qualify for different bonuses, including the second deposit bonus. Below, you will find detailed information about the wagering requirements you have to meet.
Second Deposit Bonus Requirements
William Hill awards every newcomer with a second deposit bonus of up to £100 provided the following requirements are met.
In order to claim your 75% match bonus you need to play through the entire first deposit you have made as well as the first deposit bonus (if you have received such). The next step is to go to the cashier page and make a second deposit that should not be under £10. You should wager your deposit as well as the bonus amount at least 15 times before being able to claim your second deposit bonus. Don't forget that you have to meet additional wagering requirements if you intend to play roulette or blackjack.
The bonus will be instantly credited to your account as soon as you meet all requirements.
You are not allowed to receive the second deposit bonus if you are currently receiving other bonuses. In such case, you should click on the Decline button. In order to be able to claim your bonus, you should not have any pending withdrawal requests.
You do not qualify for receiving a bonus if you are based in China, Macau, Brazil or South Korea even if you meet the wagering requirements. You will not be eligible to receiving the bonus if you reside the UK, Isle of Man or Gibraltar and make a deposit in a currency different from GBP.
If you are based outside the UK or Isle of Man, you will not receive a bonus even if you deposit in GBP. Canada-based players who make a deposit in EUR, do not qualify either.
Related Bonuses
William Hill £3,500 Monthly Loyalty Bonus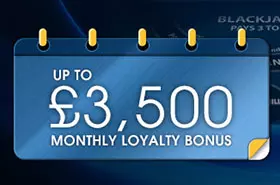 William Hill is regarded as one of the most reliable brands, offering unparalleled sports betting and casino experience....
Read more