SNAI is a gaming website that got off the ground almost immediately after it was launched more than two decades ago. This is an all-in-one gaming platform where you can enjoy yourself equally no matter if sports betting, bingo, poker, or casino games are more to your liking.
Still, one of the reasonable justifications of why SNAI enjoys such an animated user base is that the gaming website boasts a broad-spectrum of special incentives. The Happy Hour Blue Slot is an offer that is likely to catch on among reel spinners.
Full Bonus Terms and Conditions
Becoming a member of SNAI Casino has many benefits, and one of them are the promotional deals that will be extended to you. This new proposal is designed in order to make playing the blue slots even more exciting and intriguing as gambling enthusiasts can make use of 10 bonus spins.
So as to take advantage of these free games, you will be required to make two stakes at a minimum on any of the slot titles that are labeled blue. Please take into account the fact that your wagers will be considered towards the special offer only if they are placed between 5:00 pm and 6:00 pm. Virtual players are likely to get an even more joyous experience as their free spins will be awarded on a different slot each day.
Wagering Requirements
As it was already mentioned, this exclusive offer is obtainable every day, and wagers that are made outside that time span are ruled out from participation in the bonus. In addition to this, players cannot qualify for more than 10 bonus spins per day.
What users of SNAI should take into consideration is that their bonus spins will expire within two days after they are granted. Make sure that you will use them up within that period due to the fact that once it elapses, they will be removed from your balance and cannot be exchanged for a bonus.
Certain limitations are imposed also when it comes to the games on which you are permitted to use up your bonus spins. Make sure that you have checked the promotion carefully as the title changes every day, and it will be indicated there.
Gambling enthusiasts should be informed that the free spins they will receive can help them snatch a bonus. As it usually goes with the promotional offers that are available at SNAI, bonus funds are awarded in order to enhance players' experience and are not at hand for a withdrawal. Fortunately, the winnings that are generated after you receive your bonus spins can be taken out from your bankroll.
Attaining this will only be possible, provided that you have fulfilled the 20-time playthrough requirements this promotional incentive goes hand in hand with.
As it seems, the gaming operator has not given any details about the maximum amount virtual players are allowed to cash out once they are done with turnover requirements. A ceiling on the bets that can be made while the bonus staking lasts is not introduced as well, but gambling enthusiasts are advised to inquire into this in order to make certain that they will not infringe the terms and conditions of SNAI.
Other Bonus Rules
Speaking of this, the gaming operator is exceptionally strict when it comes to the inappropriate use of promotional offers. For that reason, virtual players should embrace themselves that the representatives of the gaming website will keep an eye on their transactions, their overall activity, and above all, the way in which they will expend their bonus funds or in this case, free spins.
If any irregularities are noticed, this will entail certain penalties such as account closure and confiscation of your profit.
Related Bonuses
Bacana Play Free Spins For a Year Bonus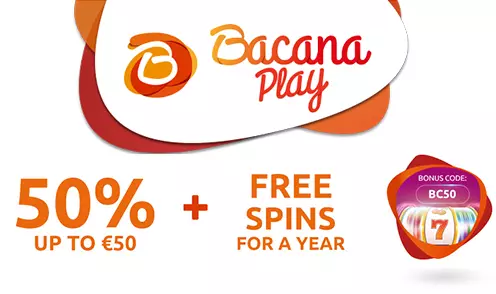 Bacana Play is a brand new online casino only recently released to the global players base. It is a web-based casino whe...
Read more