Roo Casino is always a great option for Australian casino enthusiasts. Despite being out only for a short few years, this gambling website has established itself a leading force in the Australian online casino scene. Offering customers a wide range of casino games and a number of daily promotions to choose from, Roo Casino can definitely add value to your iGaming experience. But there is much more than games and free spins in store for customers. Those who choose to stick around for a while will see the benefit of the Loyalty Program of Roo casino and all the rewards that come with it.
Roo Casino Loyalty Program Full Terms and Conditions
The Roo Casino Loyalty Program is available to all customers allowed to hold accounts with the platform. As soon as you register, your account will be assigned a rank and you will participate in the program from the get-go. Unlike promotions, you do not have to do anything special to take part.
There are four different tiers to the Loyalty Program at Roo Casino and each you will get to progress through the different ranks, earning better rewards with each. As you place bets at Roo Casino, your standing with the casino will increase and you will see more and more benefits with each rank.
Comp Points
Progression at Roo Casino is explained relatively simple. As you place bets, you earn comp points. The more points you earn, the higher your standing with the casino and the more rewards you gain. The comp points you earn are directly related to the amounts you wager and the games you play.
As we go deeper into the loyalty program, you will see that certain games are more rewarding in terms of points than others. For example, to earn 1 comp point by playing slots, scratch cards, online bingo and arcade games, you are only required to wager $10. However, to earn 1 point by playing table games (with the exception of craps, classic blackjack and roulette) you would have to wager $50.
Following the same logic, sic bo and roulette will award 1 comp point for every $100 wagered. If you are a video poker or craps enthusiast then you will be interested to know that for every $200 that you bet, Roo Casino will grant you 1 comp point. Finally, Classic Blackjack and All Aces Video Poker will get you 1 comp point for every $1,000 that you bet, making them the least rewarding of the whole bunch.
Take note that live dealer games and progressive jackpots do not earn you any comp points, no matter how much you wager. Additionally, all comp points expire after 30 days if they are not exchanged.
Comp Point Redemption
What else to do with comp points but redeem them to gain a boost in your balance? As you acquire more points at Roo Casino, you will eventually reach the point where you can exchange them for cash. Conversion happens at a ratio of $1 for every 100 comp points. Moreover, the minimum amount of comp points that you can exchange is 500 and only increments of 500 can be exchanged. Therefore, if you have earned 1,200 comp points, you will get $10 in cash and remain with 200 comp points in your account.
When you exchange comp points the money added to your balance is credited as bonus cash. As such, it is subject to a wagering requirement of 50 times before it can be withdrawn from your bankroll.
The bonus cash is treated much like any other bonus awarded at Roo Casino. The wagering requirement has to be fulfilled within 7 days or the bonus funds will expire. Moreover, there are other factors in play that you will have to account for.
For example, the maximum bet while with an active bonus is limited to $8.00 or 20% of the total bonus value, whichever comes first. Not only that but there is a maximum cashout that limits how much you can win from a loyalty bonus. Specifically, this is 10 times the original bonus amount or up to $5,000, whichever comes first.
Wagering the bonus funds can happen on most of the games found in the gaming library. However, not all games have the same wagering contributions, not unlike the different tiers of earning comp points.
For example, slots contribute the full face value of a wager, however, table games wagers are only worth 10% of their original amount. By the same token, video poker, progressive jackpots, live dealer games, keno and rummy do not contribute anything to the wagering requirement. Additionally, there is a whole list of video slots that are excluded from the wagering process that you should become familiar with.
Loyalty Ranks
As we mentioned above, there are four different casino standings as part of the Loyalty Program. These are Bronze, Silver, Gold, and Platinum in order of succession.
When you open an account you are automatically granted the rank of Bronze but that does not come with any benefits. The more comp points you earn, the better your standing with the casino becomes.
Silver rank can be achieved when you get 1,000 loyalty points. Once you get this rank, your loyalty points accumulation will be increased by 5%.
Gold ranking is earned when a customer acquires 2,500 comp points. With this rank, you get comp points 10% faster.
Last but not least, the Platinum rank is granted to those who get 5,000 comp points and with it, the points acquisition is further sped up by 15%.
Each rank will get different benefits, such as exclusive promotions and deals. However, Roo Casino tailors these specifically to each player and these are not known to us. Certain ranks will receive an increased maximum bet for the purposes of promotions, as well as, a higher bonus cashout limit.
We also have to point out that the ranks at Roo Casino are monthly. Therefore, you will need to consistently place bets to maintain your standing with the casino and the benefits that come with it.
Related Bonuses
Roo Casino 10% and 10 Free Spins Twice the Nice Bonus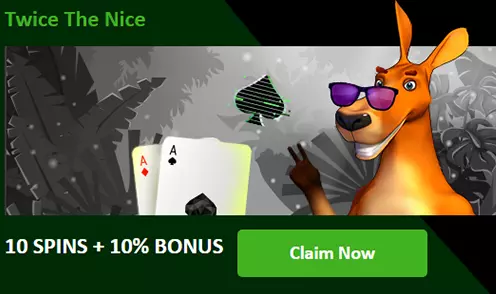 Roo Casino certainly stands out from other Australian online casinos with its sheer dedication to players. With a fun an...
Read more