House of Pokie Loyalty Program Full Terms and Conditions
The Loyalty Program of House of Pokies will benefit all customers who hold accounts with the casino. From the moment you open an account you will be enrolled in it and the more you play the better rewards you will receive. There is nothing specific that you have to do to take part in the Loyalty Program, which allows you to start playing your favorite games right away.
The House of Pokies Loyalty Program comes with four different ranks and the higher your standing is, the more worthwhile the experience becomes. To progress in the ranks, you will need to earn comp points. These are acquired by placing bets on various different titles at House of Pokies. Below, we will explain everything that has to do with the Loyalty Program, including the most important terms and conditions.
Comp Points
Comp points are one of the essential elements of the House of Pokies Loyalty Program. They indicate how far you have progressed in the rank system and how much you have played in a single month.
As you can already imagine, comp points are earned by placing bets on casino games. However, there is some discrepancy between the different game types and how many points they award.
To most worthwhile games to earn loyalty points are slots, scratch cards, online bingo and arcade games. The reason behind this is that for every $10 wagered on these games, House of Pokies will award you 1 comp point.
If you choose to play table games, your comp points acquisition will be slower. Specifically, you will need to wager $50 to get a single point. We should point out that this category does not include Classic Blackjack, roulette and Craps – these come in other groups.
Next on the list are Sic Bo and all roulette variations. For every $100 that you stake on these titles, the casino will award 1 comp point. Following them, we have video poker and craps, which will grant you 1 comp point for every $200 wagered.
Last on the list, we see Classic Blackjack and All Aces Video Poker. These have by far the worst comp point acquisition ratio of $1,000 wagered for a single comp point. Unless you play these titles religiously, you will not see much benefit as far as the Loyalty Program is concerned.
Other game types, namely live dealer games and progressive jackpots, do not award any comp points. That should not prevent you from playing them if you really enjoy them but it is still something to keep in mind.
You should know that comp points are only kept for a period of 30 days. After this, the points will be removed if they are not redeemed for cash.
Comp Point Redemption
When you acquire comp points the only logical thing to do with them is to redeem them for cash. The redemption rate of comp points at House of Pokies is set to 100 comp points for $1.00. Moreover, you can only exchange points in increments of 500, which is equal to $5.00. If you have more than 500 but not enough to round up to the nearest thousandth, then the difference will be kept in your account and not be redeemed.
Redeemed cash is credited as bonus funds and therefore, is subject to the bonus policy of House of Pokies. This means that you will have to complete a wagering requirement before you can take the redeemed cash and withdraw it. Specifically, the requirement is 50 times the original value of the exchanged sum. You will have 7 days to complete the wagering process before the funds are voided.
Furthermore, during the wagering itself, you will not be able to bet more than 20% of the original bonus amount or up to $8.00, whichever amount is lower. The betting limits might be increased to 30% or up to $15.00 for VIP players, though this is the exception and not the rule.
We also have to take into account the game contributions when it comes to the wagering requirement. Placing bets on video slots is the best way to complete the requirement since they contribute 100% of the original bet. However, if you instead prefer table games, you should know that only 10% of the face value of the wager will be counted. Other game types, such as live dealer games, video poker, progressive jackpots, craps, rummy and keno are not permitted during the wagering of a bonus. There is also a list of video slots excluded from the wagering.
Last but not least, House of Pokies limits the maximum amount you can withdraw, as far as the redeemed cash is concerned. Specifically, this is 10 times the original exchanged amount or up to $5,000, whichever comes first. If you have any money that exceeds this after the wagering is complete, it will be removed.
Loyalty Ranks
As we mentioned above, House of Pokies has four different loyalty ranks. All players start at Bronze status when they first open an account. There is nothing special about this rank and it is the baseline for every. However, once you get some bets going, you will find yourself climbing the ladder.
Silver standing is the second rank at House of Pokies and it is achieved by earning 1,000 comp points. Moreover, this rank also increases the rate at which you acquire comp points by 5%.
Next is the Gold rank, which you will earn when you get 2,500 points. With it, you will also get more comp points at a 10% increased ratio.
Finally, the highest rank at House of Pokies is the Platinum rank. Only those who have acquired 5,000 comp points will get to be in this group. Moreover, your comp points acquisition is increased by 15%.
The ranks in this system only last for a single month and you will have to reach the same position again the next month. You do this by earning the same amount of comp points.
Generally, the higher the rank is the better your rewards are. However, outside of the increased comp points acquisition and raised betting limits with an active bonus, House of Pokies does not mention what those benefits are. All bonuses are specifically tailored to the person they are offered and as such, we cannot provide any concrete information on the matter.
Related Bonuses
House of Pokies 45% and 45 Free Spins Reel Arena Bonus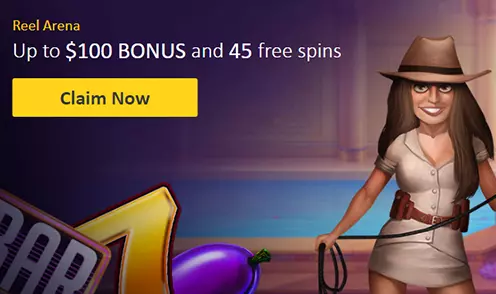 House of Pokies is one of the latest online casinos on the market, released to the public only in 2020. Like any new onl...
Read more