Golden Pokies is a noteworthy online casino targeting the Australian market. Designed specifically for players from the Land Down Under, it offers customers a great iGaming experience. You will find more than 700 unique and memorable titles in the gaming library and plenty of promotional offers to keep you interested. On top of that, Golden Pokies also features a Loyalty Program designed to reward those who stick around in the long term. Below, you will find a full breakdown of the Loyalty Program with all relevant information included.
Golden Pokies Loyalty Program Full Terms and Conditions
The Golden Pokies Loyalty Program is nothing too complicated but it does have its intricacies and you will have to become familiar with them if you wish to come out ahead.
Like most programs of this kind, it comes with a multi-tiered system, where the higher your rank is the better rewards you receive. There are four ranks at Golden Pokies and you are automatically assigned the lowest one when you open an account. The casino will enroll you without you having to do anything special. The more you participate in casino gaming at Golden Pokies the faster you will rise in the system.
Comp Points
Your progression in the Golden Pokies' Loyalty Program is indicated by the number of comp points you have acquired. You get comp points for play the various casino games at Golden Pokies and placing bets on eligible titles.
The comp point acquisition differs from game type to game type, with some providing you with more points than others, while certain game types are excluded altogether.
As far as efficiency for acquiring comp points, slots, scratch cards, online bingo and arcade games are your best bet. You will get 1 comp point for every $10 that you bet on these games.
Table game – with the exception of craps – rank second. You can receive 1 comp point for every $50 that you wager on table games.
Roulette variations and sic bo may classify as table games, technically, but they have a category of their own as far as the Loyalty Program is concerned. For every $100 wagered on them you will get 1 comp point.
Video poker and craps come next in the list, offering 1 comp point for wagering $200. Then, we have Classic Blackjack and All Aces Video Poker, which will provide 1 comp point for betting $1,000, making them the worst in terms of comp points acquisition.
Progressive jackpots and live dealer games do not grant you comp points no matter how much you bet.
Comp points are stored in your account for 30 days after you get them. However, if you do not exchange them in that timeframe, you will lose them.
Comp Point Redemption
The only sensible thing to do with comp points is to convert them to cash. At Golden Pokies, you will be able to exchange comp points in increments of 500. The ratio for conversion is 100 comp points for $1.00.
The exchanged funds are credited as bonus cash and as such, they are subject to a wagering requirement, much like all other bonuses at Golden Pokies.
You will need to complete a wagering requirement which equals 50 times the original value of the exchanged money. Golden Pokies requires that you do so within 7 days of the exchange.
Furthermore, your maximum bet while wagering this bonus will be limited to $8.00 or up to 20% of the original bonus amount. VIP players may receive increased betting limits, though this is not guaranteed.
Additionally, not all games contribute the same to the wagering requirement. Specifically, video slots will count 100% of the bet face value, whereas table games only contribute 10%. Craps, progressive jackpots, video poker, live dealer games, rummy and keno cannot be played to fulfil the wagering requirement.
Finally, you will also have to deal with a cashout limit on the exchanged funds. Specifically, Golden Pokies will only allow you to withdraw up to 10 times the converted amount or up to $5,000, whichever sum comes first. Any excess funds will be removed.
Loyalty Ranks
Naturally, every loyalty program comes with ranks and there are four of them at Golden Pokies. When you first register, you will be given Bronze rank and from this point on, you can freely progress in the tier.
The second rank that you can reach is Silver and this is done by acquiring 1,000 comp points. With this rank also comes an increase in comp point acquisition by 5%.
The next rank in the program is Gold, earned when you acquire 2,500 comp points. Much like the previous standing, you will get more comp points. The increase this time around is 10% from the base ratio.
Last but not least, the highest rank at Golden Pokies is Platinum. You will need to play for quite a while to reach, however, since it requires 5,000 comp points. But if you get there, you will earn comp points 15% faster.
You need to consider that all ranks at Golden Pokies only last for one month. To maintain your standing in the next month, you will need to wager the necessary amount to earn the required comp points. Failing to do so will push you down in the tier.
With each rank, also come exclusive bonuses. But since these are specifically designed for each individual player, we can provide little information on the matter. Just keep playing and good things will follow.
Related Bonuses
Uptown Pokies 100% and 30 Free Spins Easy-win Bonus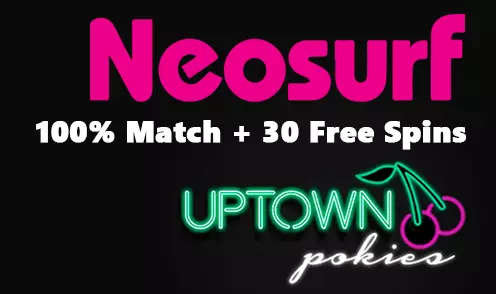 Uptown Pokies is such a well-liked interactive casino for a range of reasons, with one of the most outstanding being its...
Read more