For many years BetOnline has always been a wonderful website for casino fans and it is all due to the fair and fun gambling that it provides that many players decide to join the virtual casino. When it comes to gaming diversity, BetOnline has definitely done a wonderful job and it can provide games that can suit the preferences of different players. On top of that, the interactive casino has prepared plenty of promotions which can help players enjoy better chances of hitting massive wins. Fast and convenient payments are what makes everything complete and allows players to upload and withdraw funds in an easy way.
Full Terms and Conditions
When you are playing at BetOnline you can improve your gaming experience in ways you could not even imagine. If you are a fan of slots, you have the chance to make your Thursdays a lot more exciting and fruitful. If you play Reels of Wealth, Tiger's Claw and Sugar Pop II, you can receive one free spin for every 10 spins you wager.
The Free Spins Frenzy promotion is available on Thursdays and players have the chance to win up to 100 free spins while the promotion is ongoing. This is definitely a wonderful opportunity for slot lovers. The best part is that you will not have to meet any wagering requirements if you want to withdraw what you have won while playing with your free spins.
Only casino members who are 18 years of age or older will have access to the games and promotional deals of BetOnline. It is the players' responsibility to check whether the country of their residence is accepted by the website. At the moment, those who reside in Australia, France, Malta and Panama are among the restricted territories and players who live there will not be able to play at BetOnline.
If you want to participate in this promotion you will have to play either Reels of Wealth, Tiger's Claw or Sugar Pop II on Thursdays between 12:01 am and 11:59 pm (ET). In order to be eligible to receive one free spin, players must play 10 spins with a stake of at least $3 per spin. This wager must be placed on the games that were mentioned above. If you stick to these rules while the offer is active, you can receive up to 100 free spins for the entire Thursday. This will allow you to enjoy more spinning chances and possibly rack up amazing wins.
The free spins are usually credited to players' accounts right away. Casino members will have 48 hours to use them, starting at the time the spins are awarded to their accounts. After that period, the free spins will be declared void and you will not be able to take advantage of them.
As it was mentioned earlier, the free spins can be awarded only while players are making bets on Reels of Wealth, Tiger's Claw and Sugar Pop II. When you receive your free spins you will be able to use them solely on these slot games.
One of the biggest advantages of this promotion is that you do not have to meet any wagering requirements if you are using the free spins you have won. This is definitely a great reason to give Free Spins Frenzy a try and take the entire sum you have earned.
You have to be aware that free spins are awarded only as means of playing on the aforementioned slots and you cannot redeem them for any real cash. If you want to take advantage of this offer, make sure that you have read carefully the Terms and Conditions that apply to the Free Spins Frenzy promotion. You should know that the virtual casino has the right to make any amendments to the rules of use of this offer at any time. If there is any reason for it, BetOnline can also cancel the entire promotion and stop offering it to certain players. Before you participate in this Thursday offer, you should also read the General Rules of BetOnline as they also apply to the Free Spins Frenzy deal.
Related Bonuses
Casino.com Spin Special Bonus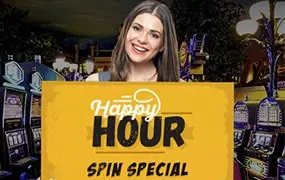 There is no doubt that your virtual gaming experience will always be entertaining if you play online as a Casino.com mem...
Read more