Robin Hood Bingo is part of Cassava Enterprises Limited, which is a familiar name to anyone in the gambling industry. Their casinos are known to be reliable and are marked by their high quality and this one is no exception. Robin Hood Bingo offers an amazing loyalty points programme that allows bingo players to have some real fun for free.
Full Bonus Terms and Conditions
The remarkable thing about this bonus programme is that it offers a variety of ways to collect loyalty points. Here, we will first list them and then go over the terms and conditions of this promotion. Just like the fictional character Robin Hood Bingo is named after, it just keeps giving bonuses to its loyal players and presents them with multiple ways to take some more on top of that. One of those ways is by simply claiming your daily number of coins. Thanks to this, you can receive 1,000 coins every single day.
You can also collect Robin's coins from every bingo chat game. The amount you can collect with this offer is up to 480 coins. The more you play – the more coins you earn! You can get coins by placing a £5 real money single bet on an instant game or purchasing £0.35 bingo cards. You can earn loyalty points only from real-money bets or purchases.
You can earn 10,000 coins by inviting a friend to join Robin Hood Bingo and, of course, you receive the coins after they register. There are multiple ways to win even more coins from simple social media tasks like liking the website's Facebook page, following it on Twitter, and participating in giveaways and promotional games on those websites.
Another way to get loyalty coins is by sending the staff of Robin Hood Bingo a video, telling them why you love their website. This can earn you 5,000 coins. If you send the staff a picture of yourself dressed up as Robin Hood, you can win 2,000 coins. However, keep in mind that the footage and pictures you send to this bingo site can be used in a number of ways, for instance, for promotional campaigns. You will be credited once, whilst your videos and pictures will remain Robin Hood Bingo's property.
Now comes the question – how do I become eligible for this? Well, you simply need to have deposited once. If you are a funded player you can take full advantage of Robin Hood Bingo's loyalty programme. After you do, you can redeem those coins for bonus funds – 1,000 coins equal £1. You can do this through the 'My Account' page on the desktop version of the website, or in the banking panel which can be found in the games lobby and is a feature available across all platforms.
This way you can play a ton of bingo games for free! Once you have redeemed your coins, they go toward your bingo bonus balance which you can view in the 'My Account' page as well. Keep in mind, however, that your coins will disappear if you fail to place a real-money wager in 30 days. Additionally, if you do not access your account within 90 days, your loyalty points, as well as all bonus funds, will be forfeited.
The winnings from these loyalty points, however, are capped up at £10. In order to get to that sum, though, you need to first meet the wagering requirements for bingo bonus funds. The wagering requirements are 3x the bingo bonus funds unless explicitly otherwise stated in the promotional offer itself. This is fairly low compared to most bingo websites, however, the cap at only £10 is a bit of a letdown.
Of course, in order to take advantage of any one of the many ways that you can earn Robin's coins, you must be over 18 and user accounts that have you listed as over that age. You cannot send a picture of someone below 18 for the promotional campaigns either. The pictures and videos must be of the player and no one else. Also, as we already mentioned, the rights to those photos and videos go to Robin Hood Bingo and can be used for promotions, advertisements, and others, across all bingo sites by United Commissions, which operate on the Cassava platform. By submitting pictures or videos players consent to this and should be advised that they will not receive any compensation for their use.
Loyalty points cannot be used as an instant games bonus. Robin's coins can only be transferred to your bingo bonus funds once the appropriate amount of coins has been collected. Of course, this does not happen automatically, so you need to follow the procedure explained above, in order to be able to use Robin's coins. You can use them for bingo games only after they have been turned into bingo bonus funds.
Related Bonuses
Robin Hood Bingo £200 Diamond Club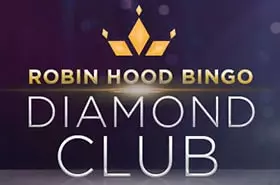 When you are on the lookout for lucrative and fun bingo games, you can always rely on Robin Hood. This website truly kno...
Read more