Ladbrokes undoubtedly remains one of the most popular names on the online gambling scene. There is a range of reasons for this, but in the first place, the operator is preferred by many gambling enthusiasts due to the fact that it keeps them covered irrespective of the preferences for sports and casino games they have. One more reason why Ladbrokes has turned into one of the interactive players' fan-favorites is that they are presented with an abundance of promotional offers that can make their betting session truly rewarding. One of the options many gamblers will appreciate is the Second Chance due to the fact that the offer gives them the opportunity to win at bingo even after they have had a losing streak.
Full Bonus Terms and Conditions
If you are looking for the best promotional offer that will give you the opportunity to win even after you have placed several unsuccessful bets on bingo, Ladbrokes will give you this chance. At Ladbrokes, you are offered a free betting session when you lose at bingo. What you need to do is to stake £5 within the frameworks of a single day from midnight to 11:59 pm. One of the most important things you should keep in mind is that your bets should be unsuccessful. Thus, when you have decided to make use of the promotional offer, you will get a Free Bingo Session on the day after your losing streak.
You should keep in mind that your betting session will take place from 8 pm to 9 pm in Bob's Shed. Still, what makes the free betting session even more alluring is that it features a prize pool that adds up to £200. In the event that you do not succeed to form a Full House, one line, two lines or the Feature prize, you will be awarded a certain part of the £100 bingo bonus.
Prior to claiming the Second Chance or any of the other promotional incentives you are offered, you should always go through the terms and conditions in order to make sure that you will not overlook any important details. When it comes to this particular promotional offer, one of the things you should bear in mind is that its qualification period is from 12:00 am to 11:59 pm. In addition to this, it is a daily offer, meaning that it is available on every day of the week. Still, if you are planning to take advantage of the Second Chance, you should first open a real-money account at Ladbrokes. What is more, you should also be over the age of 18 in order to claim the bonus.
If you suit these requirements, you can proceed with the promotional offer. In order to qualify for this Room Entry Reward, you must spend £5 or the currency equivalent, which is €5/50SEK, in total on bingo tickets during the period from 12:00 am to 11:59 pm. You should keep in mind that the bingo games you have joined should be completed before 23:59:59 on each day. This means that if you have decided to purchase tickets in advance, they will be considered qualifying for the day when you finish the game you have used them for. It should also be noted that you will have the opportunity to join the free bingo session as long as you do not get any wins on bingo games during the period from 12:00 am to 23:59 pm on the particular day. Still, if you manage to generate some profit during the free bingo session, this will mean that you will not have the chance to make use of the Second Chance on the following day.
Once you have decided to make use of the promotional offer, you should not forget that you need to enter the particular bingo room at least 10 minutes prior to the launch of the betting session. If you fail to meet this requirement, your Room Entry Reward will become unavailable. As it was previously stated, the Room Reward Entry is available only from 8 pm to 9 pm. Within the frameworks of this period of time, there will be 10 games the tickets for which are free. The maximum amount you can sweep during your free bingo session is £200 or the currency equivalent (€200/2,000SEK).
If you do not manage to form a single line, you will get £2. If you fail to form two lines, you will get £4. If you do not succeed in forming a full house, however, you will get £6. And last, 8 rolls on games will bring you £1 for each of the rolls. If you do not manage to form all these, you will be given a share of £10 per game, thus taking £100 for the whole free session.
Related Bonuses
Ladbrokes Bingo £80,000 Monthly Specials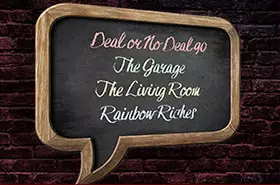 Throughout its existence, Ladbrokes has managed to become one of the most recognizable gaming websites that are frequent...
Read more