Ladbrokes is the company that can offer a plethora of betting options to different types of punters. Whether you enjoy making stakes on your favourite sports teams, you are a casino fan or you revel in playing bingo, you will find the source of entertainment you need at Ladbrokes. In order to make the adventures of its members more lucrative, Ladbrokes has prepared plenty of promotional deals. This way betting enthusiasts, casino fans and bingo aficionados can enjoy a much more rewarding experience.
Bonus Terms and Conditions
Bingo lovers will have the time of their lives at Ladbrokes. To show its members that they can rack up amazing payouts and have a grand amount of fun, the bingo website has prepared an amazing Welcome Offer. This way newcomers will be able to start strong and explore all of the opportunities Ladbrokes has prepared for them.
The Welcome offer is available only for new members who are at least 18 years of age. Once you make your first deposit and you spend £10 or more on bingo tickets, you will be able to claim an amazing £40 Welcome Bonus. Once you have created an account at Ladbrokes, you can head to its bingo lobby and choose your chat name. After making a deposit and spending 10£ or more on bingo tickets, you will be granted access to the Guest Room of Ladbrokes. This is a special bingo room available for new members of the bingo website and it will be open for 7 days after players' registrations. This is why you should not waste time, as you might miss the promotions available at the Guest Room.
Members of Ladbrokes will also have the chance to claim other promotional offers at the Guest Room after purchasing bingo tickets for £10 or more. The only specific thing that you must remember is that you will have to enter the Guest Room 10 minutes before a session begins. If you fail to do so, you will miss the chance to claim one of the prizes available for newcomers. The following sessions are available every day during the same time frame. Between 10:00 am and 11:00 am, a prize fund of £100 is available to new bingo members of Ladbrokes. The pool prize between 4:00 pm and 5:00 pm is £60, while between 7:00 pm and 8:00 pm it reaches £100 yet again. Keep in mind that those hours are all in the UK Time Zone (GMT or BST). All of these prizes are accredited to players' accounts as bonus funds. This means that they are also subjected to wagering requirements which must be met prior to withdrawing one's winnings.
Unfortunately, players who have resorted to retail (banking) and Grid Card deposits will not be qualified for the promotion. The least amount you must spend on bingo tickets is £10 and the maximum amount you will be able to receive is £40. You will have 7 days after your registration to qualify for the Welcome Bonus. You will also have to use the bonus amount, which will be accredited to you Bonus Account, within 7 days of receiving it. After this period any remaining New members of Ladbrokes bingo will be able to claim this offer just once. Since the Welcome Offer is available only per one player, one household and one shared computer, one IP address, players who have several accounts will be able to claim the Bingo Welcome Bonus only once.
Players are allowed to withdraw their winnings, accumulated thanks to the bonus, only after they have completed all wagering requirements. Any Welcome Bonus that you receive must be played through two times. For instance, if you have been rewarded £40, you will have to wager £80 before you will be able to withdraw any of your pending winnings. Players must know that if they deposit any funds to their account after they have received a Welcome Bonus, it will be their bonus funds that will be spent first. If bingo players run out of bonus funds before they stop playing, they will continue with their own money.
The Bingo Welcome Bonus of Ladbrokes can be used only at the bongo lobby of the website. This means that players will be able to qualify only by purchasing bingo tickets and they will be able to meet the wagering requirements only by playing bingo. This promotional deal cannot be combined with any other offer that Ladbrokes is providing to its patrons.
Related Bonuses
Bet365 Bingo £100 Sign Up Bonus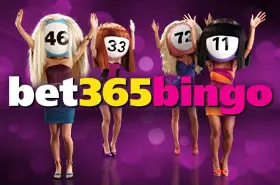 Bet365 is one of the world's most popular gambling websites. Established in the early 2000's, it quickly grew and ex...
Read more