Halloween is just around the corner and those planning to attend a party are already looking for a costume. Witches and vampires, princesses and superhero-inspired looks are probably the most overused and cliched Halloween costumes. However, if you want something fresh and original, the team at BonusInsider has compiled a list of trendy looks to try this Halloween.
Taking inspiration from some of the best pop culture moments of 2023, we came up with five male and five female costume ideas that can be tailored according to taste and budget. They are based on the online themes and looks trending right now on TikTok, in particular. We should point out that the following suggestions are broad styles rather than finished looks so they can be customized for adults to children, and even pets.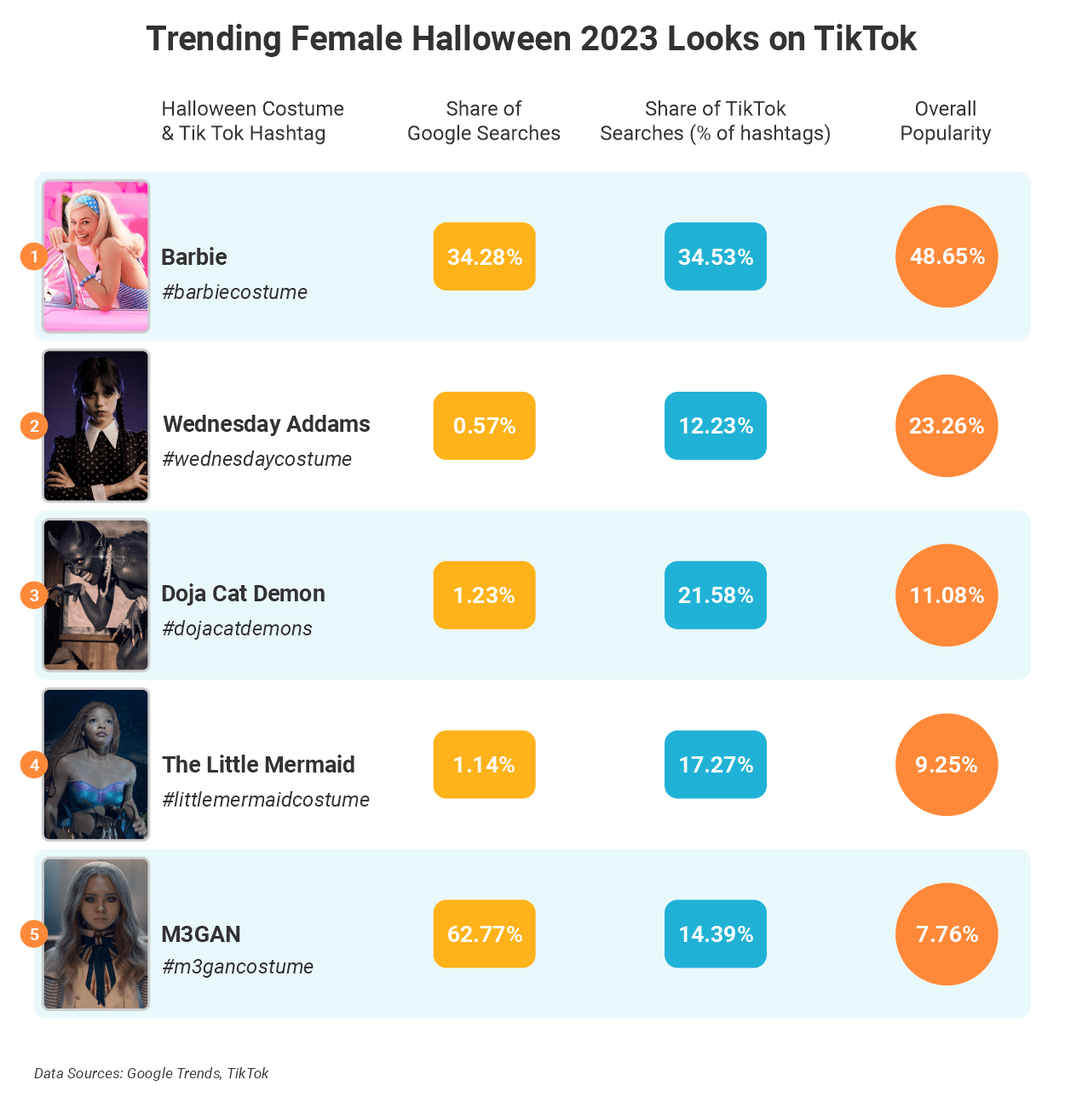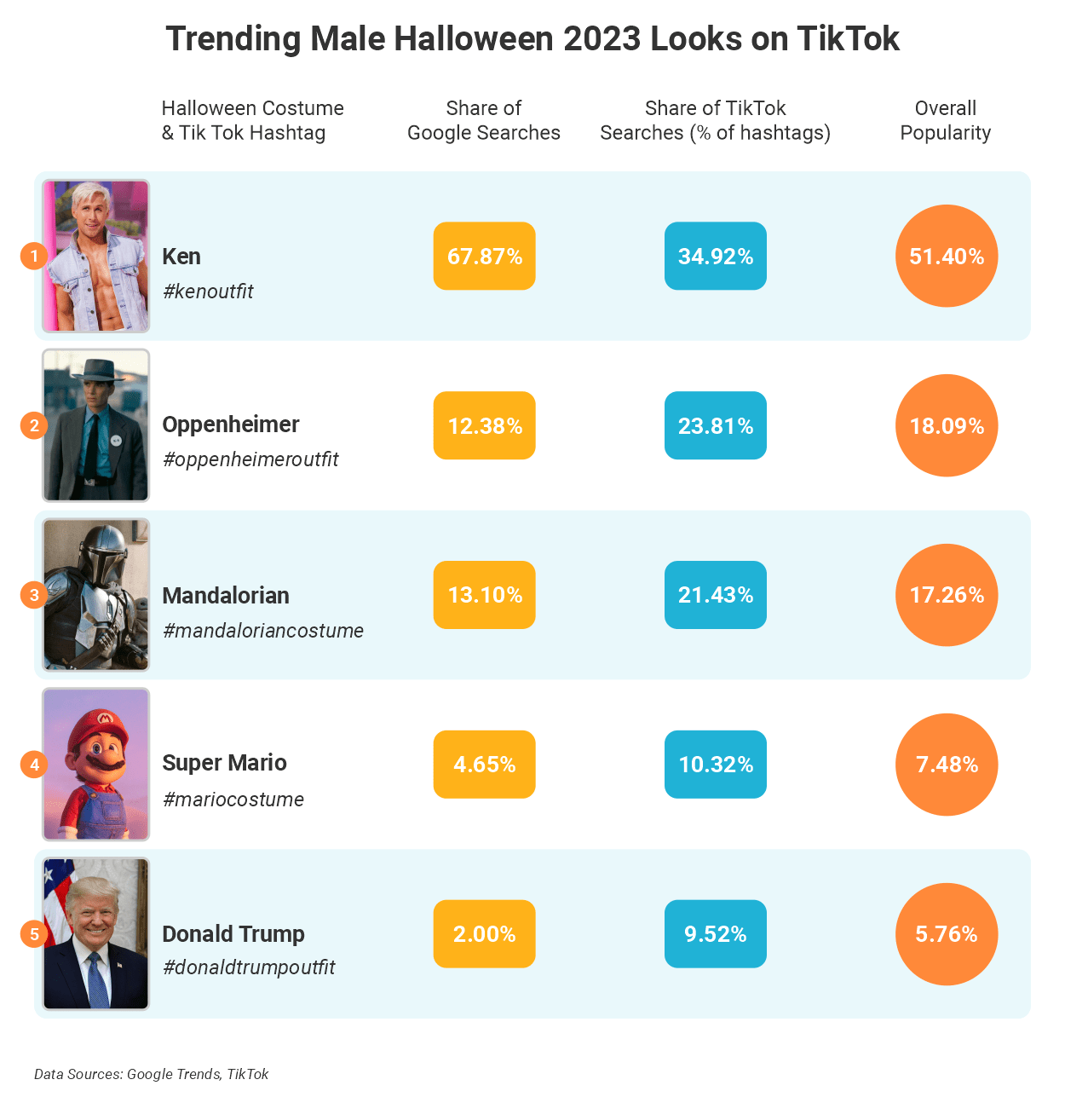 Methodology
Our Halloween 2023 costume ideas are inspired by some of the most talked about pop culture moments of the past year. To identify the hottest trends and themes of the year, we scoured TikTok, searching for hashtags such as #barbiecostume, #kingcharlesoutfit, and #mandaloriancostume and counted the number of hashtags related to them to find out how popular each look is on the platform. We combined the number of hashtags for the five most popular looks and calculated the share of tags used for each of them.
We also checked the popularity of each person, trend, or movie using Google Trends. We looked at the search interest for each term within the Costumes category in August and September and calculated the share of searches for each one. We then combined the percentages from Google Trends and TikTok to get the overall popularity for the five male and five female looks.
The Most Popular Female Halloween Costumes for 2023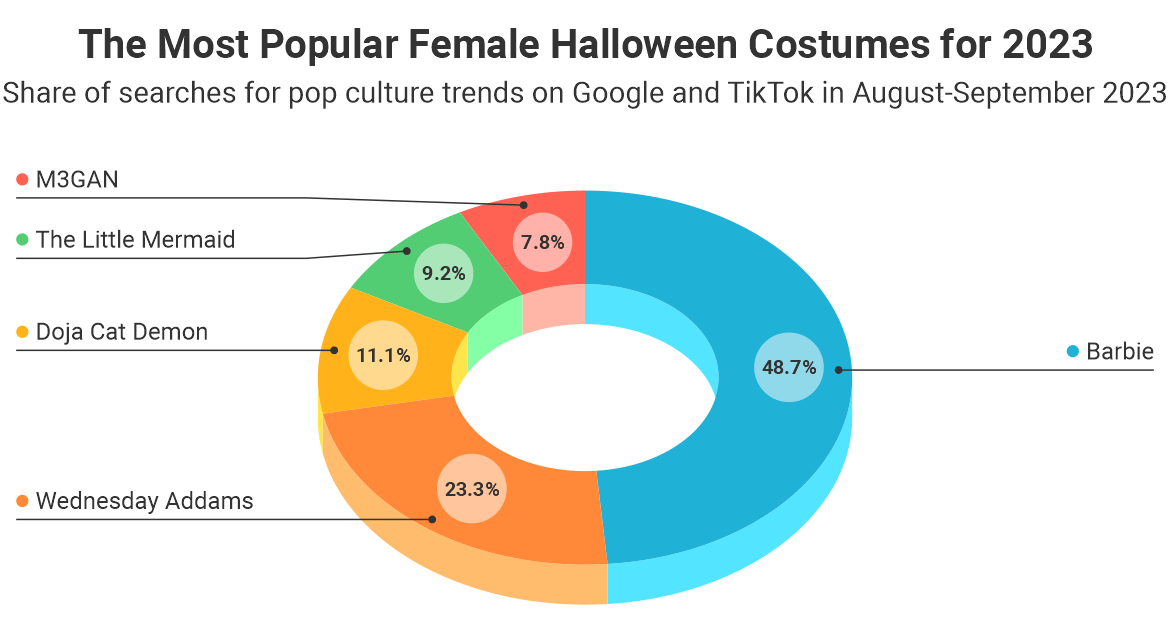 Barbie Costume
This should not come as a surprise to anyone. Barbiecore dominates 2023 and ever since the first photos and trailers from the "Barbie" film were published, people have been trying to recreate some of its most iconic looks. Last year, Barbie and Ken's rollerblade outfits were among the most popular Halloween costumes. The cowgirl Barbie look is our suggestion for Halloween 2023 and can be recreated with pink flared pants and a vest, a matching bandana and a white cowboy hat. A last-minute option could be this costume from Amazon paired with a blond wig and an affordable, classic-style hat.
Wednesday Addams Costume
Another trending look this year is Wednesday Addams, portrayed by Jenna Ortega in the popular Netflix show "Wednesday". The most iconic dress from the series, the OG dress with the white collar, was inspired by the outfit worn by Christina Ricci in the 1991 movie "The Addams Family". Another look from the new series, however, became viral this year: Wednesday's prom dress. Dozens of similar looks can be purchased right now, but we found this black, ruffled dress, which is semi-sheer, made with high-quality fabrics and chiffon. It is quite true to the original prom dress from the series. All you need to add is a black wig or style your hair like Wednesday.
Doja Cat Demon Costume
With her "Demons" and "Paint the Town Red" music videos and creepy demonic look, American rapper Doja Cat sparked a lot of controversy but that does not mean you should not wear her iconic outfits. One of them, the hooded gown from "Paint the Town Red" will make a great Halloween costume. To recreate it, you will need a long red hooded, long-sleeve dress like this, oversized earrings and appropriate makeup.
The Little Mermaid Costume
Another costume idea is Ariel from Disney's "The Little Mermaid", which premiered in May. Despite average reviews and racial backlash against Halle Bailey, the film was a box office success and became one of the most talked about movies of 2023. There are plenty of ways to become Ariel this Halloween by combining a mermaid skirt, a violet or holographic top and a wig, braided or not.
M3GAN Costume
Is there anything better than a Halloween costume inspired by the most popular horror film of the year? As soon as it came out, M3GAN became an instant commercial and critical success and gave birth to the viral M3GAN dance, which continues to rule over social media. The popularity of the film means hundreds of M3GAN costumes are available right now. Those who want to be the famous AI doll on a budget can easily find the complete look online or opt for the officially licensed M3GAN costumes by Rubie's. The latter, however, are more expensive and only the dress with the satin bow is available.
The Most Popular Male Halloween Costumes for 2023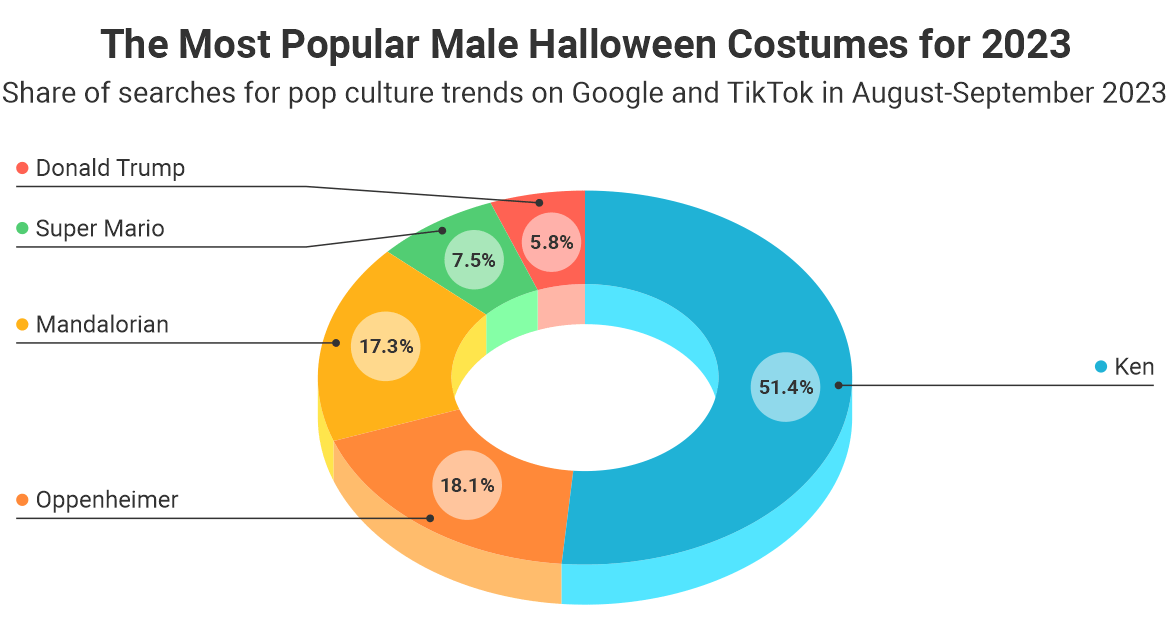 Ken Costume
There are many exceptional things about the "Barbie" movie but one of the best parts is Ryan Gosling and his portrayal of Ken. There are many Ken-inspired outfits for sale so it would be easy to recreate the character – skater Ken, cowboy Ken, denim shirt Ken, fur coat Ken, and many more. One of the best looks, however, and one that is relatively easy to pull off for Halloween is the Ken sailor outfit. All you need is a pink striped T-shirt and a pink captain hat, although to complete the look, you will also need a blond wig and pants in pink, white, or beige.
Oppenheimer Costume
Along with "Barbie", the epic Christopher Nolan drama "Oppenheimer" about the physicist in charge of the Manhattan Project was one of the biggest films of this summer. And maybe because of its simultaneous release with "Barbie", it became a powerful fashion influence. Cillian Murphy's Oppenheimer look will definitely make you stand out from the crowd on Halloween. Besides, it isn't difficult to recreate – a big or classic-fit light brown or gray suit, blue dress shirt, brown tie, and a flat-brimmed hat, or this complete look. A nice addition would be a turquoise buckle belt and, of course, black dress shoes.
Mandalorian Costume
Since its first episode premiered in 2020, "The Mandalorian" has become one of the most watched TV shows. While at first, the Baby Yoda costume became incredibly popular, the Mandalorian outfit is currently one of the most recognizable looks at Comic Cons. Full-body, high-quality costumes with armor plates are quite expensive but there are more affordable alternatives you can find online. Accessorise with an Amban rifle and you are good to go.
Super Mario Costume
"The Super Mario Bros. Movie", based on the original Nintendo video game, was released in April and became an instant box office hit. Fans of the game and the movie can transform into Mario or Luigi this Halloween with a complete look or source the costume themselves – a blue jumpsuit (work wear is fine), a red long-sleeve T-shirt, and а fake moustache. The Mario/Luigi hats with the letter M or L are more specific, though and must be bought separately.
Donald Trump Costume
Donald Trump will go down in history as the first U.S. president to be charged with a felony, but that fact was overshadowed by the mugshot released after his booking in Atlanta. So, a great way to take part in the conversation, whether you are a critic or a supporter, is to be Trump this Halloween. Just buy a T-shirt with the iconic mugshot, or you can also dress up like him. You will need a dark blue or black suit, a white shirt, and a red tie, along with a Donald Trump wig and some heavy make-up.
Many iconic moments from 2023 were left out because the looks related to them are not particularly popular on TikTok. These include King Charles III's coronation, as well as Prince Harry's memoir "Spare", along with a host of other scandals around the British Royal Family. Other top moments of 2023 not included here are the Nepo baby discussion, Rihanna's Super Bowl halftime show when she announced her pregnancy, Taylor Swift's and Beyonce's tours, Austin Butler's Elvis voice, and many others.