Within the first week after its September 21 premiere, the newest Netflix crime series Dahmer – Monster: The Jeffrey Dahmer Story became the most successful show on the streaming service, topping the global ranking for the week with 196.2 million hours watched. Based on the true story of one of America's most notorious mass murderers, the series sparked a lot of controversy after its release. Still, people seem to have a fascination with the dark and macabre, which makes such projects on film or TV extremely popular.
But how does Netflix's latest crime drama compare to other TV shows about serial killers? Our team at BonusInsider decided to take a look at the highest-rated series on the Internet Movie Database that focused on serial killers. We've picked only English-language shows where the ratings from 1 to 10 were given by at least 20,000 votes. Of course, this means that the majority of newly released series are not included, except for the most popular ones.
Here are the creepiest and most brilliant TV shows about serial killers: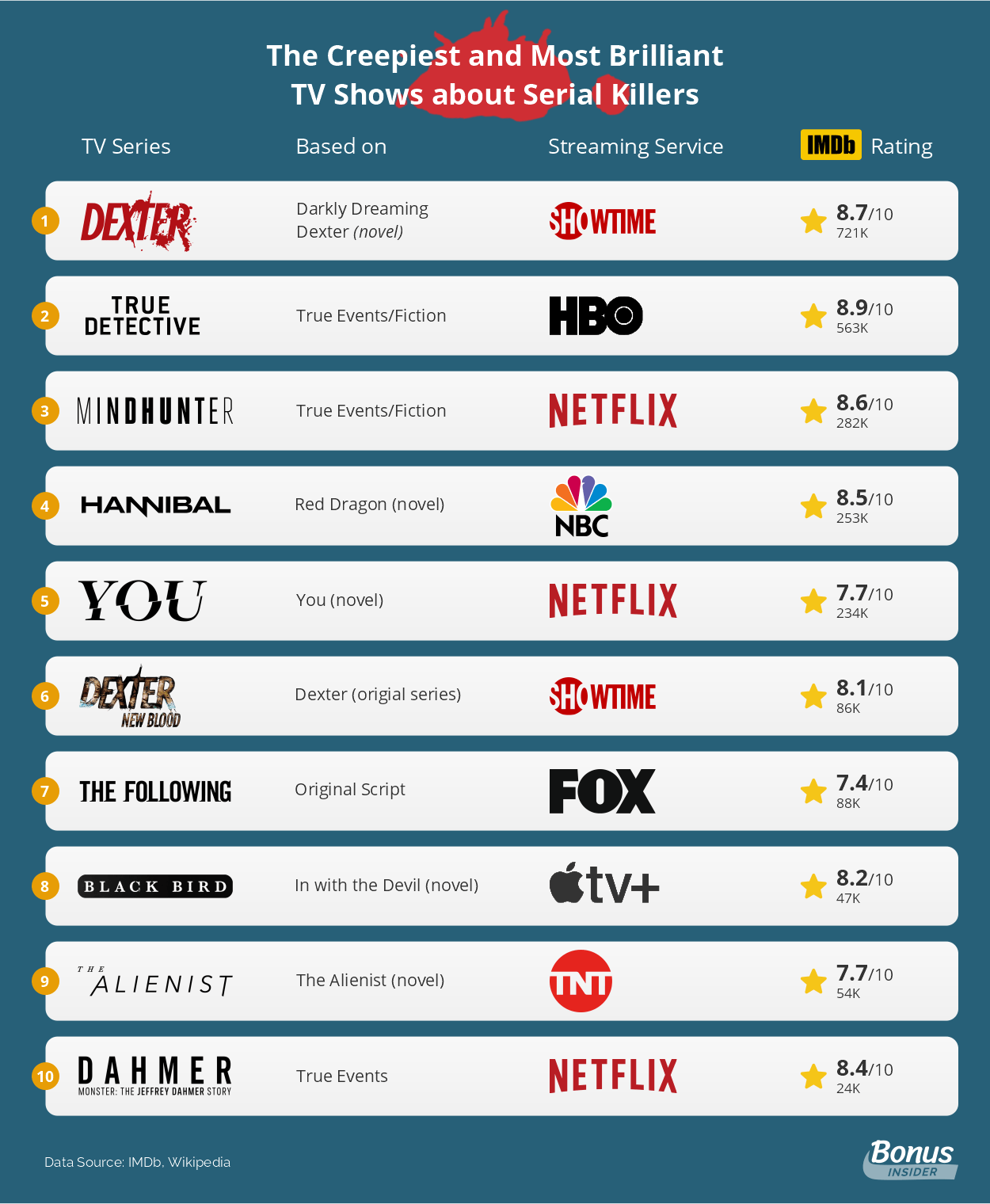 1. Dexter (2006-2013)
Dexter is probably one of Showtime's biggest hits – the 8-season series follows the smartest and most lovable serial killer character ever created in fiction, Dexter Morgan. Dexter, who works as a bloodstain pattern analysis expert at the Miami Metro Police Department, has a secret life – one of a psychopath and vigilante killer who punishes murderers who have escaped justice. Michael C. Hall, who plays Dexter, received a Golden Globe for his performance. Another Golden Globe was won by John Lithgow as Arthur Mitchell, while the show itself had received multiple awards.
2. True Detective (2014-2019)
Starring Matthew McConaughey and Woody Harrelson in the leads for the first season, True Detective was developed as an anthology series and broadcast on HBO. It received multiple awards, including 5 Primetime Emmys, and was universally loved by both critics and viewers. Rather than being focused on a serial killer, the show is a detective-mystery drama that centers on murder investigations. The first season, in particular, was inspired by a true crime that took place in the early 2000s in Louisiana but added a bit more horror to the story.
3. Mindhunter (2017-2019)
Netflix's thriller series Mindhunter was inspired by the true story about the creation of FBI's Behavioral Science Unit, famously known as the FBI profilers who began studying psychopaths and serial killers in the late 1970s. Much of the series' events and characters are, in fact, based on real people and real cases – in the second season, the FBI agents take interviews with real killers, including David Berkowitz, Charles Manson, Wayne Williams, William Joseph Pierce Jr., and more.
4. Hannibal (2013-2015)
The NBC drama Hannibal, starring Hugh Dancy as FBI agent Will Graham and Mads Mikkelsen as forensic psychiatrist and cannibalistic killer Dr. Hannibal Lecter, is based on Thomas Harris's novel Red Dragon and its sequels Hannibal and Hannibal Rising. The series was praised for the acting and its visual style, receiving multiple accolades, including a Primetime Emmy nomination and several Saturn awards.
5. You (2018-)
You, based on Caroline Kepnes' best-selling novel of the same name, is both entertaining and disturbing. It follows a bookstore manager who happens to be a stalker, who obsesses over women he meets and does anything to win their affection. He is also a cold-blooded murderer but the most chilling thing about this show is probably how close to reality it could get – Joe, the bookstore manager, uses social media and other technology to track the women he falls in love with. While the show premiered on Lifetime, it was later moved to Netflix where it became even more popular.
6. Dexter: New Blood (2021-2022)
The miniseries was developed as a sequel to Dexter for Showtime and it starts roughly 10 years after the events in the original show. Dexter Morgan faked his death and is now hiding under a new name in the small town of Iron Lake, New York. He manages to suppress his predatory killer urges at least for some time but fears that his son may have the same psychopathic nature. Although it is considered to be a far less superb production than the original series, Dexter: New Blood still drew a lot of people to the TV screen.
7. The Following (2013-2015)
Starring Kevin Bacon as former FBI agent Ryan Hardy and James Purefoy as serial killer Joe Carroll, The Following is a captivating story about a cult. After Carroll escapes prison, Hardy is brought in to help recapture him. It is soon revealed that the brilliant murderer had been communicating with other killers and had created a cult following who now help him hide from authorities.
8. Black Bird (2022)
The miniseries was based on the autobiographical novel In with the Devil: a Fallen Hero, a Serial Killer, and a Dangerous Bargain for Redemption by James Keene and Hillel Levin. It centers on Keene who was sentenced to 10 years in prison but offered a commuted sentence, i.e. a deal, according to which he had to get close to a suspected serial killer and elicit a confession from him. This prison drama is dark, unsettling, and fascinating and will certainly keep you on the edge of your seat.
9. The Alienist (2018-2020)
Set in 1896, this historic drama follows the investigation of a series of murders of street children in New York City. A secret investigation is conducted by Dr. Laszlo Kreizler, a criminal psychiatrist, John Moore, a newspaper illustrator, and Sara Howard, who is the secretary of newly appointed police commissioner Teddy Roosevelt – the same Teddy Roosevelt who served as the 26th President of the United States. The show was highly praised, including for the performances by lead actors Daniel Brühl, Dakota Fanning, and Luke Evans.
10. Dahmer – Monster: The Jeffrey Dahmer Story (2022)
Dahmer – Monster: The Jeffrey Dahmer Story which stars American Horror Story alum Evan Peters as the notorious serial killer is a limited-series show with 10 episodes that promises an in-depth look into Dahmer's life and crimes that spanned roughly 13 years. So far, the show has received largely positive reviews from critics and audiences – 94% of Google users loved it, while on Rotten Tomatoes, it has an audience score of 85% and 53% on the Tomatometer. It also has a high score – 8.4 from 23,755 users, on IMDb, which puts it on our list of the best TV series about serial killers.
BonusInsider is a leading website where you can find find expert reviews of casino bonuses, betting bonuses, casino deposit options and casino mobile apps.