Ever since video games became widely popular in the 1980s, certain titles have been much more entertaining and addictive than others. The multiplayer online games of the past two decades especially, have exploded in popularity, with thousands of gamers playing on the same server. As for PlayStation 5, one of the most preferred gaming consoles in the world right now, there are a wide variety of high-quality titles that keep players hooked for hours at a time.
In order to draw players and keep them coming back again and again, it is not enough for games to have extraordinary graphics or memorable stories. The high level of challenge, intuitive controls, and the relative freedom to explore the in-game world beyond the main storyline is what makes these titles replayable and truly addictive. To determine which PlayStation 5 games fit this description best, the team at BonusInsider asked gamers about the games they spent the most hours playing.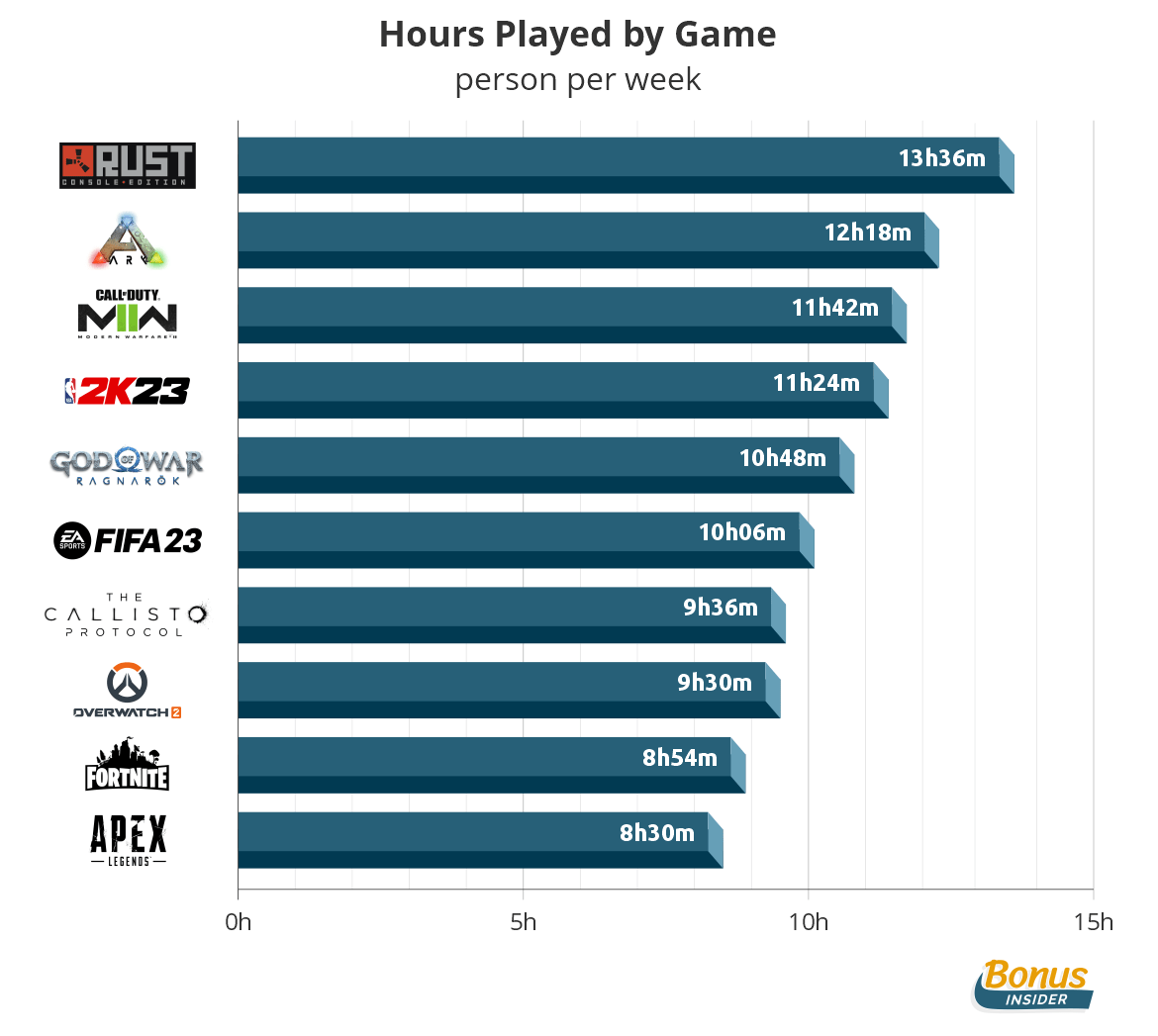 Methodology
The survey was conducted in early December among 1,633 self-reported online users aged 18 or over. They were given a seed list of games that featured the 20 most played PS5 games for the month of November, according to the independent PS analysis website PS-Timetracker. Players had to pick the one game they tended to play most often, and specify the number of hours they spent on this game each week.
Most of the titles they picked were, unsurprisingly, MMO (massively multiplayer online) and MMORPG (massively multiplayer online role-playing) games – fast-paced, action-packed, and bringing that rush of adrenaline players want from a video game. We also asked survey participants about the length of their average play session in order to see whether they were truly addicted or were simply passionate gamers.
The Most Addictive Games for PlayStation 5
The following list features 10 titles which were selected by players as the most compelling and addictive games. Note that these are not the best-selling or most popular video games by player count. Among the biggest titles that did not make the cut are Grand Theft Auto V, God of War, Rocket League, Minecraft, Dead by Daylight, Tom Clancy's Rainbow Six Siege, Elden Ring, Genshin Impact, Cyberpunk 2077, and Gran Turismo 7.
It should be noted that the hours played per week cited here are how much gamers tend to play on average every week. Some participants might play a game for 10 hours straight, while others might prefer shorter sessions of 2 or 3 hours at a time, four or five times a week.
Rust Console Edition, 13.6 Hours per Week
This survival multiplayer-only game was initially launched in 2013 by Facepunch Studios but did not receive a full release until 2018. Last year, after becoming hugely popular on Twitch, it also became available for consoles and is now considered one of the best survival games. Its premise is quite simple – players need to survive in a dangerous apocalyptic, open-world environment where they are constantly being attacked by other players and wild animals. They also need to gather resources, craft weapons and other gear, and stay fed in order not to perish.
ARK: Survival Evolved, 12.3 Hours per Week
ARK: Survival Evolved is an MMORPG survival game by Studio Wildcard, which was released in 2017. It is available in both single and multiplayer modes. The open-world environment is full of prehistoric animals and monsters, and players need to guarantee their survival by gathering resources, fighting other players, and building a base. The game's most addictive features – the grinding and the nearly unprecedented difficulty – are also among its most critisized. Still, gamers in the poll tended to spend an average of 12.3 hours playing this action-packed game.
Call of Duty: Modern Warfare 2, 11.7 Hours per Week
COD Modern Warfare 2 is the sixth installment in the Call of Duty franchise and first became available in 2009. Although Activision has released newer editions since then, Modern Warfare remains among the most popular first-person shooter games in the world. It is short, fast-paced, and universally loved by gamers for its gunfights. With an average of 11.4 hours of play per week, it is also one of the most addictive games for PS5 according to survey participants.
NBA 2K23, 11.4 Hours per Week
Based on the National Basketball Association, NBA 2K23 is the 24th game in the franchise and was released in September 2022. This is currently one of the most played sports video games. Offering both single and multiplayer mode, it has the potential for being replayed multiple times without being too repetitive. Gamers in our poll said they play it 10.8 hours per week on average, which is also probably due to the fact that it is still new.
God of War Ragnarök, 10.8 Hours per Week
The 8th installment in the God of War series, Ragnarök is a third-person action-adventure video game that saw its worldwide release on November 9, 2022. It was an instant success for its publisher Sony Interactive Entertainment (the company behind PlayStation), selling 5.1 million units in its first week. It was nominated for Game of the Year at The Game Awards 2022 and is currently among the most played titles on PS5 with 10.5 hours of play per person per week on average, according to our survey.
EA SPORTS FIFA 23, 10.1 Hours per Week
FIFA 23 is the 30th, most recent edition of the popular franchise by Electronic Arts, which was released in September 2022. The football simulation game includes modes based on the 2022 FIFA World Cup and the 2023 FIFA Women's World Cup. One of its most appealing features is the cross-play between users of same-generation consoles. Currently, this is one of the most played games on PS5 as gamers in the survey spend 10.1 hours per week on average on it.
Destiny 2, 9.6 Hours per Week
Destiny 2 is a first-person shooter game by Bungie and has been one of the most popular MMOG titles since its release in 2017. Later, it was made available as a free-to-play game, and in December 2020, it was released for PlayStation 5 and Xbox Series X/S. It features elements of RPG and can be played in both PvE (player vs environment) or PvP (player vs player). It also has quests, strikes and raids by clans, and the traditional deathmatch. All this makes the game extremely varied and exciting, compelling gamers to replay it multiple times. The second installment of Destiny was played 9.6 hours per week on average by gamers in the survey.
Overwatch 2, 9.5 Hours per Week
This is a new first-person shooter from Blizzard Entertainment which serves as the sequel to the 2016 original. Released through early access in October 2022, it offers full cross-platform play and features PvP, as well as persistent cooperative modes. It is played as a hero shooter and has PvE mode as well, which was introduced as part of the story, making the game even more entertaining and compelling. Since it is still quite new, Overwatch 2 is among the most popular games for PS5 right now and is played for 9.5 hours per week on average, according to the survey results.
Fortnite, 8.9 Hours per Week
Since its release in 2017, Fortnite has become one of the most popular video games in the world and is now available for all systems, including PS5. It offers three distinctive game modes – a battle royale, cooperative survival and a sandbox game, in which players have the freedom to create their own battle arenas. Over the years, it has both been nominated for and won awards multiple times, and continues to attract players. Survey participants played this game for 8.9 hours per week on average.
Apex Legends, 8.5 Hours per Week
Originally released in 2019, this free-to-play battle royale-hero shooter game became available for PS5 in March 2022, offering full cross-platform play. The exception is for mobile platforms, where a separate version of the game exists. Within a month after its release, Apex Legends already had 50 million players, and later attracted another 50 million, making it one of the most played video games in history by player count. It was also selected as one of the most addictive titles in our survey, with gamers spending an average of 8.5 hours per week playing it.
How Long Is Your Typical Playing Session?
The vast majority of gamers are passionate about their favorite video games but can hardly be described as gaming addicts. Out of all 1,633 players, only 2.3% said their average session lasted more than 10 hours. Practically none of them spent less than an hour on the PlayStation, while 24.9% played between 1 and 2 hours at a time. The majority of gamers (52.5%) played 2 to 4 hours, and 10.5% played between 4 and 6 hours. Around 6.9% spent 6 to 8 hours playing, while 3% admit to even longer game sessions of up to 10 hours.