Shoppers worldwide are looking forward to the end of this week, when heavy discounts on clothes, electronics, toys, and other goods are set to make Christmas shopping a little more affordable. Due to the high inflation, however, prices may not seem as attractive as last year.
Still, millions take part in the Black Friday frenzy, and most shoppers are willing to spend more than they had planned if they find good deals. According to a survey conducted by BonusInsider, around 60 percent of online shoppers are willing to overspend, should they get a good discount.
Known as the unofficial start of the holiday shopping season, Black Friday attracts millions to brick-and-mortar and online stores, but the higher cost of living may take its toll on shoppers' pockets and, as a result, on retailers' revenues this year. Considering the high inflation rates over the past few months, the team at BonusInsider decided to explore online shoppers' attitudes toward spending on this day.
Methodology
The survey was conducted online among 1,716 adults between 16 and 18 November this year, only a week before Black Friday and Cyber Monday, which comes right after the weekend. Black Friday has traditionally been the busiest day of the year for retailers in the United States, with some stores opening as early as 5 am. However, in recent years many customers prefer to shop online where it's easier to compare prices and pick the best deals. For this reason, we only surveyed people who would be shopping online.
Nearly 60% Willing to Spend More Than They Planned
Despite countless warnings against overspending by experts both on TV and online, most shoppers are willing to disregard basic financial discipline when it comes to Black Friday shopping. Survey results show that 59.91% admit they would spend more than planned if they found good deals.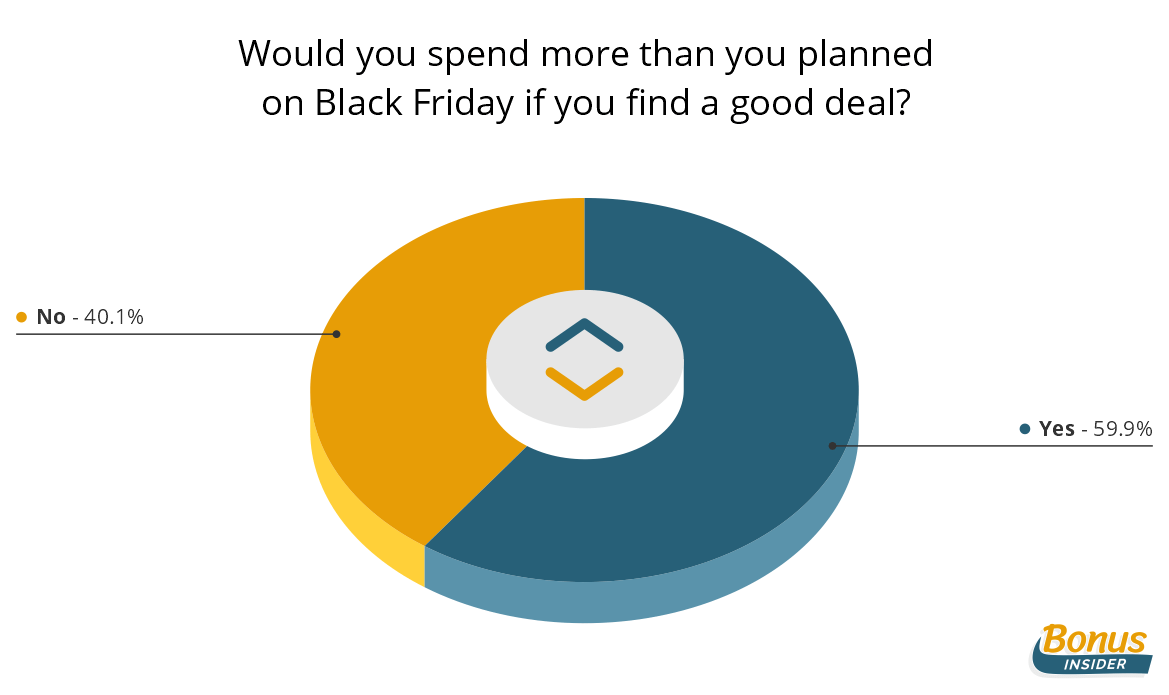 Only 5% of Black Friday Shoppers Planning to Spend More than $1,000
When asked about their budget for Black Friday shopping, most people said they are planning to spend between $200 and $1,000 – roughly 39% have a budget of $200 to $500 and 34% will spend $500 to $1,000. Approximately 13% of online shoppers are planning to spend between $100 and $200. Those who will make low-cost purchases of up to $100 make up 8.9% of all respondents, while only 87 shoppers, or roughly 5.1%, are planning to spend more than $1,000 on Black Friday this year.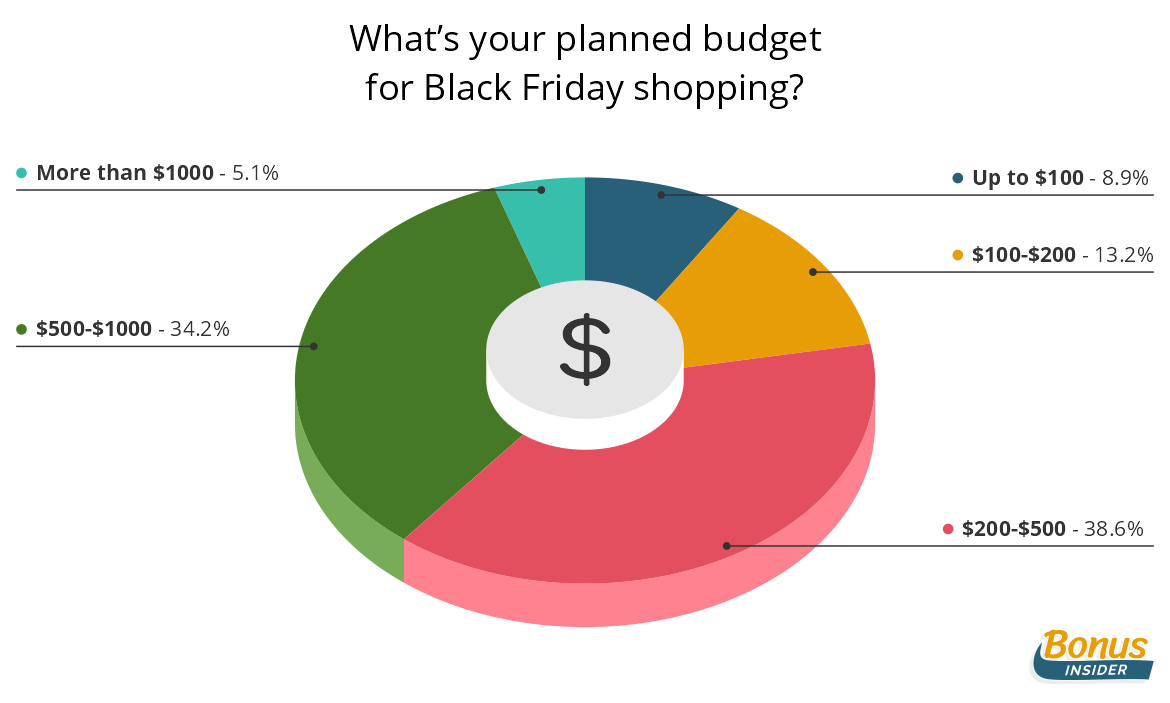 Credit and Debit Cards Preferred by Majority of Shoppers
Despite the wide variety of modern methods for paying online, traditional credit and debit cards such as Mastercard and Visa are still preferred by many when shopping on the Internet. The most preferred method is the credit card, picked by 543 respondents (31.64%) in the survey, followed by e-wallets and mobile wallets like PayPal, Cash App or Venmo, picked by 507 shoppers (29.55%).
Another 344 respondents (20.05%) say they will use a debit card on Black Friday, while only 115 people (6.70%) choose to pay via bank transfer. An alternative to credit cards, the so-called BNPL (buy now, pay later) services are gaining popularity, although they've been around for just a few years. A total of 109 shoppers (6.35%) picked BNPL as their preferred payment method for Black Friday as they can pay for their order at a later date or spread payments over time, often interest-free. Others choose cash on delivery (3.7%) and various prepaid methods (2.04%) such as gift cards, prepaid vouchers, and digital cards.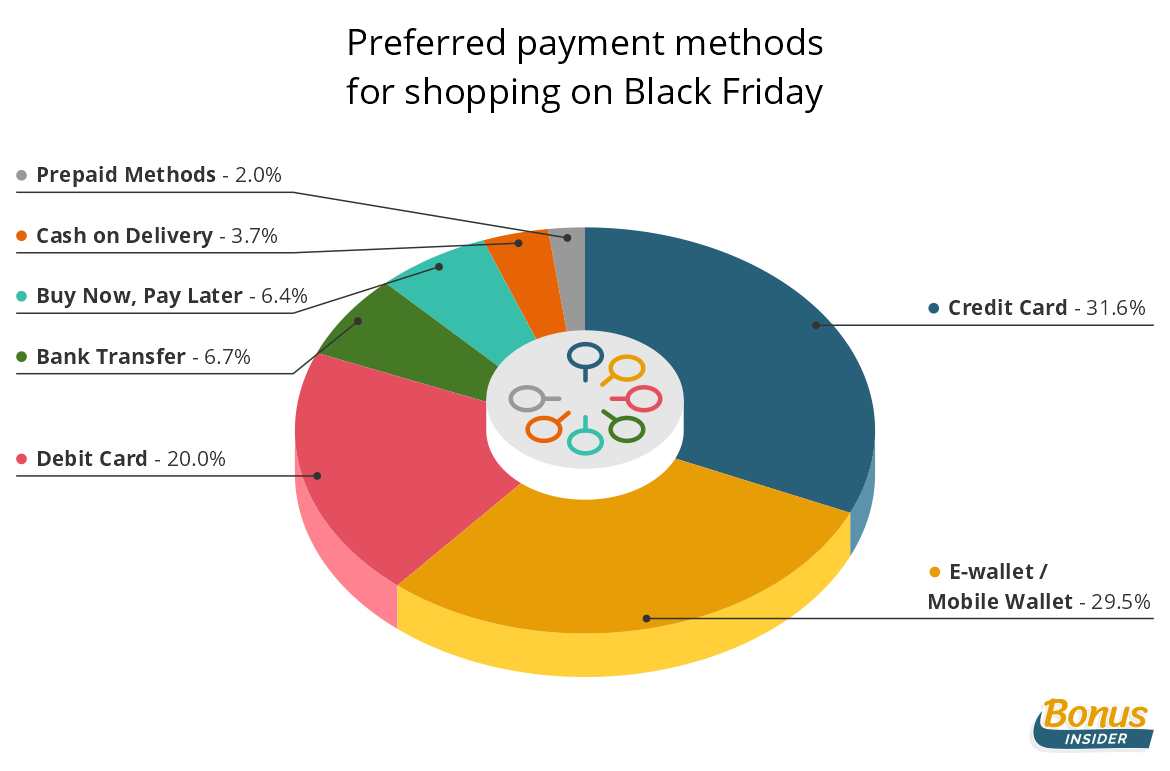 Discounts More Important to Black Friday Shoppers Than Brands
This year's inflation, reaching a 41-year high this past June in the US and exceeding 10% across most of Europe, has made shoppers more cautious of prices. Nearly 43% of respondents, 735 people, admit they will be shopping for the best deals on Black Friday, while only 639 say they will buy their preferred brands and products, regardless of the cost. 342 shoppers, roughly 20%, say the free shipping and return policies will matter more to them than the actual discounts they will get.