Musicians are typically known for not having a good handle on the business side of the music they create. There are probably thousands of talented musicians who never achieve great success. Others, however, seem to be natural entrepreneurs according to the list of musicians in the UK and Ireland who earned the most in 2022.
Our team at BonusInsider decided to take a look at the latest data on famous singers and musicians from Britain and Ireland and their estimated net worth. Multiple Grammy award winner Sting earned £100 million in 2022 alone, which makes him the top earner of the year. With a net worth of approximately £320 million, he is among the richest people in the music industry today.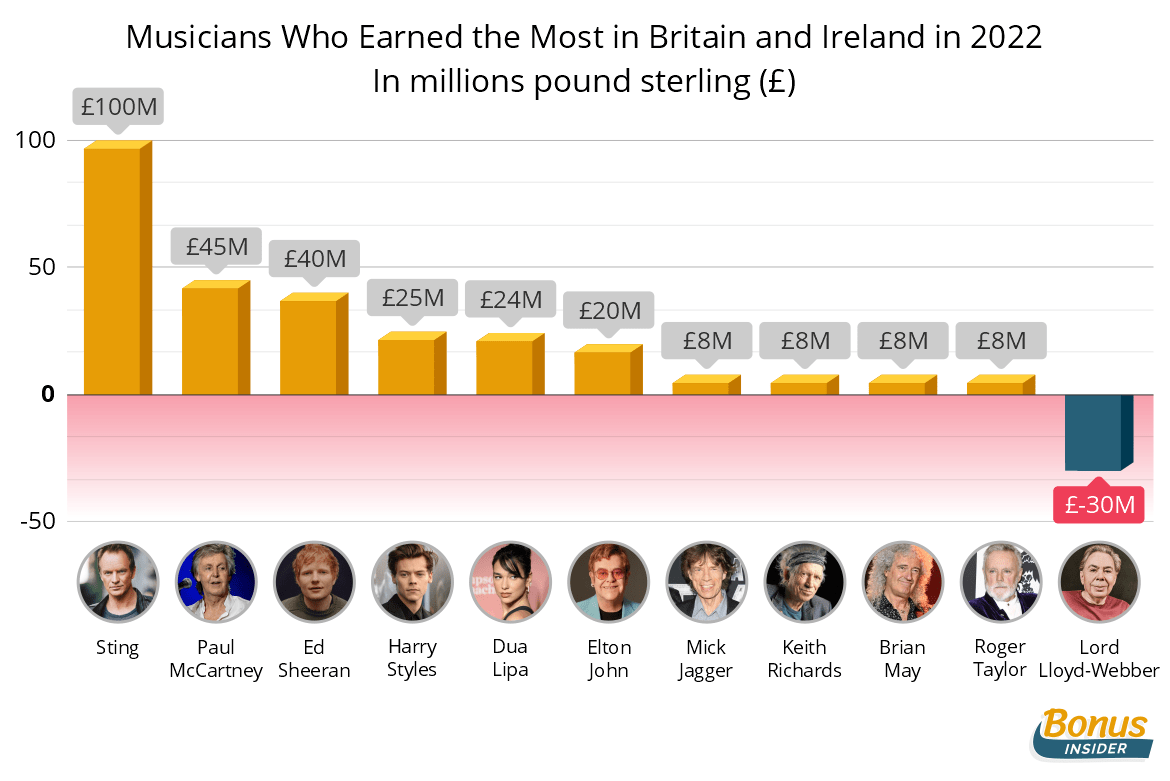 Methodology
For this ranking, we included data from the Sunday Times Rich List 2022. We looked at the twenty richest musicians in the United Kingdom and Ireland, as well as the ten richest young musicians, aged 30 or under.
UK and Ireland: Top 10 Earners in Music in 2022
The music of the British Isles has influenced generations of musicians all over the world and the industry here is among the biggest in terms of talent, album sales, and total revenue. Popular musicians from the UK and Ireland usually enjoy international fame, much like their colleagues from across the pond. If we measure success merely in financial terms, the former frontman of The Police, Sting, was the most successful musician of 2022, increasing his wealth by £100 million in just 12 months. Below are the top 10 earners of the past year:
Sting, £100 Million in 2022
Gordon Matthew Thomas Sumner, also known as Sting, has a total of 17 Grammy awards as a solo artist and as a member of The Police, along with three Brit awards, an Emmy, a Golden Globe, and many others. His accomplishments as a musician are truly impressive, but his financial success over the past year is just as admirable. His fortune in 2022 totals £320 million, up £100 million compared to 2021.
In February, he sold his music catalogue to Universal for an undisclosed amount. Since the deal included both his albums with The Police and as a solo artist, it was probably worth millions. Similar deals were signed recently by other musicians, including Tina Turner, Bruce Springsteen, and Paul Simon. It is believed that Bruce Springsteen sold his catalogue to Sony Music Entertainment for $550 million, while the deal between Bob Dylan and Universal was priced between $300 and $500 million.
Sir Paul McCartney, £45 Million in 2022
One of the world's most successful composers and performers, Sir Paul McCartney is the richest musician in the UK and Ireland in 2022 with a net worth of £865 million. From his years with the Beatles to his hits with the band Wings and later his solo career, McCartney has written or co-written a record 32 songs that have topped the Billboard Hot 100.
This year, he had a successful US tour that kicked off in April and ran until June. After the "Got Back" tour concluded, he headlined Glastonbury Festival, a week after his 80th birthday. Over the past year, the former Beatle earned approximately £45 million, which makes him the second-biggest earner in the UK and Ireland for 2022.
Ed Sheeran, £40 Million in 2022
Born in 1991, Ed Sheeran is the youngest artist on this list, and in 2022, he made an estimated £40 million. Sheeran rose to fame in 2011 when his debut album "+" topped the UK Albums Chart, and since then, he has earned multiple awards and sold more than 150 million records worldwide. With his acoustic-based songs and down-to-earth approach to pop music, he has had an impact on an entire generation of musicians. Currently, his wealth stands at £260 million and he is the 10th richest musician in 2022.
Harry Styles, £25 Million in 2022
Harry Styles, whose career began in 2010 with his participation in The X Factor and later as a member of the successful boy band One Direction, is now the richest young musician (aged 30 and under) in the UK. The 28-year-old Styles has a net worth of £100 million, an increase of £25 million from 2021.
The past year has been incredibly lucrative for the English singer. His third album, "Harry's House", was released in April, achieving commercial and critical success around the world. During his Love On Tour, he performed 15 sold-out shows at Madison Square Garden. In addition, Styles starred alongside Florence Pugh in Don't Worry Darling, the Olivia Wild-directed psychological thriller that was released in 2022. A less famous film with him in the lead, My Policeman, also premiered in 2022.
Dua Lipa, £24 Million in 2022
Dua Lipa started her singing career in 2014 and quickly became one of UK's favourite pop stars. Born in London, she does not hide her origin – both her parents are Albanians from Kosovo, who immigrated to the UK in the early 1990s. In 2022, she embarked on the Future Nostalgia Tour in support of her second album, which came out in 2020. The tour was postponed due to the COVID-19 pandemic but this year, it was the biggest concert tour so far for the artist, with shows all over the world.
Sir Elton John, £20 Million in 2022
With a career spanning over 6 decades, Sir Elton John is among the most famous and esteemed musicians from the UK. He has a huge collection of awards and accolades and since 1969, he has released 31 albums and sold a total of 300 million records worldwide. Apart from being the fourth-best-selling artist of all time (after The Beatles, Elvis Presley, and Michael Jackson), The Rocket Man is also among the biggest earners of 2022. His estimated wealth has increased by £20 million to £385 million as his farewell tour, which was announced in 2018, still continues and includes dates for 2023.
Mick Jagger and Keith Richards, £8 Million Each in 2022
The songwriting partnership between the Rolling Stones co-founders Sir Michael Philip Jagger and Keith Richards has been one of the most successful in history. They have been friends for 70 years and colleagues for 60, although their relationship has not always been described as a particularly friendly one, so it should come as no surprise that we are listing them together in this ranking.
Each earned £8 million over the past year, becoming some of the biggest earners in 2022. With an estimated fortune of £318 million, Mick Jagger is the sixth richest musician in the UK and Ireland. Coming in just behind him is Richards, whose wealth is estimated to be around £303 million.
Brian May and Roger Taylor, £8 Million Each in 2022
As the only two active members of Queen, Brain May and Roger Taylor are amongst the most respected musicians in the UK. Following the death of Freddy Mercury, they have not stopped touring, and have even collaborated with Paul Rogers (formerly of Bad Company, Free) and American singer Adam Lambert. Within the past year alone, May and Taylor increased their wealth by £8 million each to £218 million and £198 million, respectively.
Richest Musicians in the UK and Ireland in 2022 Ranked by the Wealth They Earned over the Past Year
Musician
Wealth in 2022
Change from 2021
Sting
£320M
£100M
Sir Paul McCartney*
£865M
£45M
Ed Sheeran
£260M
£40M
Harry Styles
£100M
£25M
Dua Lipa
£60M
£24M
Sir Elton John
£395M
£20M
Sir Mick Jagger
£318M
£8M
Keith Richards
£303M
£8M
Brian May
£218M
£8M
Roger Taylor
£198M
£8M
Little Mix
£60M
£6M
U2
£625M
£5M
Olivia and Dhani Harrison
£295M
£5M
Sir Ringo Starr
£285M
£5M
Sir Tom Jones
£180M
£5M
Louis Tomlinson
£48M
£3M
Stormzy
£26M
£2M
Lewis Capaldi
£19M
£2M
Sam Smith
£34M
£1M
Calvin Harris
£220M
No change
Sir Rod Stewart
£215M
No change
Roger Waters
£210M
No change
Michael Flatley
£206M
No change
Eric Clapton
£195M
No change
Robbie Williams
£195M
No change
Charlie Watts' family (The Rolling Stones)
£175M
No change
Niall Horan
£52M
No change
Liam Payne
£44M
No change
Zayn Malik
£36M
No change
Lord Lloyd-Webber
£495M
-£30M
As we can see from the ranking above, the past year has been a very lucrative one for musicians in the UK and Ireland. Out of all artists listed here, only one saw his wealth shrink over the past year. This is composer and theatre owner Lord Andrew Lloyd-Webber, who apparently lost roughly £30 million as a result of the pandemic, which affected the theatre industry over the past two years. Still, Lord Lloyd-Webber remains one of the richest people in music with an estimated fortune of £495 million.