Fans of the hoops are once again in for a rollercoaster of excitement as the 78th NBA regular season kicked off with plenty of incredible moments. Defending champions Denver Nuggets had an incredible 4-0 start but their streak was finally over when they lost 110-89 to the Minnesota Timberwolves. As fans are bracing themselves for some serious slam-dunk action, we decided to look into the most valuable basketball cards sold so far in 2023.
Basketball collectibles are an essential segment of the global sports memorabilia industry, which is expected to reach approximately $227 billion by 2032. Just this April, an autographed pair of Air Jordans worn by His Airness during the 1998 NBA finals was auctioned at Sotheby's for a record $2.2 million. A rookie card signed by LeBron James sold for $5.2 million in 2021 and became the most expensive basketball card in history. Later that year, the record was shattered once again when a Stephen Curry rookie card brought in $5.9 million in a private sale.
These impressive records are what motivated BonusInsider to identify the most expensive basketball cards auctioned so far in 2023, with King James emerging at the top of our ranking.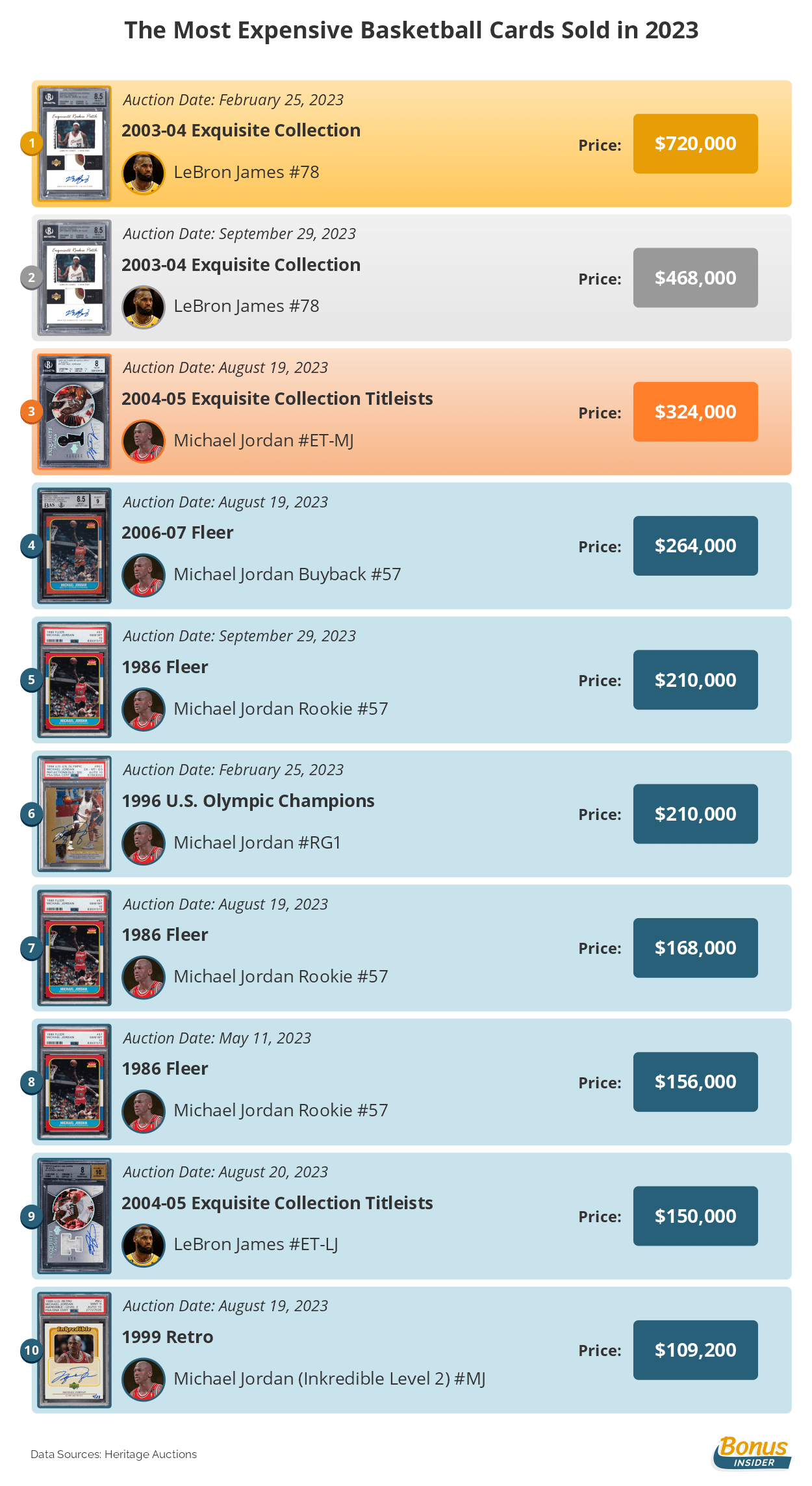 Methodology
The members of our team took to the world's biggest collectible auctioneer Heritage Actions to identify the basketball cards that have sold for the highest amounts this year. Only card sales from 2023 were considered for the purposes of our ranking. As many as 29,285 sold items were included in the auctioneer's basketball category, out of which 18,466 products belonged to the subcategory of sportscards.
To further narrow down the range, we filtered all basketball cards sold at past auctions and sorted them by price range in descending order. The team then manually sifted out the 20 most expensive cards auctioned so far in 2023. Below are the full details about the ten most valuable items that made our final cut.
Certain items like Jordan's 1986 Fleer rookie card and King James' Exquisite Collection rookie card have several placements due to their rarity and increasing value over time. As you shall notice, Michael Jordan is the hoop shooter with the highest number of placements, with 14 cards. LeBron James secured the first spot in terms of overall pricing as a rare rookie patch card of his sold for over half a million dollars earlier this year.
#1. 2003-04 Exquisite Collection LeBron James #78 – ($720,000)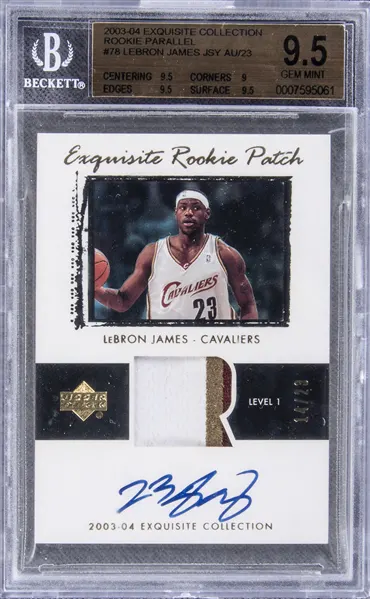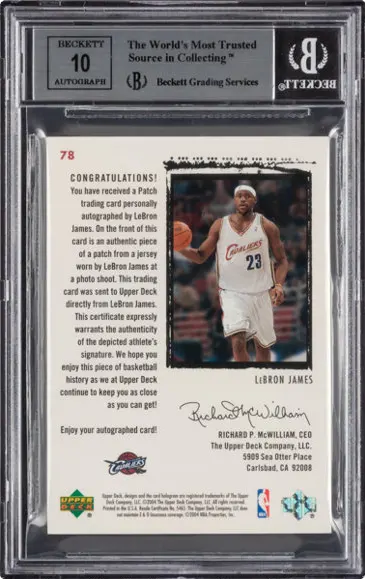 King James adds yet another trophy to his rack as he takes the title for the most expensive basketball card sold so far in 2023. The 2003-04 Exquisite Collection LeBron James rookie patch card sold for a whopping $720,000 in February and there are plenty of reasons why this piece of basketball memorabilia is so valuable. This item, which is one of 23 of the same issue and with a gold foil stamping, carries the blue-sharpie autograph of the Akron-born legend and contains a piece of a jersey he wore for a photoshoot.
#2. 2003-04 Exquisite Collection Lebron James #78 – ($468,000)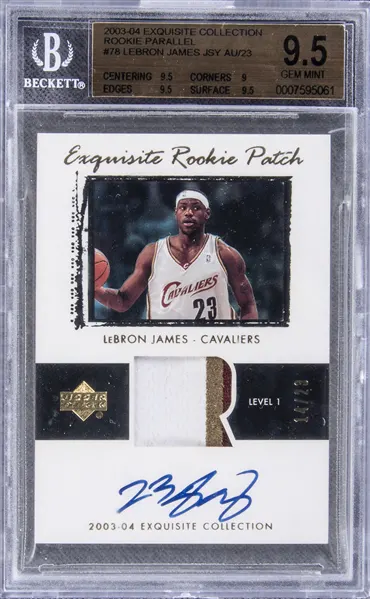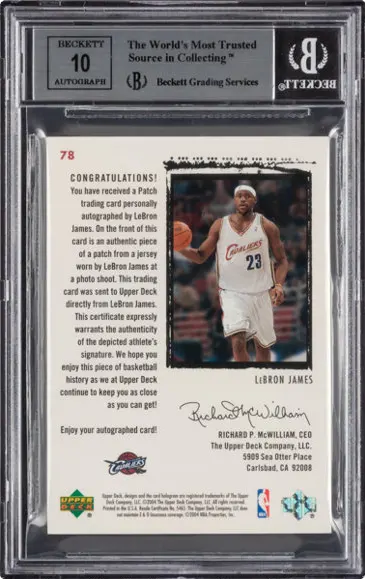 Another 2003-04 Exquisite Collection LeBron James rookie patch card takes the second spot with a price tag of $468,000. Purchased in late September, the card features a perfectly graded blue-sharpie signature and a patch that contains all three colors of the jersey the legend wore during his rookie days with the Cleveland Cavaliers. The card has nearly perfect BGS subgrades for corners, centering, surface, and edges, with an overall score of NM-MT+ 8.5.
#3. 2004-05 Exquisite Collection Titleists Michael Jordan #ET-MJ – ($324,000)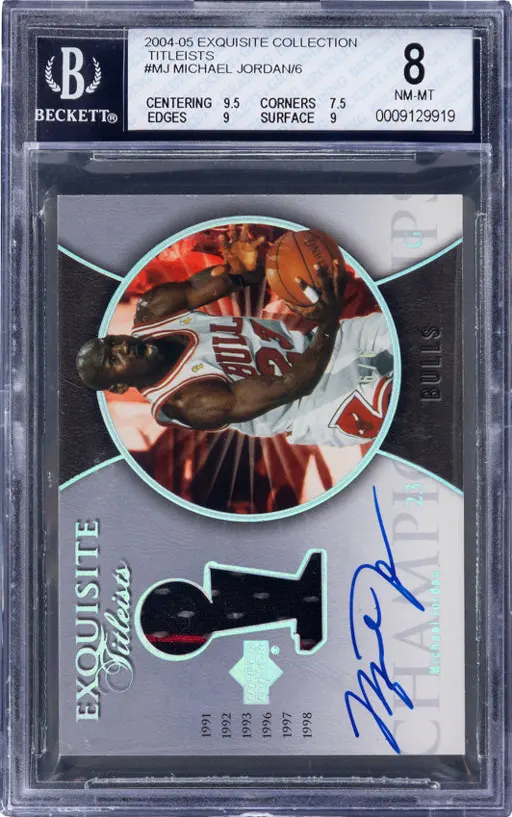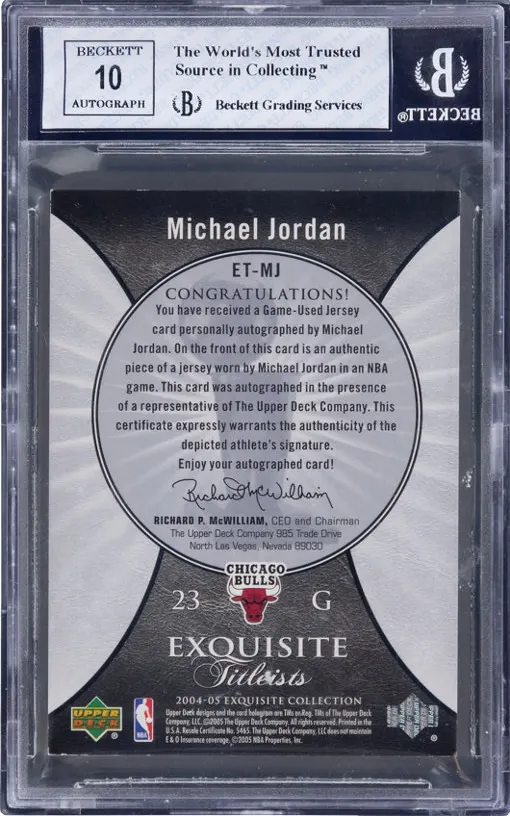 The third placement on our list sold for $324,000 in August and truly encapsulates Michael Jordan's achievements in basketball. This piece of memorabilia is one of six cards in a subset that commemorates Jordan's six NBA championship titles. Inspired by His Airness' legendary performance at the 1998 NBA finals, the card contains a perfect autograph in a thin blue marker and a strip of a jersey the star once wore in a game silhouetted against the coveted Larry O'Brien Championship Trophy.
#4. 2006-07 Fleer Michael Jordan Buyback #57 – ($264,000)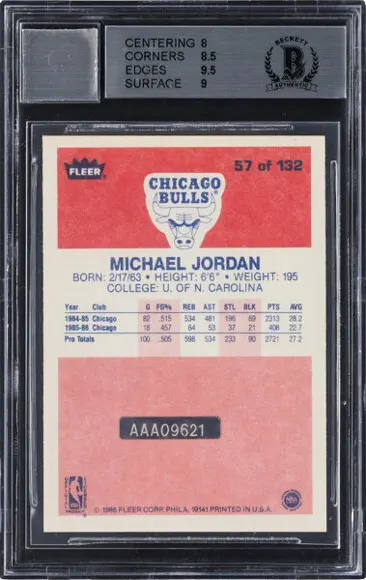 Five more copies of Jordan's 1986 Fleer rookie card ranked among the 20 most expensive basketball cards sold in 2023 but this re-released version is a true collector's treasure. It is one of 23 re-released copies of MJ's rookie card but unlike the original from 1986, this one contains the authentic autograph of the court legend. Jordan was notorious for his reluctance to sign collectibles, which further adds to the value of this autographed piece.
#5. 1986 Fleer Michael Jordan (Original) Rookie Card #57 – ($210,000)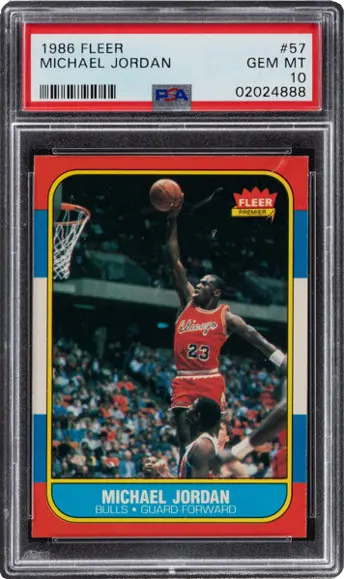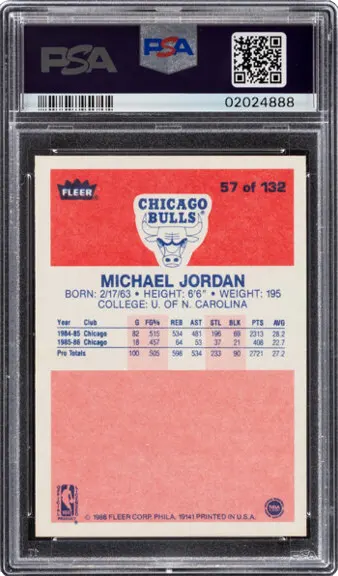 Jordan's original Fleer rookie card places fifth on our list with a price of $210,000. Auctioned in late September, this card is among the priciest and most coveted memorabilia in basketball history despite lacking the basketballer's sharpie signature. It captures the sports prowess and elegance of one of the NBA's greatest players of all time via a dynamic image of Air Jordan soaring toward the hoop as he is just about to score.
#6. 1996 U.S. Olympic Champions Michael Jordan #RG1 – ($210,000)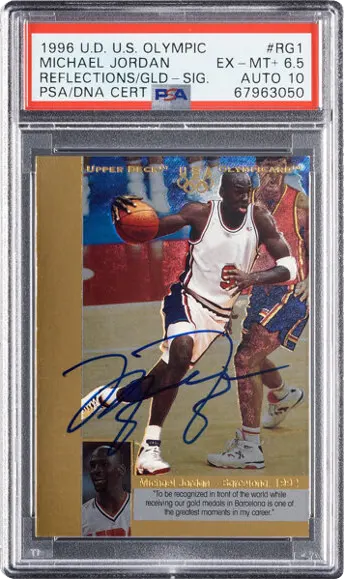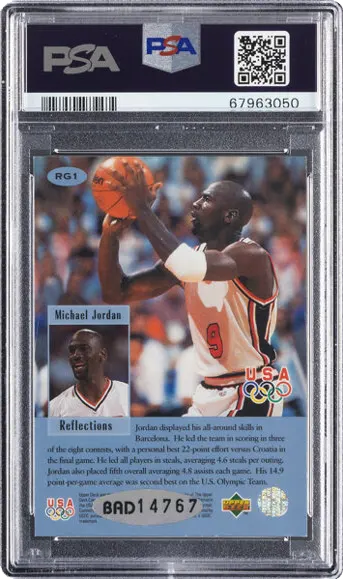 This MJ piece from 1996 is among the rarest and most sought-after Jordan trading cards for several reasons. For one, it commemorates the USA's victory at the 1992 Summer Olympics in Barcelona when Jordan played in the star-studded company of other Hall of Famers like Magic Johnson, Larry Bird, and Karl Malone. What further adds to this card's value is that fewer than 20 copies were produced, according to estimates by the Professional Sports Authenticator.
#7. 1986 Fleer Michael Jordan Rookie Card #57 – ($168,000)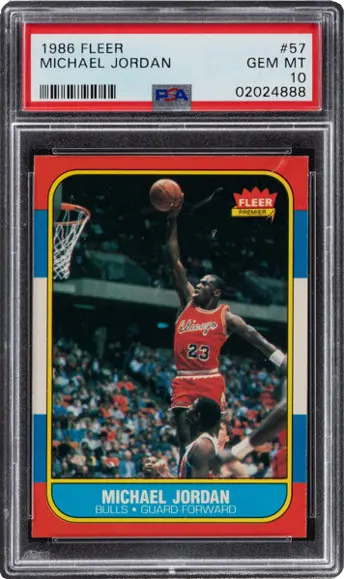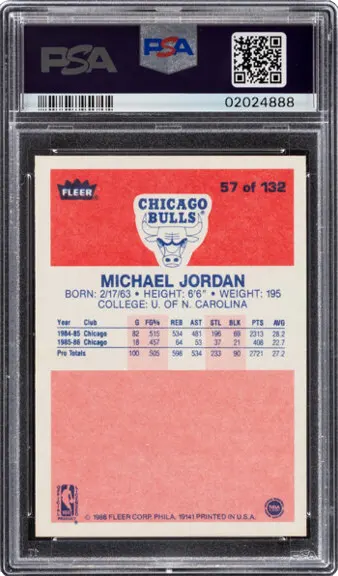 This is the third copy of Michael Jordan's 1986 Fleer rookie card which ranks among the most expensive basketball cards sold this year, which speaks volumes about the rapt attention it commands. Auctioned for $168,000 in August, the piece is of excellent quality as it carries a Gem Mint 10 grade, the highest score according to the PSA grading standards.
#8. 1986 Fleer Michael Jordan Rookie Card #57 – ($156,000)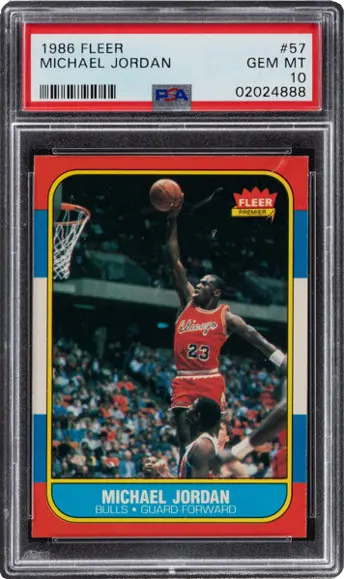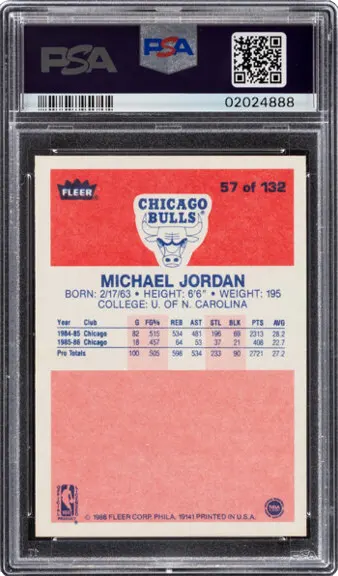 The fourth most expensive copy of Jordan's iconic 1986 Fleer rookie card sold this year was auctioned for $156,000 in May, but keen collectors can currently extend an HA offer for $234,000 or more to the new owner. What is notable is that two more copies of this legendary piece made it among the 20 most valuable cards sold this year, placing 14th ($66,000) and 16th ($58,000).
#9. 2004-05 Exquisite Titleist Collection LeBron James #ET-LJ – ($150,000)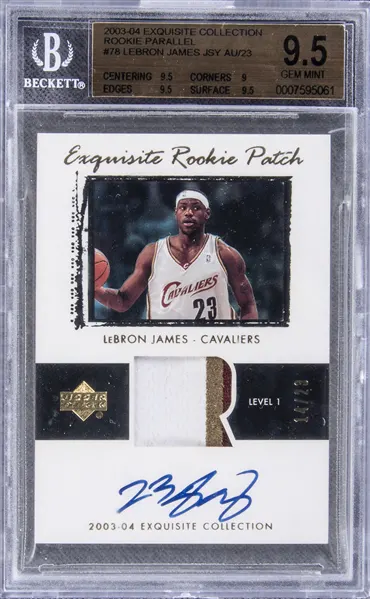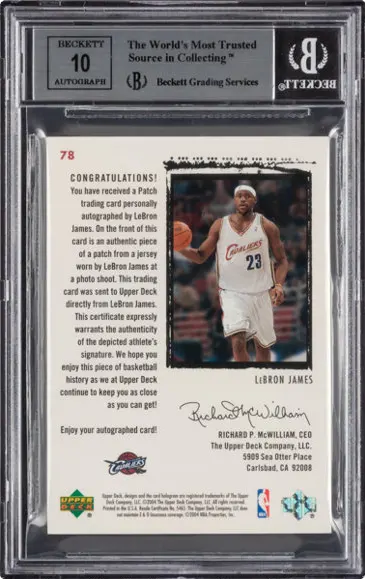 This is King James' third card to make our listing, and deservedly so due to its rarity. The piece was randomly inserted into a pack of Upper Deck trading cards only a year after the basketballer, 19 at the time, was selected by the Cleveland Cavaliers as the first pick of the 2003 NBA draft. Another unique feature of this card is that it contains the number of titles won by the now-legend at a high-school rather than professional level. The strip of James' jersey and his distinct blue-sharpie signature further boost the value of this rare piece.
#10. 1999 Retro Michael Jordan (Inkredible Level 2) Card – ($109,200)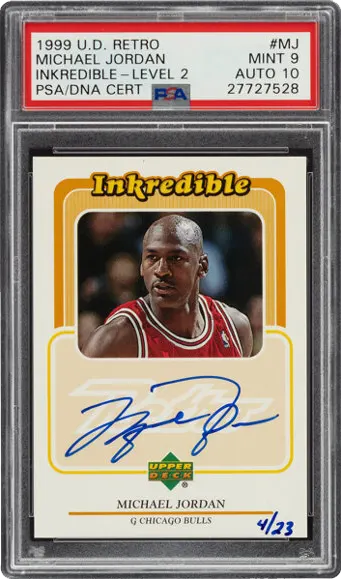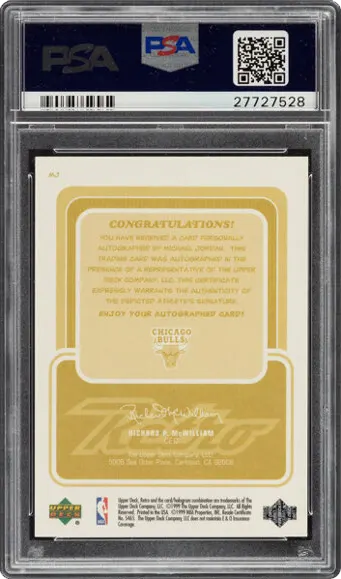 The subject of our tenth placement is again His Airness who dominates this ranking with 14 cards in total. Several features make this rare insert piece unique, starting with its retro aesthetics. The card is ground-breaking in that it was among the first ones to be autographed before being packaged for retail sale. Also notable is the fact that the issuers had Jordan autograph the surface of the card itself, rather than pasting a signed sticker on top as is the case with most of the inserts released later on.